Day 18 - Bahamas Cruising (Eleuthera - Hatchet Bay)

Magic Friday
Phil, Di and Annelise
Mon 4 Apr 2016 17:03
A morning view of the next few days winds and weather - light winds today but thunderstorms over Nassau and the central bank - not our favourite sailing conditions! So, deciding to leave Tuesday instead, despite higher winds from the north and east (we would be travelling west and northwest) we stayed on in peaceful Hatchet Bay one more day. Peaceful that was until the thunderstorms arrived - torrential rain brought with it other problems - we had to keep bailing in the bilges - somehow, somewhere rainwater / seawater splash over finds it way to the central bilge structures under the floor soles - 15+ buckets later, the rain subsides. Searched the boat hull sides from the inside for any side of water - all dry. Remains a mystery - but one that we must solve.... Meanwhile Mini Magic 2 almost sinks wiuth the rainwater collected - over 6" in less than an hour - another bailing job!
A yacht had to stand off outside the bay entrance due to poor visibility, also reporting gusts of 40 knots. F0rtunately, we were secure on the mooring bouy (and spare anchor) - no movement this time! Thankfully, the yacht eventually crept in safely after seeing most of the storm pass by..
The evening bbq of tuna and one last Sharp episode (yes, the last of the multiple series...) - what will we watch next!
Phil and Di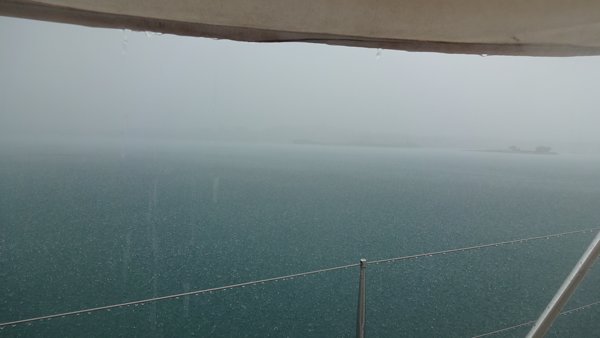 ---