Day 5 - Trans Atlantic

Magic Friday
Phil, Di and Annelise
Thu 23 Feb 2012 18:46
Missed yesterdays blog due to technical issues!
Good sailing still in E to ENE 20kts and the expected light winds have not yet reached us. Another good days sailing in superb Trade Winds conditions with blue sky. The Ampair has just about managed to keep up with our power requirements during today although I am sure we will need a further charge from the engine later on. Fishing today but nothing caught just yet. Noon to noon run 171.8 nm with a DTG of 2002. But how did we come to be taking Magic Friday across the Atlantic in the first place................
Magic Friday is a Moody 41AC which was bought by Phil and his wife Di from ouselves, Boat Sales International, the UK dealers for Moody Yachts in 2010. She was delivered in April 2011 when Phil and myself sailed it back from the Moody factory in Germany to Hamble (see pcitures). Due to a change of work plans Phil's initial aim to use the boat in the Mediterranean was on hold and he decided to take the boat to the East coast of the USA to be closer to work and home for a few years. Phil asked me if I would help him sail it across the Atlantic and I replied 'In a heartbeat". So here we are.
The boat.... She has an In-mast furling mainsail with vertical battens which helps increase the sail area, a self tacking jib and separate furling Genoa on a stay just forward of the jib. We added a Spinnaker pole that is stowed on the mast, and Asymmetric Spinnaker and have also acquired a Parasail for the trip which we have yet to try out. For communications we have an Iridium phone linked to the pc for getting weather files and sending emails and the only other piece of equipment added specifically for the trip was a water maker. The whole boat works well and it is easy to get the boat sailing quickly with one person.
The weather looks like it will be a day for the Spinnakers tomorrow... Watch this space.......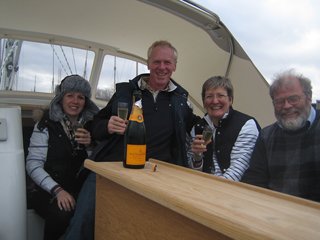 ---