Day 14 - Bahamas Cruising (Eleuthera - Hatchet Bay)

Magic Friday
Phil, Di and Annelise
Thu 31 Mar 2016 17:44
Checked out and lines slipped at 08:00, a short motor across the harbour to Paradise Island - although not into Atlantis marina this time - only for diesel and gas re-fueling at Hurricane Hole fuel dock - only 56 gallons for us - will take us 350-400 nm motoring, comparing to the mega-yachts the attendant has re-fuelled - his highest bill was for a 120ft mega-yacht some years back - 11,500 gallons at that time $7/gallon - a mere $80,000 bill at the pump!!! I was happy to settle a couple of hundred dollars and we were away!
Battling out of the eastern harbour exit against 20+ knot SE winds and 1.5m waves to Porgee Rock - had we left a day too early? Especially as we discovered the auto-pilot was not controlling the helm with error messages of "Rudder Response Failure". Finally, at Douglas Road, reefed sails were set, course laid in and we settled down to a fast 7-8 kn fine reach without auto-pilot and a little wet as waves and spray broke over the bow - arrival estimated at 6:00pm, just after high tide and in daylight would be perfect - so we carried on. Passing a fully rigged cutter yacht in the afternoon and a few small fish skipping the waves were some of the highlights of a good days sailing.
The entrance to Hatchet Bay was man made to open up a land-locked lake in roder to facilitate the now defunct cattle farming on the Eleuthera Island. It is well hidden within the rocky face of the eastern shores -t eh cruising guide describes it as "a little forbidding" due tot he apparent narrowness of the entrance - approx 90ft wide. Having done it before (last year) we located the entrance, committed Magic Friday, rocks looming either side, the waves on the beam rocked the boat - but within minutes we were in - a placid, pleasant lake with an little island (Olive Island) and a small community settled around the commercial dock, a few other boats on anchor. Immediately we get the Bahama Agriculture Institute welcome on the VHF (as we did last year) inviting us to take a mooring bouy or anchor and to enjoy our stay - how nice!
Anchored securely in 4m of water we watched the sun set and took our rest for the evening in the most secure harbour of the Bahamas....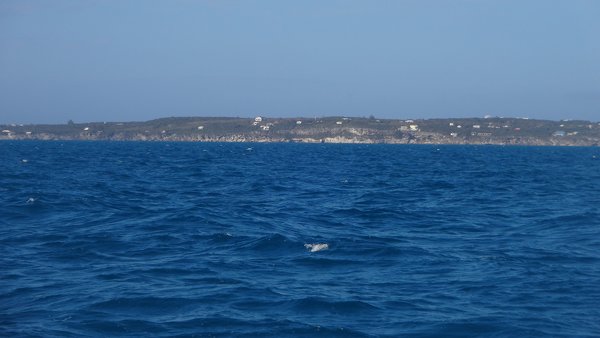 ---