Day 16 - Trans Atlantic

Magic Friday
Phil, Di and Annelise
Mon 5 Mar 2012 19:42
16:56.8N 60:30.3W
75nm to go which should get us in during the early hours of Tuesday (tomorrow) morning local time. The past 24 hours has given us some of the best sailing of the entire trip, especially during today. Perfectly clear blue skies with 25kts of wind from the ENE and building seas - what more could you wish for. The boat is in her element and right now the crew is pretty happy to.
We have been passing through huge swathes of a mustard coloured weed floating on the water today. We first noticed this about 3 days ago but the closer we have got to land the more prolific it has become. Not sure what all of this is and can't decide if it is friend or foe! We will need to google it when full comms return tomorrow.
For me this trip has been about many things but one stands out. Being the main dealer in the UK for the Moody range of yachts that are built in Germany, it was a unique chance to get some firsthand experience of how the Moody 41AC would cope with an offshore trip across the Atlantic. You should know as much as possible about the products that you sell and with a yacht the only way to do that is to sail them and live aboard them for an extended period. Without trying to be biased I am impressed! The performance, ease of handling, comfort and livability really do make this boat work very well but more about that from the skipper. For pure sailing and fun this has to be one of the best crossings that I have done.
I hope you have enjoyed reading this blog. We will finish up tomorrow with some facts and figures once we are in and a piece from our esteemed skipper and Chris.
Best Wishes from Magic Friday
Final sunrise Weed - Friend or Foe?
Great Sailing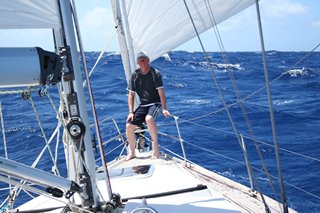 ---