The Treehouse - Khao Sok National Park, Thailand

Harmonie
Don and Anne Myers
Thu 14 Apr 2011 14:19
08:54.891N 98:31.673E
March 13, 2011 - March 15, 2011
From a base at Yacht Haven Marina on the north end of Phuket Island, we made land travel plans. Our first excursion? A two-day trip with John and Sue from Storyteller to Khao Sok National Park - a two-ish hour drive over the bridge to the mainland, then north along the west coast of Thailand, turning inland near the end. In theory, an easy drive. And it would have been easy if we could read the road signs, or if there were any road signs to read, or if there was just one road labeled '4021', instead of several. The Thai alphabet looks like Elvish (think Lord of the Rings), and is completely indecipherable. It's very pretty, with lots of loops and squiggles and curves, but with its 44 consonants (each with an inherent vowel sound), 18 other vowels and 6 diphthongs (which are arranged before, above, below or after the consonants they modify), and no spaces between words (spaces occur only at the end of clauses or sentences), there is no way we Roman alphabet people can read Thai. Sometimes the road signs include an English translation, but it is usually printed in font size 4 underneath the larger, bolder, loopy, squiggly Thai. Even with four people in the car watching out the window diligently for a readable road sign, we failed miserably. But, never fear, it's difficult to get lost when driving along a coastline, so we persevered. It wasn't until we turned inland at the end that we got more of a tour of Thailand's jungle covered northwestern foothills than we meant to. We did find our way, and since we are retired people under no particular time pressure, we didn't mind arriving at the Khao Sok Paradise Resort in time for lunch instead of morning coffee.
Ahhhhh yes, the Khao Sok Paradise Resort - one of the nicer places to stay within walking distance of the national park. Where, for a mere $35/night, you get your own treehouse (or a double-wide in the case of us four), set up high on stilts with trees growing through parts of it, an open-air bathroom where tree frogs hang out, enough unscreened windows to make you feel as though you are truly one with the jungle, a special bonus of insect-eating geckos climbing the walls of your bedroom at night, a stout, good-for-your-back mattress more like a plywood board than a cushion, and an oscillating fan to pleasantly push hot and humid jungle air through the mosquito netting covering your sleeping body. Heaven. Actually, it was pretty cool. I mean once I got over the whole jungle critters in the bedroom thing. Sleeping under mosquito netting is oddly comforting, and the plywood mattress oddly comfortable. Peeing in front of the tree frog wasn't my favorite experience, but Don didn't seem to mind. Waking up to the sound of the jungle was truly fabulous. We really felt like we were right there - up in the trees with the flying squirrels, birds and monkeys, because, well, we were. Each morning we woke up to mist hanging low over the jungle valley below us and gibbons (small apes, relatively rare) hooting to each other in the trees. It was definitely a hoot, and not a howl or a screech like you might hear from a monkey. We didn't see any gibbons (they are shy), but we heard plenty, which was almost as good. We stayed in the treehouse for two nights and went for a guided jungle walk through the national park on the second day. We spent the rest of the time eating good Thai food (for about $4 each) in the resort's tiny open air restaurant, cooked by a staff that always seemed to be available to serve the handful of tourists staying in the treehouses (or in one case, staying in an air-conditioned, round, metal room meant to look like a tree stump, but somehow missing the treehouse charm).
A few of the Paradise Resort's treehouses.
Our treehouse bedroom with plywood bed, oscillating fan, mosquito net and plenty of unscreened windows.
Mist hanging over the jungle valley as seen from our treehouse each morning. Close your eyes and imagine yourself here, surrounded by jungle sounds - exotic bird calls, insects vibrating, gibbons hooting, a parade of fire ants marching up and over your feet (yeah, yeah, you can't really hear the ants, but they do add something to the whole jungle experience).
Mom and baby long-tailed macaque monkeys seen while tramping through the national park jungle with our guide Pok.
Sue and John with our guide Pok, who is showing off the latest fashion in jungle wear - environmentally correct, organic head attire. Very attractive, but doesn't do much to keep the sun out of your eyes.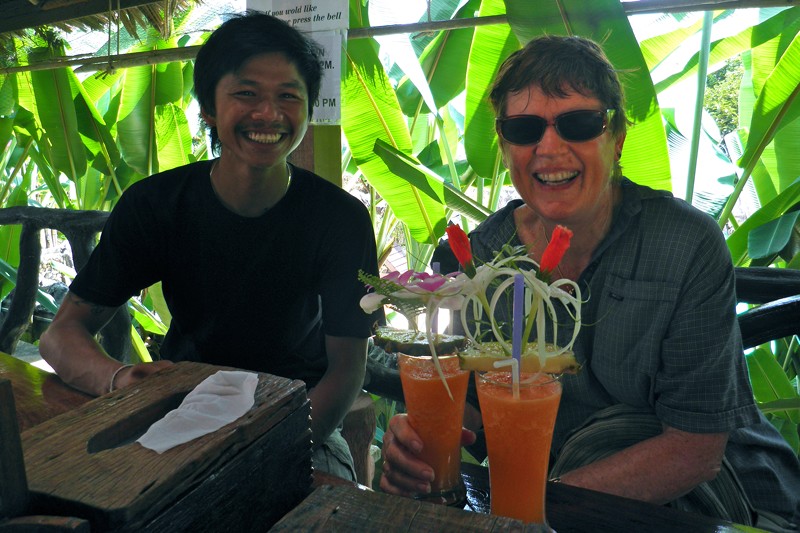 Sue and Pok showing off their well-deserved (and elaborately garnished) carrot and lime juice drinks consumed with a fried rice lunch (which was also elaborately garnished) after our jungle trek.
The view from our post jungle walk lunch stop. In the background are land-based cousins of Phang Nga Bay's limestone karst formations.
The drive south back to Yacht Haven Marina was slightly more direct than the trip north, but not nearly as challenging. It's no fun when you get to know a place too well. We still couldn't read the road signs though, so all wasn't lost.
Anne
---