Tangalooma, Moreton Island

Lochmarin
Thu 21 Apr 2016 01:40
27:10.243S 154:22.122E



Pelicans helpfully showing us where the sand banks were as we came back down the Coomera River.
We opted for the outside route. You can navigate the internal waterways from the Gold Coast up to Moreton Bay, but there are overhead wires which might be pretty tight, that we'd want to pass under at low tide, and lots of shallow patches we'd want to pass over at high tide, and we'd like to travel in the direction of tide flow so we're not motoring against it, which reverses at Jumping Pin, and preferably on a rising tide, so if we get stuck on a sand bank we'd get lifted off. Quite complicated. After calculating and re-calculating our height, studying tide tables and consulting local knowledge the Skipper said "Sod it, lets go around the outside!" and I was happy to agree. We did a moonlit overnight passage, leaving The Seaway just as dusk was falling and arriving at Cape Moreton just as the moon set and the sun rose.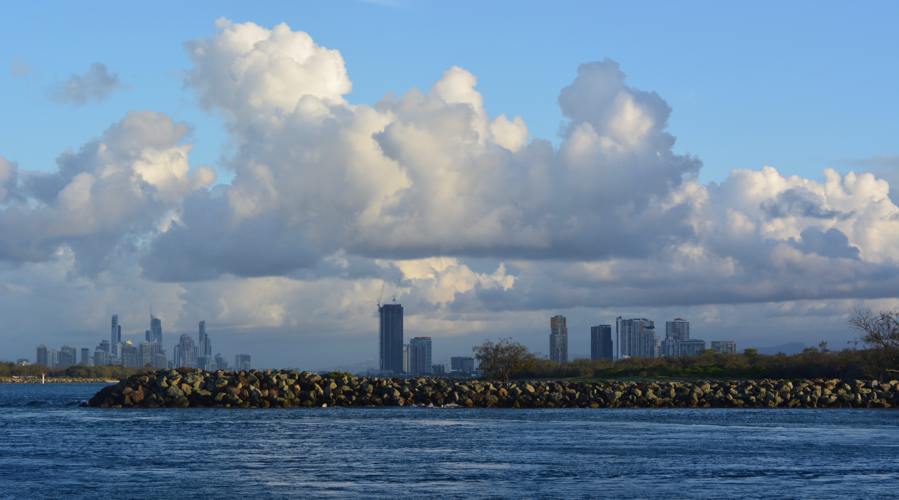 Evening light on the breakwater approaching The Seaway.
Morning light just catching the plutons on the mainland. These are all that's left of the volcanoes: the interior plugs that cooled slowly and so were more dense than the aerated lava that was spewed out of the volcanoes and was later eroded.
Moreton Bay is a mass of sandbanks and shoals, channels and banks. It must have been a nightmare for early explorers. We headed down the inside of Moreton Island and then doubled back on ourselves inside a sandbank so we could sit in its lee alongside the little holiday village of Tangalooma. Unfortunately, another sailing boat saw us anchored there and didn't realise we'd come into the anchorage from the south, through the gap in the sandbanks. He headed straight for us and grounded on the bank.
Stuck on the sandbank - but the dolphin had no trouble coming over!
At its Northern end the sandbank has been built up by dumping wrecks there, making a fascinating snorkel spot and providing a little more shelter in the anchorage.
As you can see, Moreton Island is just one huge sandbank itself, with impressive slopes just asking to be slid down. We didn't go ashore though, just spent a quiet day after our night voyaging: taking a swim, watching the dolphins (the resort feeds them every night at 6 so there are plenty around) and watching the crew of the other boat trying to get off the sand bank. As night fell the tide rose enough for him to break free and he entered the anchorage just as the moon was rising and we were tumbling into our bunks.
Moonrise with the setting sun reflected in the windows of the houses.
---