Back in Cascais, but visiting Sintra and Lisboa

Lochmarin
Mon 10 Sep 2012 16:31
38:41.77n 09:24.82w




We moved back to Cascais. Jemma had enjoyed Lisboa but only had a couple of days before flying back home, so, having picked up Matthew, we sailed, then motored when the wind was on the nose, back down the river to the anchorage just outside Cascais marina.




We had really enjoyed Lisbon. One evening when the city faded into greys as it filled with smoke from the forest fires some 50 Km away. The wind had changed direction and the air was thick with the smell of wood smoke. Another day I spotted an amazing bird - Phil knew it straightaway, a hoopoe. I didn't get a picture of him, but he'd be worth googling; he has black and white stripes on his wings and an amazing crest, which he usually keeps folded into a spike on the back of his head, balancing his long thin beak. We've also started seeing turnstones, both on the wing and foraging along the shoreline. On the last day in Lisbon, Jemma and I took the Bromptons and cycled in for an afternoons shopping and, you know how girls are when they're on their own, we managed to eye up some local talent:



and made time to stop on the way home for some well earned beer:
Coming out of the Marina was quite difficult as we were right in a corner with boats on both sides and behind us, and the wind was pushing us the wrong way. I was glad of two extra crew members and many thanks to Rui for helping us out - we were sad to leave such lovely people and we hope our paths will cross again sometime. On the way down the river there was an American submarine coming the other way, along with a police boat shepherding people out of it's path. The crew were all lined up on deck, all stood to attention, not something you see everyday!
Once in Caiscas we decided to follow Rui and Mariana's advice and go to visit Sintra. As there were four of us, we hired a car and drove into first along the coast then into the hills. I was again struck by how the countryside is both like and unlike England. Heathland, like in Dorset, but with huge asparagus spears of Aloe piecing the bushes. When we went to explore Cabo da Roca it looked as if there was rough grass all around, but when you get close it is made up of fleshy fingers.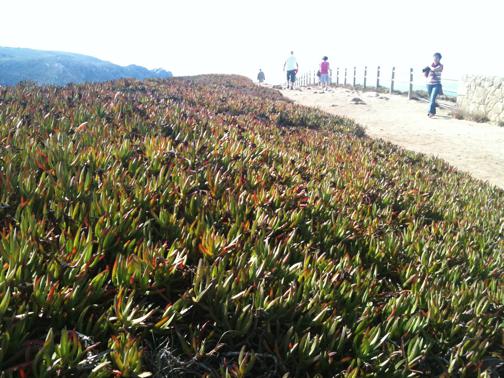 As we drove into the green, lush hills it was really hard to imagine the scorched end of summer countryside that is suffering the forest fires when we were winding up beautiful wooded valleys. Sintra is definitely not one to miss. The architecture is as varied as it is flamboyant. The mountains, and views from them, are stunning too. We went up to see the Palacio Nacional da Pena, which is set in beautiful gardens with fern filled winding pathways, cascades of ponds, narrow steps climbing to breathtaking viewpoints and all around huge boulders looking as if a giant boy had left his heaps of conkers around the place. The palace is a maze of arches and decorated gates, with onion domes and crenelated turrets painted in pastel pinks and bright yellows.
Everywhere you go there are gargoyles and grotesques leering at you. Triton guards one of the gateways, set on a clam shell above intricately carved coral, he sort of sums up the look and feel of the place for me:
We headed back to Cascais via one of the beaches above Cabo da Roca. Lovely warm sand with big rollers coming in. Just as we arrived the lifeguards declared the beach closed for swimming, they peeped their whistles and waved at Phil, who, having grown up in Cape Town, delights in a bit of surf. We couldn't resist jumping the waves and trying to body surf, coming up in disarray, coughing and spluttering and on occasion trying to reposition errant bikinis!
Matthew and I went back on the train to show Matthew more of Lisbon and we saw the Berardo Collection Museum of Modern and Contemporary Art. It was fun: lots of it we hated, some of it I loved, other's made me feel uneasy or even frightened (dark corridor with strange flickering lights and weird noses at the end of it). We both agreed we liked the pre-1960 stuff more than the post 1960 and that it was magical to see 'real' Warhols, Picassos, Hockneys, Pollocks and even a Dali. It was so good to spend time with him exploring the city and taking in the sights.
---