Indian Pacific train ride to Adelaide

Lochmarin
Sat 20 Feb 2016 08:23



Australia is big. Really big. Pop back to our home page (link top right hand side of this page) and have a play on the map, zooming in and out a bit, and you'll see quite how big it is. We've actually come quite a long way: 280 miles or so down the coast, and we plan to go back up even further, up to the Barrier Reef before we set off again, but there's an awful lot of Australia inside the thin strip along the coast that we've visited. My Aunt and Uncle, Carole and Michael, run Barossa Country Cottages and they invited us to come and stay. Now, I'd heard of The Barossa… something to do with wine I thought, and I'd never really had a chance to get to know my Aunt so, seeing Lochmarin was in a secure "Boutique Marina" we decided to jump ship and go and stay. Most folk seem to travel across Australia by plane. That's all very well, on a clear day you'd get a good view of the country sliding past under you, but we wanted to see a bit more, get a feel for the country, so we chose to go by train.



The train was so long it had separated into two as it wouldn't fit on one platform.
If we were going to do it, we were going to do it in style: The India Pacific Railway, Gold class called. Gold class isn't quite as cool as it sounds, by the way. It starts with Red class, which is like cattle class in planes: basically a reclining seat. Now, we weren't going all the way to Perth, three nights and four days, we were just going to Adelaide, 24 hours, but there was no way we wanted to spend it in a chair. Gold class is next up, there's no bronze or silver, and you get your own cabin, with a big bench sofa with arm rests, that converts into two bunks at night (with a ladder to get to the top one). The cabin has a tiny amount of storage space and a whole shower/loo room for just us (a bathroom, as the Cousins say, but as there was no bath that would be technically incorrect. When in South Africa we had supper in a lovely restaurant in Prince Albert, upstairs from the Art Gallery. There was a door labeled 'Bathroom" there, and I did my usual thing of thinking "likely story" but then when I went in I was delighted to find that it was a bathroom, with a lovely claw footed bath. I was tempted, but there were only those tiny hand towels smart hotels put in the loos nowadays, so I decided not. Phil might have wondered where I was too. I digress.) The loo and shower was just like the heads you find in lots of boats, very compact, a wet room but with a little curtain to stop the loo paper getting wet when you shower. All very convenient.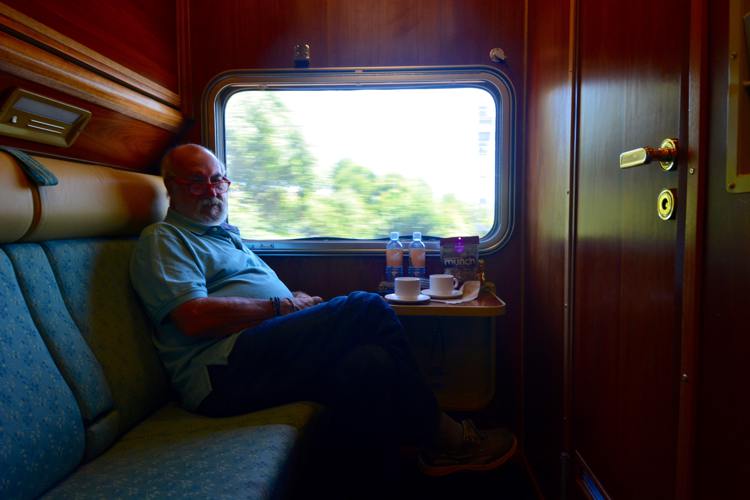 Our little cabin and 'picture window', the loo/shower door is on the right.
Gold class provided us all our meals in the restaurant car, along with as much tea and coffee as we wanted (there's a little cubby to make them in at the end of each carriage) and included any before dinner drinks you wanted in the lounge, as well as wine with the meals. Lovely. There's a higher class again, of course, Platinum Class. I have no idea what they got as I didn't look it up, not wanting an awareness of what we were missing to spoil our enjoyment. Perhaps they had real bathrooms. Or performing bears. I really don't wish to enquire.
So we packed carefully, as surely we'd be expected to dress for dinner, and put on our best shore clothes so we'd blend in with the Gold Class crowd. There were drinks and canapés, along with live music, on the platform after one had checked in but before the train was open for boarding. At this point we realised we had over estimated the dress standards on board, more orthopaedic velcro sandals and comfy slacks that white tie and evening dress. Never mind, we'd dress for dinner even if no one else did!
In with the in crowd: before dinner drinks in the lounge then ?high? class dining in the restaurant.
The view from our picture window was mesmerising. We spend the first afternoon climbing our way out of Sydney, through Lewisham and Croydon (yes, I know. We even went through Salisbury before getting to Adelaide, it seemed a bit of a diversion to me and didn't look quite right), up past Emu Plains and Warrimoo and then we started wriggling our way along the ridges over the Blue Mountains as the sun was getting lower in the sky. No wonder these mountains were such a barrier to the exploring settlers, deep cut valleys filled with smoke blue eucalyptus trees and thick undergrowth. We were glued to the windows - it was so beautiful, and by the time we'd dressed for dinner, enjoyed our supper and returned from the restaurant car to find our beds all made up, we were past the mountains and had descended through Bathurst into the lush farmland of the central tablelands beyond. I don't have pictures for you I'm afraid because they all have motion blur and most of the spectacular views down into the valleys were through a scattering of trees, easy to see through when passing in a train but the tree or bush always gets in the way when you try to snatch a picture. The food was great, by the way, and we were lucky with our dining companions, meeting some really interesting people and enjoying excellent diverse conversation.
These modern welded rails don't clickety-clack as the old ones used to but they were clearly pretty worn as we spent the night swaying and clunking our way across the desert. We woke just before dawn to find ourselves approaching Broken Hill, of "Priscilla, Queen of the Desert" fame. We passengers tumbled, yawning, into the waiting coaches and had a lovely little tour of the town before going up to the mine, which looms high on the hill above the town. Broken Hill was a mining town, silver, lead and zinc. In fact, it only exists because of the mines, there's nothing else there, an isolated town, speckled green from irrigation, in the midst of miles and miles and miles of outback. It was good to be out there, high on the hill, lights still twinkling, huge sky above us, breathing in the morning air before the heat of the desert sun started to fry the plains all around us. I could see why the Mad Max movies were filmed there, except for the last one. They were all set to go with that one, sheds full of mad vehicles dotted through the town, then it rained and the desert turned green overnight, as it does, so they had to relocate to Namibia, of all places.
The green area shows the edge of the town, just over the railway lines, with desert beyond the spoil hills.
Mining continues, under lots and lots of sky.
I had thought the middle bit of the journey, outback and outback and outback, would be boring so had packed books to keep us occupied. They were hardly touched; there was so much to take in we simply watched for mile after mile. The red dusty landscape flowed past us, occasionally delighting us with mobs of kangaroos and emus, solitary birds of prey and, just once, a dingo, his golden bushy tail following behind him. As we got closer to Adelaide sheep stations came into view, wind pumps drawing the precious water up to supply the sturdy Afrikaner fat-tailed and Merino sheep and produce green islands in the sea of red.
Slowly, low hills made their appearance against the huge blue skies, and with them trees, shrubby and low.
Then, in the blink of an eye, it was all change and instead of red there was silvery gold. Magnificent endless fields, graced with wind waves, spread from edge to edge of our picture window. Having witnessed the removal of the hedgerows and the creation of 'combine harvester' fields in England I thought I knew what big fields looked like. They were a cotton handkerchief compared to these.
Gradually, the fields become smaller and the crops varied, the poly tunnels and orchards of Adelaide's Market Gardens slid into view and before we knew it we were gliding through the suburbs of Adelaide. We didn't want to get off. It was such a pleasure seeing this alien landscape, flora and fauna, and so relaxing having nothing to do except watch it all slide by and enjoy the good food and wine. We'd go again if we ever got the chance.
Mr and Mrs Kangaroo take welcome relief from the sun.
---