Arrecife - but with pictures!

Lochmarin
Mon 22 Oct 2012 12:03
Our excellent wi-fi stealer, I mean booster, had come up trumps and, with thanks to an anonymous password free Netgear, I was all set to update you and post some photos, however it then, inexplicably, died and as getting it fixed involves online support from America, and we don't have internet as our booster died, its taking a while to get it sorted out...




However, it's a great excuse to visit a cafe and drink some outstanding Spanish chocolate so here we are.




First of all the anchorage: to the West there's a castle that's been converted into a contemporary arts museum, beautifully done, and has a restaurant added below it, very sympathetically and with great views, though we've only visited and not sampled it yet.



To the East there's the port, which entertains us as we can watch the containers being unloaded and re-stacked, like giant lego bricks, and see huge cruise liners disgorge their occupants, with tannoy announcements warning them to return in time (that's us in the pic.. furthest to the left! It was a bit overcast that day).
Oh, and here's pictures of our solar panels and our towed turbine hoisted in the rigging in wind mode, dutifully keeping pace with our battery consumption, for those who are interested:
We've found time to get out and about in town though, enjoying the palm trees and white, mostly low rise, buildings everywhere. There's been much thought put into the streets furniture, with interesting lights and bins and lots of variety of texture in paving, making good use of all the volcanic rocks around us.
We cycled up the coat to Costa Teguise one day, we were going in search of body boards to expand our surfing experience. It was incredible, I've never seen anything like it. 'Holiday World': mostly British and German holiday makers everywhere; apartment after apartment after hotel after hotel; souvenir stores and crazy golf and amusement arcades; cafes and bars and 'English breakfasts'; bicycles made for four with cheerfully grinning families panting their way up hills; ; car hire firms and day trip operators all offering the cheapest deals. It was like a holiday ghetto, very sensibly set up to avoid spoiling the rest of the Island. We didn't find any body boards but I was rather gob smacked by the glimpse at a very different travel experience.
Having got over the culture shock of being in a town rather than an almost empty Island, we've found and visited Lidl and Ikea - enjoying swedish meatballs with gravy and jam for lunch, and had fun cycling around the town (although the one way streets system is mystifying and frustrating at times). The sound of whistles and cheers drew us to the town hall and a demonstration against changes to the education system one time
and the sea front promenade was taken over by an electric transport and sustainability show another time - of particular interest to me having spent many years displaying in similar ones across the UK.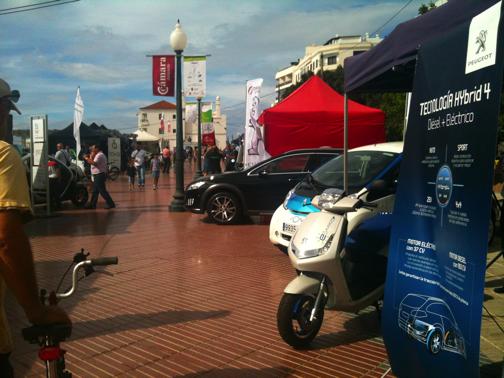 We've been industrious on the jobs side of things, which is why we came here! The sewing machine has been earning its keep, both making progress with the main awning and in another window replacement job for a boat called Moon Rebel (thanks Jem for bringing out the 1.8m roll of PVC on the train and plane!).
Otherwise apart from little jobs, not a huge amount has been achieved yet. We've done lots of pedalling Bromptons around town trying to track things down, and waiting on phone calls from agents who don't call, oh and Phil turned up at 8am (thinking it was 9am, the clocks had gone back) to see an engineer who then wasn't available... but this is Spain after all and there's always tomorrow...
---