Lisboa

Lochmarin
Tue 4 Sep 2012 10:40
We were lucky!




First bit of luck: we've been able to find an engineer to help sort out Otto's problems. Before leaving we replaced or upgraded almost all of the systems on the boat, but not Otto, and a twenty year old pump has got tired. It was a good job we stopped using him, it seems, as if you carry on using him when his pump's got tired he can lose his brain too... They didn't have the same pump available but had a similar one and bodged - I mean adapted - it to fit, including changing from imperial to metric fittings. So that's good news, we thought we might have to wait for weeks for parts to be sent.




We had fun exploring Lisbon on our bikes but, like Rome, Lisboa is built on seven hills, and they are steep, rising up about 110m from river level in a very short space of time. So bicycles aren't the best to explore on. We gamely forced our way up steep hills, dodging the trams and taxis and buses and avoiding the tram tracks, found a shady plaza to drink lemonade and recover in, then careered down bumpy cobbled narrow lanes, brakes on all the way, j-i-i-i-i-i-i-i-gling our way down to the large open plazas and wide streets and open plazas that follow the valley to the River. Back in 1776 they had an horrific earthquake, it included a tsunami which swept up the valley bottom from the river, destroying all in it's path, so the old narrow winding parts of the town are up on the hills, the newer wide open, laid out in grids parts are down in the valley.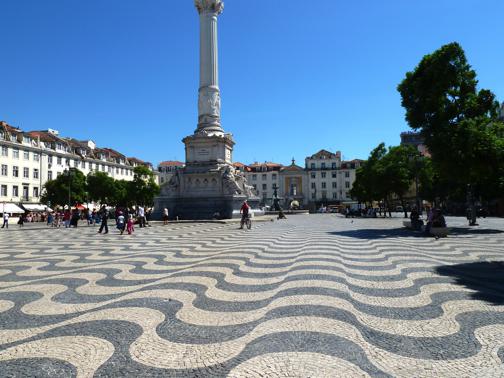 All that doesn't sound very lucky, but here's the lucky part:
Next to us is a very posh big plastic white boat (Phil says about £2 million worth) and, as usual, we greeted the chap we saw on board one day. He turned out to be the Skipper, not the owner, a really nice man who loves sailing and the sea. He and his wife were so kind to us: saying there was no way we could really see Lisboa by push bike, they took us on an evening tour in their car, showing us the beautiful old bits.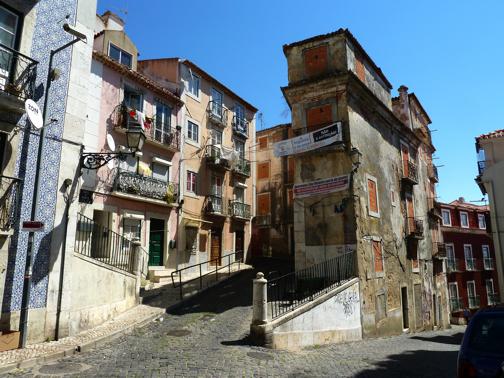 Driving along some of those narrow streets we felt we all had to 'breath in' to make it round the corners! and pointing out all the glorious important buildings. They stopped at four or five breathtaking view points so we could drink in the different aspects of the city, and pointed out across the hills the places we'd stopped in already so that we got a sense of where everything was (when you're driven about a city in a car, with dual carriageways and fly overs and one way streets, it's easy to lose your sense of direction).
We would never have found some stunning parts of the city on our own, and it meant we were able to catch a tram and find lovely places to take Jemma when she arrived.
Rui and Mariana topped off the evening by taking us to get some Portuguese 'fast food' at a place called 'A Merendeira". It was a simple building, with wooden tables, benches and stools, with a set menu: soup (caldo verde) a potato base with chouriço and shredded cabbage; påo, a large bread roll that is baked with chouriço already rolled into the dough in a wood fired oven (it tastes like rolled up pizza); a rice pudding, sweet, flavoured with nutmeg and with a little sprinkle of cinnamon on top; a drink of juice, fizzy junk or beer; and for the set price of five euros fifty cents, you can also have a coffee or a little fish cake made with salt cod (bacalhau) included. Yum :-)
We were so touched by the kindness of these busy people (Mariana is a consultant clinical pathologist, taking 24hr shifts in the busy hospital here, as well as lecturing 2 days a week, Rui skippers a number of boats, as well as running his own charter business on his own boat:
www.sailaway.com.pt
), and we so enjoyed their company. See? Told you we were lucky!
Many of the buildings in Portugal are faced with beautiful tiles, often in blue and white, and there is a lot of graffiti about the place - lots of it really creative, this shot that Jem took of a piece of wall down an alley in the old part of town illustrates the textures of the city perfectly I thought:
There are three more things I need to say before leaving Lisbon:
Fado: haunting, uplifting, goose bump raising music of guitar, drum and voice.
Museums: so many, so fascinating, so beautiful
Pasteis de Nata - the most delicious tarts, crisp, light, flaky caramelised pastry filled with a light custard and sprinkled with cinnamon.
I don't have a picture 'cos we ate 'em!
---