Longan Island, Ninigo

Lochmarin
Fri 7 Oct 2016 06:12
01:13.57S 144:17.70E
Phil's shot of John and Michaela, along with two grandchildren, as they sail by in the evening light.
It's only a day sail from The Hermits to The Ninigo Islands, but we wanted to negotiate the reefs with the sun high above us so we decided to do a very slow overnight passage instead. It was very pleasant, thunderstorms all around the horizon but no squalls coming over us, stars overhead and a gentle wind. Ninigo is famous for it's sailing canoes, like The Hermits it's a collection of islands within a surrounding reef, but rather more spread out so the inhabitants developed sailing canoes to travel between the islands. We kept our eyes peeled for these boats with their large rectangular sails and sure enough we soon spotted a sail coming across the reef to meet us. It was Solomon and his wife Leah greeting us with smiles. They kindly came aboard to help us pilot through the pass, towing their canoe behind us.
Visitors on board - yum! Cookies!
The people of this remote island have no commerce: there's no cash crops or market for craft work. The 200 mile journey to the mainland means it's not practical to try to take anything to market. In many ways they have an idyllic lifestyle, something many of our friends back in the UK aspire to: a plot of land to build your own house using local materials, a garden to grow crops, a few chickens and a pig or two and plenty of fish on your doorstep. In addition most of the time it is perfect weather, no cyclones and you can grow crops all year round. Apart from school there's no real time scales, if you're tired you sleep in the shade, if you're energetic you dig in the garden. But on the other hand there are things one needs, I'm not talking treats or extravagances, just basic things in life: salt, soap, clothes, sheets, towels, plates, knives, containers for cooked food to keep rats and flies out, fishing hooks and line, screws and nails for canoe building…. This means that the islanders rely on trading from passing yachts much more than other communities. They really value the opportunity to trade. They are careful not to bother one, if no one's on deck they won't come knocking, and during our first day representatives from the four (interwoven and extended) families on the island came calling with gifts of bananas and coconuts, not to trade but just to welcome us, along with offers for us to come and eat with them.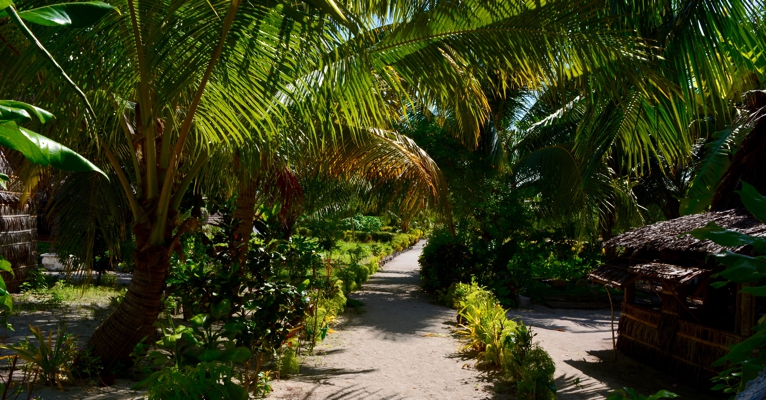 One of the many pathways in the village.
Yet again we had a head start: Adina had asked us to bring some gifts for Oscar and Justin so we knew they must be lovely people and we weren't disappointed. Oscar is a gentle man, with a smile that lights up his whole face and a warm honest manner. Justin is a primary school teacher (Secondary school in the UK) and he and his family were wonderful company, talking with them gave us a much better understanding of how it is to live in such a special place. We found our fame had spread before us: Tom and Susie had told Oscar and Justin to expect us and, a year later, they were delighted to see us and we were warmly welcomed. When we went ashore to eat with Oscar his whole family stood and sang us a song of welcome, holding flowers which they then proceeded to put in my hair.
Helping to rig the two masts.
After eating we were given a most amazing treat: a sail on one of Oscar's boats, a two master ( not a ketch as these boats are 'push-me-pull-you', double ended: they go up wind by shunting back and forth, keeping the outrigger to windward, not by turning through the wind as we would do), it was an experience of a life time, such a delight to see in detail how these boats are rigged and sailed and to slide over the water across the brilliant blue lagoon on one. It's a good job they aren't smaller or Phil would have been trying to work out how we could strap one on the side deck to take with us!
Oscar as we sailed past Lochmarin.
The thing is though, the islands aren't high like in the Hermits, they are all low lying coral so there are no big trees, and hence no logs to dig canoes from. The Ninigo islanders have to make their canoes completely out of driftwood, logs sent swirling down the rivers of the mainland 200 miles away then carried by the wind and tides to the islands. They hollow out a log to make the carefully shaped keel but the rest of the boat is made from planks, carefully joined together with dowels and, if they can get them, long screws. Adina had forewarned us so we came with plentiful supplies of 2 inch brass screws perfect for the job. In the past they would split the logs into planks using axes and wedges, now the job is easier with a chain saw but involves an amazingly steady hand - if you get it wrong it's a long wait for another log to turn up on the reef.
Roselyn's husband, Elvis Moses, shaping a keel.
It is usual on these islands for the children to go away from home for school as it's not often that there's a school on the particular island one lives on. Children as young as 5 will go and live with relatives in order to be able to go to school. On Longan there are about 15 boarders living there to attend the Primary school. John and Michaela are their guardians and the youngsters all sleep in a small dormitory, sharing bunks, the boys up on a mezzanine floor and the girls downstairs next to the breeze from the windows. In the mornings they all go into the sea to bathe, chattering and squealing as kids do when they play. It's a lovely sound to start the day with.
Some of the Primary students John and Michaela look after and the dormitory 15 youngsters sleep in.
We were there for just a few days, of course we did whatever we could to help, going through the boat to give things that might make life easier for these good folk, but we were overwhelmed by the response of the villagers to the little that we could do. They were so open, forming strong bonds in that short time, sharing their hopes and aspirations with us, opening their homes and hearts. On the evening before we departed to go down to Mal Island in the South of the atoll we shared a lovely relaxed dinner with John, Michaela and his extended family, along with Justin and Thedora and their two little ones. After supper we took the dinghy along the shore to Oscar and Karen's house to say goodbye to his family and to Cambol and Nelly who had arranged to be there. Both families sang to us a song of farewell, written by Nelly, and sung with such true depth of feeling that it left us with a lump in our throats and goosebumps along our arms.
We will never forget our time in Longan.
Nelly's transcript of our farewell song.
---