Mindelo, Cape Verdes

Lochmarin
Fri 25 Jan 2013 12:00
Every where you go in Mindelo people greet you. Sometimes it's because they want to sell you something, sometimes it's because they want to offer you help - some work on your boat, some guidance, a friend who has a car, but often it's because they are just happy to see you. The first language here is Portuguese but if they figure you'll not understand they will try in French. I've had conversations where we've used four languages within two sentences - a little Portuguese, a little French, a little English and then some Spanish because I've got confused and reverted to being in the Canaries! The people are tall and very handsome. Dotted along the beach there are simple apparatus for the young men to work out on: pull ups, sit ups, push ups, and they're always busy. A group of young men came and half buried a big buoy in the sand then proceeded to use it as a springboard, doing fantastic acrobatic flips and somersaults as the leaped like jack-in-the-boxes across the sand. Unfortunately, we hadn't brought our camera along!
We were greeted by a number of other sailors, people who had seen us in other ports or checked out this blog. When we arrive somewhere new we look at the boats around us to see if there's any we've come across and we sometimes look at the blogs of any boats near us, but it didn't occur to me that others would be looking out for us too. In particular, it was lovely to see 26ft Limbo, with Natalie and Tim on board when we arrived. Stuart and Emma on 25ft Amorosa arrived a couple of days after us, having left from Las Palmas the same day as us, and we were also pleased to see Capucine and Maxim on their little Bangladeshi fishing boat, Tara Tan. She is a made of jute with resin, instead of fibreglass, and has no keel, but uses lee boards like Calm Rhino. We came across her first in Puerto Calero, unfortunately they had been caught in the cross swells that we had delayed leaving to avoid, and suffered many knock downs during their journey here, including a wave washing away their self steering gear and having to hour on, hour off helm the rest of the way. Not fun... Seeing there were three small boat crews here at once we decided to get them together, so we invited them all to supper and had a lovely evening with 10 of us in the saloon!
We've seen quite a lot of bird life, mostly waders, but was lucky enough to see a sea bird of prey, not sure what, come swooping past us on anchor, huge fluffy talons at the ready. In Las Palmas all around were feral cats, they lived amongst the rocks on the breakwaters. Here its dogs, everywhere you go they're trotting along, hanging around where ever there's a hope of food, or sleeping in the sunshine. If you feed one a scrap (or, in our case the bone from our leg-of-lamb!) they will stick to your heels for sometime in the hope of more.
Just as we'd hoped, we've heard some wonderful music here. We had supper in the restaurant of a little hotel and were treated to some superb 12 string guitar playing and singing by a chap, surprisingly, in a flat cap - go Ollie!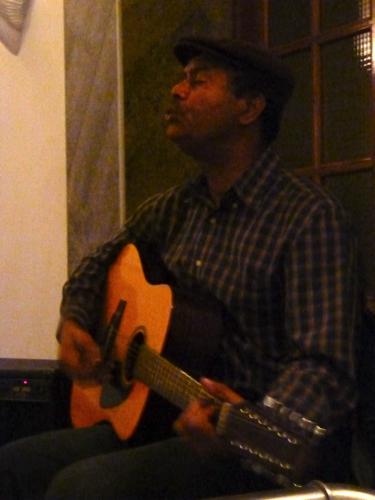 However, the best music, not to mention the dancing into the night until they refused to play any more, has been in the 'Yacht Club'. It has local musicians playing most nights. They swap instruments as the evening goes by, and call up to the stage any good musician they know who happens to wonder in, and produce some superb sounds. The youngsters seem to be able to samba totally effortlessly, bodies in harmony, and big bottomed girls can jiggle their stuff like you wouldn't believe, but they are quick to welcome us onto the dance floor, applauding our efforts and calling us back up when we paused for breath. Ben's cool panoramic camera captured this shot:
---