Around and about Sydney

Lochmarin
Sun 20 Mar 2016 08:06
33:46.613S 151:13.898E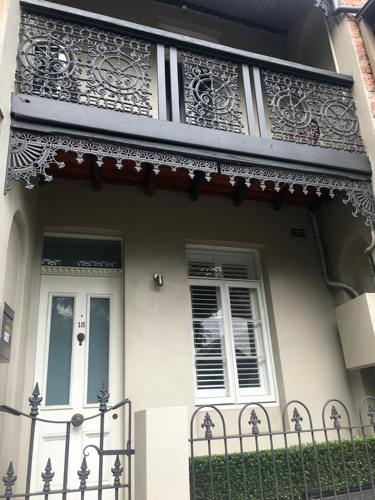 Balmain houses.




We've been moving around and being sociable. We've not moved far, just within the bounds of the harbour. There's been winds from the North so, as we want to move North up the coast, we decided to wait for Southerlies rather than try to sail into the wind. We got to spend more time with the lovely family from Byamee, Paul, Joyce and Darien, (including some great down time at their house using their washing machine and internet - thank you!) and were welcomed again into the bosom of their family for a triple birthday party. Chip, from London, came on board for lunch as he was in Sydney visiting his daughter. My cousin Richard and his friend Stuart came and spent an afternoon. We met up with another OCC (Ocean Cruising Club boat) Darramy and enjoyed a couple of evenings on board each other's boats. The Field Trip family flew over from New Zealand, where they'd left their boat, and we went with them and the Byamees to Bondi beach and next day spent time in Manly.



No buckets and spades on Bondi Beach (thanks for the snap Sarah)… and the Fieldtrips, Lochmarins and Byamees having emerged form the surf.
And, last but not least, we got the chance to reciprocate my Aunt Carole and Michael's hospitality by having them on board with us for a week, which motivated us to explore more of the harbour than we otherwise would have, a really good thing because we'd not have discovered some lovely anchorages. When we were in Vanuatu we met a couple on holiday from Australia who said that they occasionally chartered a sailboat in Sydney but that they weren't allowed to take it out of the harbour. I was appalled, I knew Sydney harbour was big but not being able to go out to sea? Mad! I hadn't realised the scale of the harbour and how far up the rivers were navigable.
Crane flowers bordering the park land alongside Iron Cove.
We had left Woolwich Marina, before our time was up (we'd had enough), and anchored over in Iron Cove just by the bridge. It's actually quite a good anchorage: very little wash, the park on one side and Birkenhead shopping centre ( an "Outlet" centre. Imagine, Crocs, Merrell shoes, Icebreaker and numerous other camping type shops selling stuff at 1/3 of the usual price, as well as an Aldi and Coles supermarket) on the other. Sure, the rowers come by in the dark from 5 am, their coach yelling instructions through a megaphone, but otherwise it's great. There's a dinghy dock both sides of the river, good for picking up visitors (an old ferry wharf one side, a recreational dock the other) and the holding is gloopy sticky mud (get your deck hose out when you lift the anchor). But the city centre is not so much fun for visitors, so we set off for Middle harbour, under Spit Bridge and on up into Bantry Bay.
Spit bridge opening for the yachts.
A few of the fancy pads clinging to the steep shore, with their own docks and funicular railways to get up to the road.
Amazingly, just a few miles up the river from Middle Harbour you find yourself right in the middle of a National Park. There's no houses in sight, just trees, rocks and the remains of munitions stores on the Eastern shore. It's beautiful and calm.
Looking back towards Spit Bridge - mooring after mooring after mooring.
Looking forwards to Bantry Bay… peace and solitude, rocks and trees.
I'd been so bothered by the skirt of weed and rock oysters that we grew on Lochmarin in Woolwich marina that I jumped over board straight away, planning to give the hull a quick scrub. I came out again quickly. It was jellyfish soup, they weren't stingers and Phil had promised to help get any caught in my hair out when I came back on board, but I hated the feel of them against my arms and legs as I swam so I quickly left the water. A good job I did as we found out that Bantry Bay was a Bull Shark breading ground. Interestingly, Bull Sharks can stand fresh as well as salt water so they chose to have their young up river valleys. They like Bantry as the deep pools provide food for them whilst the brackish shallows are perfect for their young. Predators can't manage the shallow fresh water and the young gradually increase their tolerance for salt water as they grow, so they slowly move down stream. Now, the thing is, in late summer / early Autumn, i.e. now, the sharks return to give birth and then mate again - it takes 12 months for them to to gestate. So now was peak time for Bull Sharks. Not wise to swim. Michael tried to catch one for our tea, but only managed a little unknown silvery fish that was too small for 4 people to feast on. It was not due to lack of trying.
Australian ravens pay us a visit
Manly Beach, right at the Northern tip of the main Harbour, is another lovely place to stay. There are three public moorings right up next to the swimming beach, alongside the ferry terminal, so you can watch the comings and goings of hundreds of commuters. There's a shark net around the swimming area of the beach so we were able to have a dip with peace of mind, then enjoy a pizza on shore whilst overlooking Lochmarin. You can follow the pedestrianised street right over to the ocean beach and watch the surfers do their thing.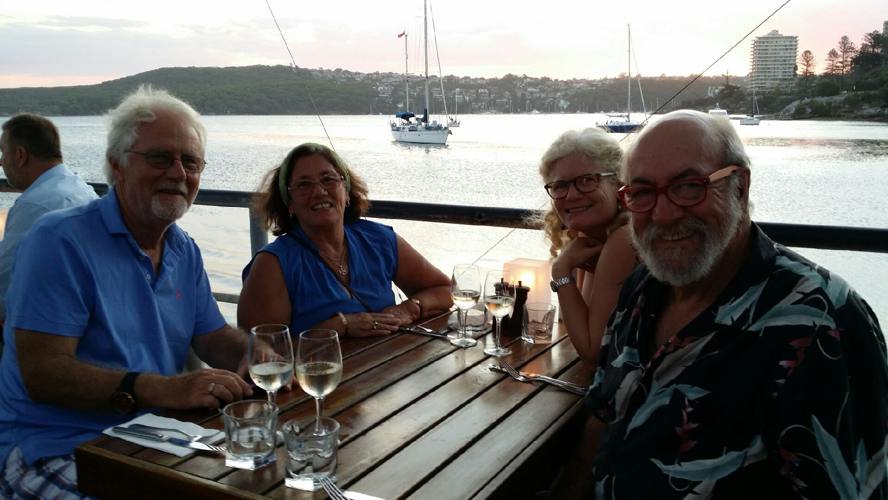 Michael, Carole, Lochmarin, me and Phil (from left to right) off Manly Beach.
Sydney has proved varied and beautiful, interesting and exciting. We've seen old friends and made new ones but we're feeling itchy now. It's time to go, we need to be moving on.
---