Ria de Pontevedra - Combarro

Lochmarin
Sun 12 Aug 2012 09:20
42:26n 08:42w




Sanxenxo was not a great delight.




We had found ourselves in the holiday center of Northern Spain. There were little chic shops to explore and lots of bars and restaurants around, but we have now decided on a golden rule: If there are photographs of food outside, don't eat there. We stopped for some Albarino wine and tapas and it was ok, but not as good as we were used to (the waiter also managed to knock Richard's wine across the table and all over Phil).




People watching was fun, but you could hardly walk along the promenade as there were so many people and the shoes were certainly more Weymouth than Gijon. The marina was modern and the marineros helpful, however all along the top of the marina were a row of ultra trendy nightclubs, they started up around midnight, very loud and all playing different music, and finally stopped about 6am. Ok, I hear you saying 'Why weren't you out there clubbing then?' but it just didn't have the vibe of our Camarinas festival, and when you're already curled up and trying to sleep Spanish Techno Pop just doesn't have enough appeal to draw you out of bed.... It was too hot to shut the hatches against the noise, but Becky and Richard tried stuffing theirs with clothes in a desperate attempt to deaden the sound.




So, Combarro and the little island Tambo next to it, were a wonderful relief. We saw dolphins (again) on our way up the Ria, we see them every other day, roughly, but I'll not stop telling you because I think it will be many years before I get complacent about them. It feels such a privilege to be able to watch and get close to such intelligent, beautiful, social and playful animals.




We anchored outside the marina at Combarro, a marinero zooming out in his RIB to tell us he'd give us a special offer, we'd only have to pay for 12 meters, they'd dredged deeper channels etc, however we politely refused him and he gave up (though he was a bit annoyed when we had the cheek to moor our dinghy on his pontoon when we went ashore!). Although there are quite a lot of tourists around, and the locals are on the look out outside the little shops trying to draw you in with offers of tastings, the old town here has been beautifully preserved.



It is an absolute delight of narrow streets lined with stone houses, with balconies and arches providing shade.
Tall thin stone crosses mark the cross roads, with Jesus facing the land and Mary on the other side facing the sea.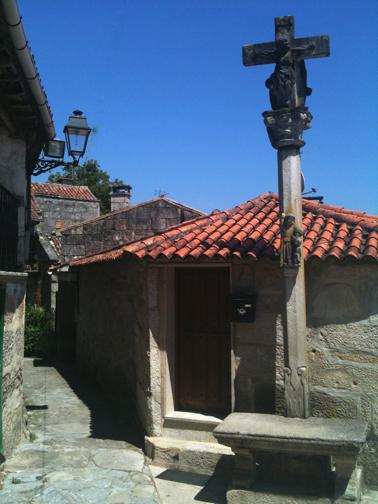 The shore is lined with horreos, the stone grain stores I told you about, I would guess in order to catch the sea breeze to keep the stored crops dry.
We found a cool cellar bar to have an excellent lunch in (no pictures of food in there!).
When we rowed back to the boat we found that the local sailing school had decided to use us as their windward mark and all these little dinghies filled with teenagers were circling around us.
We sat and enjoyed watching them before upping the anchor and motoring past the shell fish rafts to anchor alongside the Isla de Tambo, a small wooded island with a beautiful sheltered beach. It is owned by the military so one is not allowed to land on the beach, but when we arrived there were quite a collection of mostly motor boats anchored up and about 25 people on shore. Sure enough a grey launch appeared and proceeded to tell everyone to leave, however, as soon as it was out of sight they drifted back to shore.
The swimming was gorgeous, the sea was warm again and jumping into the clear water so refreshing, the bubbles rising up all around. I stood in the dinghy and used a sponge to lather myself up with body wash then jumped in the sea as a sort of bath. This time, with the detergent breaking the surface tension in the salt water around me, the bubbles bobbing up were finer, and they shot up from the surface about 10 inches, tickling my nose, it was like swimming in a sea of champagne!
During the day the trippers and less adventurous cruisers upped anchor and left for the marina, leaving just us and a German boat to enjoy the anchorage overnight. One motor boat caused us some concern as when he started up a huge plume of smoke came up from him. He was one of the first to go, clearly one of his engines was in great difficulty, gasket blown or some such technical disaster. We watched him limp across to the marina, the plume following behind him and giving an extra billow every time he revved up. We imagined he'd be heading for the mechanic as soon as he got there, but astoundingly, he came back, the smoke blacker and thicker as he came! When he finally left he created an absolute cloud of foul smelling exhaust fumes, sitting on the surface like a squirty cream dollop, it moved our way in the light winds, unfortunately, so we all had to go below and close the portholes and hatches until it had passed.
---