Broken Bay

Lochmarin
Thu 24 Mar 2016 05:24
33:38.977S 151:09.878E
Finally we left Sydney. The wind turned Southerly, the sun shone and we had a beautiful day sail up the coast to Broken Bay.
Lochmarin motoring under Sydney Harbour Bridge, for the last time (this time around!). Thanks to Sarah Fieldtrip for the picture.
The conditions were perfect: around 15 knots on our quarter, the swell around 2 to 2 1/2 meters but with a nice smooth long period, that lifts you up smoothly then carefully lays you down again. We sailed closer to the coast this time (there's a strong current that pushes you South offshore) so we were able to see the bays and headlands of Sydney's Northern Beaches slowly slide by. On our last day in Woolwich Marina we took advantage of being in a berth to visit with Don and Jan Espey. Don took us on a marvellous tour of the coast, starting on North Head and going right up to Pittwater, so we had seen from the land the curved golden beaches with beautiful swell rolling in on them, interspersed with red brown headlands, studded with trees and wind carved rocks. We now got to see it from the sea, recognising the landmarks Don and Jan had pointed out to us.
Looking out to sea from North Head.
Most bays had sea water swimming pools for those who didn't want to enjoy the rollers.
The view from on board approaching Broken Bay, with Palm Beach and Barrenjoey Head.
We'd heard a lot about how Pittwater was a great place to sail so we turned in to investigate, seeing lots of sailing boats criss crossing the waters. We joined them, tacking our way along. It was very busy, with lots of moorings and marinas, small racing trimarans, fishing boats and trailer sailers, lots of looking out and dodging to do. The bar across the mouth wants watching too - you're happily sailing in 14m of water then all of a sudden it's two! Pittwater looked great fun for a dinghy or trailer sailer, lots of enclosed calm water to play in, but it felt too tame for us. So we turned back and headed around into Cowan Creek instead, where it was much quieter, tucking into Refuge Bay for the night. The pilot guide says that Refuge Bay has been "described by some long-distance sailors as the finest anchorage in the world", and indeed it is splendid: a beautifully protected bay with good holding, striking wooded steep hills all around and even a little waterfall. But it is criss crossed with rows of moorings, there must be fifty in there, and another fifty in the adjacent America Bay. It wasn't full, by any means, but there were plenty of boats there so in the evening it was the sound of chatter and laughter, shouts between boats, and replies called back, that filled our ears rather than the babble of birds bedding down for the night. It felt rather like the difference between free camping in the woods and being in a campsite with your neighbours' canvas just a few feet from your own.
Next day was overcast but we set off to explore down the creek; we had been invited to lunch with Paul from Byamee's parents, Joe and Marie, a lovely couple whose company we thoroughly enjoyed. They lived near Bobbin Head, at the head of Cowan Creek so we followed the meanders to see how close we could get.
Looking North across Broken Bay from Cowan Creek.
It was beautiful. Turn after turn, winding creek following little bay, not quite seeing where the way through was until you got there.
It's all unspoilt National Park, looking much as it must have done when the first settlers sailed up this same creek. They were amazed by the trees on the headlands seeming to grow right out of the rock, in actual fact they are in rooted in soil, the root run back along the rock shelf leaving the tree to take advantage of a prime sunny spot out on the bank.
Finally we found a safe spot to leave Lochmarin, on a National Parks buoy, in Houseboat Bay, just around the corner from Apple Tree Bay.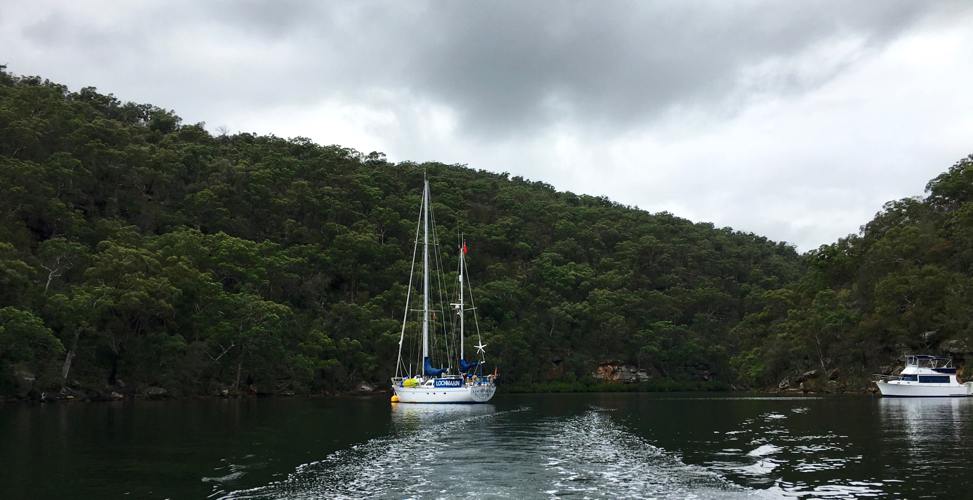 We took the dinghy ashore and spent a lovely relaxing day with Joe and Marie, returning late afternoon in time to go back up the creek to Refuge Bay again, in amongst the happy campers, ready for an early start to make good use of the Southerly that was still blowing.
---