Mostly Birds

Lochmarin
Mon 20 Jul 2015 03:44

New Zealand is very like the UK, and very unlike the UK all at the same time. It is beautiful and majestic like Scotland. The rolling hills and woodlands don't look that unlike Dorset. Yet, get a little closer and there's tree ferns and toi toi instead of beech and oak, kiwis and possum instead of rabbits and foxes. Other things are similar too, like tomato ketchup and tins of baked beans with the familiar shield design on the labels. But it's Watties, not Heinz, and it just doesn't taste the same. It's THHGG again the hot brown liquid that's "almost, but not quite, entirely unlike tea". The garibaldi look like garibaldi, but have too much fruit in them and aren't crunchy enough, the gingernuts are just too tough - fine dunked but you have to rasp at them otherwise. I realise I sound as if I'm just complaining, and usually we love exploring new tastes and flavours in new countries, it's just that they look like they'll be familiar, then aren't. It's a bit like picking up a cup of tea when you thought it was going to be coffee, or vice verse, nothing wrong with the drink at all but it tastes disgusting when you expected it to be different!
The birds here are the same: familiar yet unfamiliar. I felt real joy when we approached the coast and we saw Gannets again, we felt we were back in Europe, but next time we went out we were surrounded by Fluttering Shearwaters.
When we were based in Whangarei there was a 5K walk we'd taken to doing most mornings. At one point along it there are Skylarks and, if I close my eyes, I am back on up the Downs in Kent or at the foot of Maiden Castle in Dorset. Yet when I open them the swooping bids are red breasted Welcome Swallows instead of House Martins and a Fan Tail flutters after insects ahead of me. You hear a twitter and a chatter morning and evening but, even though there are blackbirds and thrushes here, it is nothing compared to the full throated chorus of English woodland in Spring but to compensate comes the incredibly versatile song of the Tui, trilling and clicking away.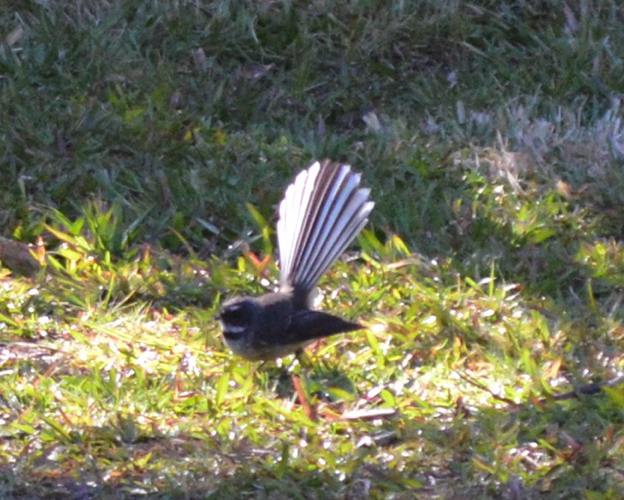 A Welcome Swallow pauses for breath and a Fantail lives up to his name.
Seagulls compete with ducks and White Fronted Terns when you've left over bread in the Town Basin
and we were constantly entertained by the Pied Shags swallowing fish that were much too large for them.
Amazingly, he actually swallowed this!
Instead of Moorhens and Coots, Pukekos, and Oyster Catchers occupy the banks of the river, along with Spur Winged Plovers and White Faced Herons. A pair of Kingfishers were always to be seen, never more than a few yards from each other.
Pukeko and Spur Winged Plover
Oyster Catchers
White Faced Heron and Kingfishers.
In the garden of the house we rented we were enchanted by flocks of silver eyes, hard to spot as they're shy birds, looking like sparrows from a distance, but the temptation of persimmons helped me get these snaps. Goldfinches were everywhere, much more common than in the UK, inn flocks of up to 20 birds and Australian Myna birds patrol every road looking for bugs killed by the traffic.
Silver Eyes.
Goldfinch and a Myna bird.
Apart from in captivity, we had no luck spotting kiwi, but saw penguins just one time - when Jon came upon two nesting in a little cave on the beach. However, we did get snaps of a couple of other rare birds. Here, in flight is the Xavier, celebrating a certain birthday in the traditional Kiwi manner,
and of, course, Spike who has finally discovered his identity! He's an Eastern Rosella, we knew he was a parrot but hadn't been sure of the type. Unfortunately none of the other ones would sit still long enough for me to take a picture so I've grabbed one off the internet so you can see the unmistakable Spike colouring…
---