Arriving in Lisboa

Lochmarin
Thu 30 Aug 2012 11:20
38:42.11N 09:10.15W




We were planning to leave Cascais for Lisboa (Lisbon!) early on Tuesday, however just as we were all ready and looking towards the fuel berth to see if it was clear to go for a top up before we left, the fuel berth disappeared. As did the breakwater, the bay, the town... another of those fog banks had rolled in. So we delayed a while and scooted off to see the Maritime Museum - which was delightful and really interesting, so I didn't mind the delay at all. When we got back it seemed to be lifting so we set off, but in places it was so thick that we couldn't see 100 yards. We had radar of course, and a chart plotter using GPS to show where we were on a chart, but we had to concentrate hard to dodge the pot buoys and the many little fishing boats that were too small to show on the radar. So we didn't get to see too much of the journey up the river, which is a shame as it's the capital city it must be a bit like coming up the Thames into London. As we got further up the fog lightened, thankfully, and our first sight of the Ponte 25th de Abril (sorry, I don't know what happened on the 25th of April!) was the towers looming above the fog bank.



It lifted completely soon after, so we were able to see some of the spectacular buildings along the way.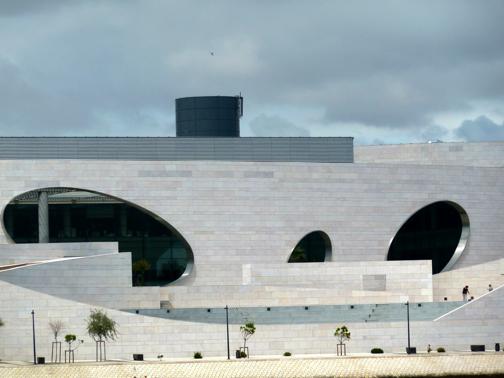 It was quite exciting going under such a huge bridge, we knew there was plenty of clearance but when you get close it always looks as though you're going to collide.
As you can see, we got safely through and started looking out for our marina a half mile or so after the bridge. We couldn't see it because it's behind this ship:
It makes you realise we are truly in the middle of a city! We found the entrance fine, but there's a pedestrian swing bridge that goes across the entrance to the marina so we had to wait a while for it to be opened.
The marina has some beautiful big jelly fish wafting around in it, some as big as a football.
And as usual, there are lots of mullet swimming around in it. Every marina and most anchorages we've been in have these fish. Some of them grew huge. They seem to have no natural predators, no one wants to eat them as their flesh is a greenish grey and tastes ... muddy, we are told. They live off any bits of rubbish that's in the water, and hang out near outflows from drains and so on. At times they run in packs, all swimming just under the water with their mouths open going "schloop!" (you have to say it as you breath in) and hoovering up anything on the surface. We took a cycle ride along the cycle path that runs along the river bank from here into the city centre and we reached a spot where a drain spilled out and there were more mullet crowded there than there was water! They were a squirming heaving mass, making the surface bumpy. No wonder Phil calls them "Sh*t eaters"!
---