Barossa and Adelaide

Lochmarin
Fri 18 Mar 2016 07:12
Isabella's welcome cake- yum!
Huh, you must be saying to yourselves, them, on holiday! Folk who live on a boat, mostly in the tropics with beautiful blue water all around them, with nothing to force them out of their bunk in the mornings except the need for a cup of tea, they have no need for holidays! But, with Lochmarin tied into her berth against the wash so well, every line doubled up and with springs upon springs upon springs, that she looked like a kitten tanged in a ball of wool, we were glad to go off for 10 days, with no boat jobs to do, just time to relax, get to know relatives and see for ourselves if the Barossa wine was as good as they had told us.
The golden hills of the Barossa valley, with stately eucalyptus filling the dells.
I had never got a chance to get to know the Australian branch of the family properly. Whilst I was growing up my Aunt and cousins had been in New Zealand and, apart from a couple of brief visits, she was simply the voice with the strange Kiwi accent on the other end of the phone at Christmas and New Year: "Say hello to your Aunty Carole" they'd say, and thrust a phone at me. I never knew what to say. Well, we were welcomed with open arms, and we had no end of things to say during our stay, chattering happily whilst cooking the meals, sharing joint family memories, from different perspectives, and just catching up on the years apart.
Although we had time to read a book and watch the birds (flocks of galahs, cockatoos and parakeets in the trees around us) the days were full. Carole and Michael took us on tiki tours around the Barossa and we went and stayed for a couple of nights in Adelaide with my cousin Nathalie and her family, Mick and Isabella, the loveliest bouncing, creative, chattering, seven year old you could wish to meet. We had timed things well, it was the Adelaide Festival and Fringe, second only to Edinburgh, so the town was lit up and buzzing with a lovely festival atmosphere. We got to see a great physical theatre and jazz show (a good combination, believe me) called Scotch and Soda, as well as sampling the evening charms of The Garden of Unearthly Delights.
The Barossa is beautiful. A shallow bowl of a valley with the green of row after row of grape vines filling the base. Every time you look up there's a golden rim of rolling hills, and as you drive through there are kangaroo and emu to be seen under the trees or crossing the fields. In the villages single story stone cottages, rendered into soft white curves, with tin roofs and filigree ironwork front porches, sit in rows, wooden signs spelling out their former occupants: Blacksmith Cottage; Doctor's House; The Old School. Whilst in the towns stately square respectable buildings celebrate the last century's hotels, courtrooms, stations and telegraph offices.
The vineyards were everywhere and we had great fun discussing the subtle flavours and distinctions of the many wines available for tasting. I know you're supposed to spit it out, but that seems like a waste of good wine to me, much more fun to drink each half glass down and feel yourself getting infinitely more knowledgeable, so much wittier and quite a connoisseur as the day wore on. We didn't dare bring Spike after he'd disgraced himself in Lanzarote. My favourite winery was The Rockford. The sweet juicy current grapes were being pitch forked by hand into the old machinery which stripped the fruit from the stalks prior to being basket pressed and the tasting room was the original ironstone farm cottage. It may have been all set up for the visitors, with the steel vats and production lines somewhere around the corner, but it was lovely to see all the same.
But it wasn't all wine tasting, barbies in the garden and festivals in town. Before we left we had a real treat in store. Carole knew a lady who had a little rescue centre for wildlife and we were invited to visit. This meant that we not only got to see a wallaby, a Western Red Kangaroo and pademelons (a bit like a cross between a kangaroo and a possum), we also got to PET JOEYS!!!
They were the cutest things, even cuter than puppies. I was worried because mine shivered when I first stroked him, like he was frightened, but he soon settled down. We fed them weet-bix and Phil's even licked him. They had been rescued from the pouches of their mum's who had been hit by cars but they seemed very happy hanging out in their replacement fleece lined pouches.
Carole and Phil pet the red kangaroo.
After we thought we'd seen all the animals in the rescue centre we were invited inside for just one more. A Tawny Frogmouth lived there as part of the family. These birds are nocturnal, but related to nightjars not owls. They rely on camouflage to keep them safe during the day, freezing into the shape of a broken tree branch. A wonderful bird to get to see up close.
Now you see me, oops, I feel threatened, I'll turn into a tree branch!
So, in our ten days we'd been welcomed into the bosom of our family, ate and drank like kings, got to know our relatives properly, seen fascinating animals and beautiful views everywhere we went. Lots of special things for our memories, but one more thing I'll remember especially everywhere we looked the magnificent eucalyptus trees, smooth and warm to the touch, shedding their bark like snakes, with wrinkled forks and blood red resin.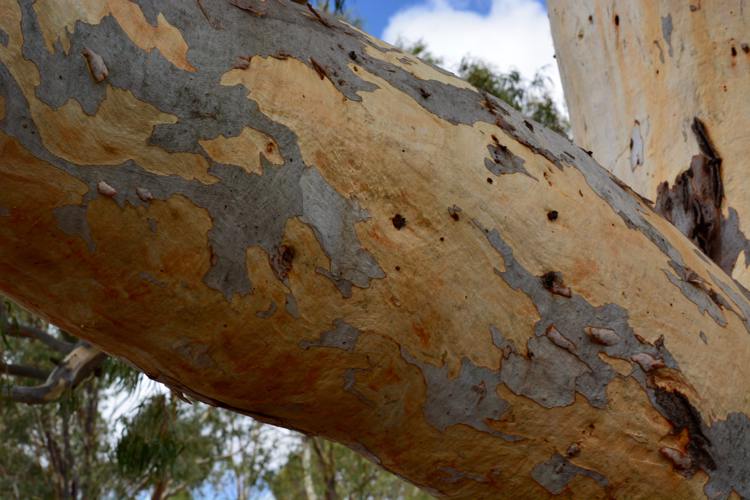 ---