Catch up pics-San Blas Snorkelling

Lochmarin
Mon 10 Feb 2014 20:51
Some of the coral-scapes.
Esther and Neil from Milagro took us snorkelling. It was quite wonderful. After Bonaire we were all set up to be disappointed but we weren't at all. The first site they showed us was off Sandy island, the sheer variety of live coral took our breath away and I was delighted to find plenty of big purple sea fans, we'd not seen many since the Tobago Cays. There's a large bank of coral you can swim along, then there are gullies leading through to the other side of the bank: good fun to explore.
The next site is known as Japanese Gardens, it's a shallow site so there are lots of small stacks of coral, with pathways between. Again the variety was stunning, and there were many fish.
The last site they took us to was on the outer reef. We didn't take our cameras, just snorkelled, hand in hand, drinking in all we could see. There were huge cones and castles of coral coming up to just below the surface. In between them sandy routes led us out towards the outside of the reef, until the rough waves drove us back to the shelter. We followed big schools of blue tang, stopping where they stopped to feed, moving on with them, watching the stragglers catch up. We hovered over squid, seeing the colours flicker across them, the tentacles on their faces like elephant's trunks, until we couldn't resist duck diving down and making them shoot away.
And every where we snorkelled there were rays. Dark sting rays: some black, some grey. Gentle looking spotted eagle rays with their lovely snouts, like dolphin's beaks. Sometimes the rays leap right up out of the water and sometimes they hide themselves under the sand, just an outline showing they're there. They don't seem to mind being around people, in fact one nearly bumped into Phil one time, he caught the moment on video:
Now I'll let the pictures speak for themselves: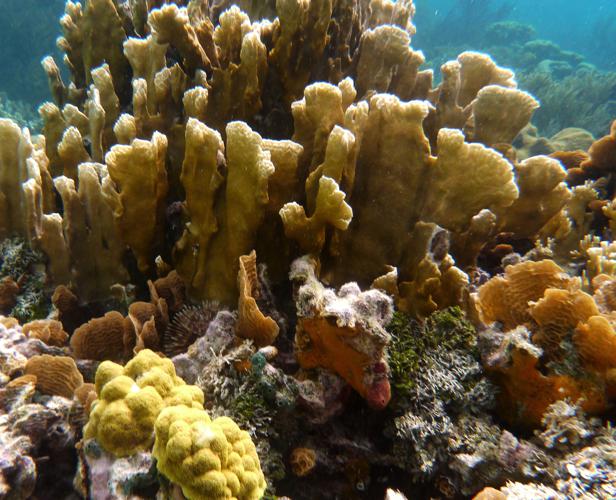 Some elk horn and brain coral.
A purple sea fan.
A sponge bowl, we've seen these up to 4 ft in diameter and 5ft high and a sting ray.
Stone crab and christmas tree anemone, to the right of the second picture above.
And if you'd like to see a little more, here's a couple of short clips, firstly some fish just near sandy isle:
then just entering Japanese gardens:
and finally, this stack was fascinating, so much going on, that I took a little close up video as I swam around it:
---