Back in the water!!

Lochmarin
Fri 11 Oct 2013 21:39
!0:40.756N 61:37.931W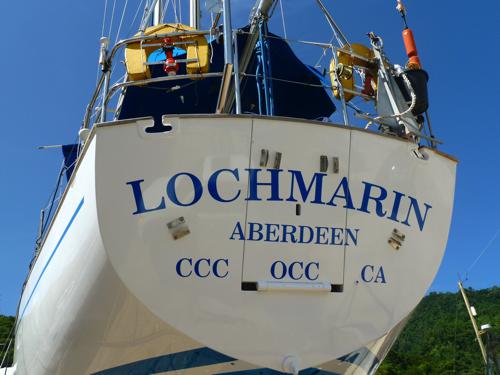 Yep! We're back in the water which means....
Not having to climb up and down steep metal ladders.
Being able to wee without having to trek across the yard, and even better, being able to watch a magical phosphorescent show in the toilet pan when ever we wee at night (easier for Phil!)
Having a fridge - trying to keep food fresh in Trini temperatures by buying ice everyday, using the freezer as an ice box, then watching everything float as the ice melts, and cleaning it all out before getting more ice next day is very very tiresome!
No dust over everything.
Having a dinghy to buzz about on the cool water to do chores instead of walking or cycling in the heat.
Using said dinghy to escape to a near by bay where the water is clean and clear and we can swim and snorkel and picnic on the beach.
and especially, waking up to the gentle movement of the boat under us and watching the sea reflected sunlight dancing on the cabin ceiling.
We had two lifts, one to put back the centre plate, the second to go back in the water. The boat yard chaps expertly slid plastic 'condoms' over the straps so no grit or dirt would spoil our new paint job and picked her up, drove off forwards then reversed back over the plate before carefully lowering her onto it. Sliding the plate in wasn't too bad, getting the bolt and bushing that holds it in place (and that it pivots on) in was a little trickier...
Once we were in the water things got a little exciting as rather a lot of water was inside the boat as well as outside. It was nothing that couldn't be fixed easily and the bilge pump was keeping pace with the water that was coming in so no real worry but a bit of a scramble around to find the source of the leaks and sort them out. We had cleaned out the filters in the sea chests and one of the lids wasn't screwed down quite tight enough so water was pouring in there. We had replaced a bushing for the line we use to lift the centre plate and the bolt holding it in place hadn't sealed properly so that was the second leak. It was sorted quickly and so, waved off by Michael and Georgie from Winds of Time, we made our intrepid way across the bay to Crew's Inn Marina. Unfortunately, on route, the clips that hold the oil cooler in place on the engine broke and the water pipe vibrated off the end of it, which meant we were pumping gallons of sea water into the bilge instead of around the engine to cool it. We arrived somewhat lower in the water than we set off and with a very hot engine. Well, it never rains but it pours. We spend months complaining that we're not in the water and when we get in it we have too much water...
Local orange winged parrots and Spike limin' by the pool with friends we met first on anchor off Graciosa, the Canaries.
Still, Spike is very happy, he's finally decided to come off the boat and explore a little. He refused to budge in the yard - I think it was the hundreds of parrots who flew over every morning and night that intimidated him actually, but he claimed he didn't want dust in his feathers. It's a pretty good marina, nice touches like a newspaper delivered to your boat every morning, however whenever it rains the currents push all the rubbish that has been swept down the rivers into the marina, which means our beautiful new paint job, complete with blue stripe just above the water line, is fast developing a black stripe just above the water line. Some big stuff gets swept in now and again - including a 30 ft tree that announced it's presence by knocking on the hull.
Some flotsam washed into the marina.
As well as meeting up with folk we met along the way (Trinidad is a great place to wait out the Hurricane Season in so a lot of boats migrate down here), we have made some lovely new friends. One of the great delights of living aboard is the range of people from so many cultures and countries that we come across, on all sorts of boats from catamarans held together with string and duct tape, to motorboats like floating houses. We will be in danger of not being recognised by old friends, however, as people tend to spot boats by their main features (Is it a sloop? With a blue spray hood? Got an arch with two wind turbines? Large flag on the spreader? Yep? Must be Franz and Norma!) and ours have changed, due to the wonderful addition of our new D400 incredibly quiet, vibration free, you'd-hardly-know-it-was-there wind turbine! Another new addition is a code zero furler for our second head sail. It's an exact copy of our yankee jib, a huge heavy weight thing, with a 60 foot luff. We pole them out either side for down wind passages, and have been having the second one loose luffed. This allows the wind to vent between the sails if there's gusts and the whole set up works well. Until it's time to drop it. Then we had a giant flapping thing, either falling in the water ahead of us if we left the wind behind (which means we have to pull up a huge wet heavy thing), or falling on the deck all the way back to the cockpit if we come head to wind to try to keep it on deck. Not happy times. However, now we have a wonderful furler which means we can simply roll it into a sausage and let the not flapping at all sausage down onto the deck, peacefully, and we don't even have to flake it when it's down! Perfect.
Our new wind turbine and wondrous furler.
As well as painting outside we've had most of the inside re-varnished too, for example, here's the pilot house as you have never seen it before, and will never see it again.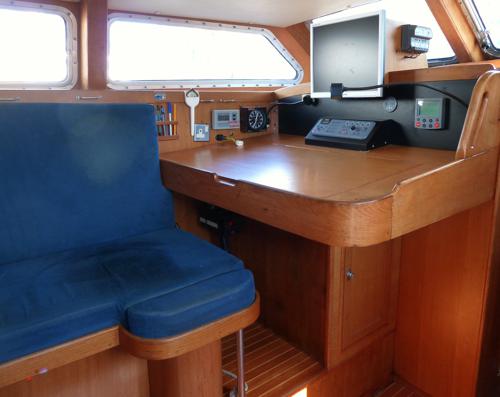 Clutter free, freshly varnished chart table.
There have been countless other things fixed and improvements made: from straightening bent blocks, through new hatch covers, to making a fresh herb garden. However, one that has had most day to day impact has been Bones from Craftline fitting an 'eyebrow' over the windows to our cabin in the cockpit. The problem has been that the angles are such that any rain, or wave, that falls on the bridge deck immediately flows down and cascades through the windows onto our bunk. We spent our life dashing back to close the windows if it rained, or having the cabin all hot and humid because we didn't dare leave the windows open. It used to be my alarm system. When it rained at night the rain would fall on me and wake me in time to leap up and close everything up. Now we can lie listening to the rain flowing happily along the eyebrow and into the cockpit, instead of on to my belly.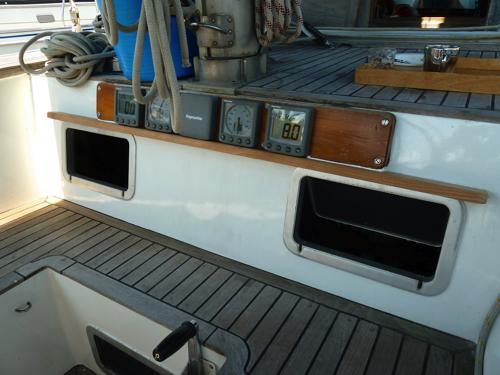 New rain stopping eyebrow above the windows.
---