A Taste of Trini

Lochmarin
Mon 23 Sep 2013 14:05



There's so much to tell, it's hard to know what to include and what to leave out to best give you a taste of the place.




Jesse James, supplier of four wheels and continuous commentary for all cruising folk, took us off on his famous Taste of Trini tour for a day, with 6 others. We have never eaten so much in one day in our lives.... I figured out where we were going wrong by about mid afternoon: the problem was we were too polite. The idea was that you get to look around the Island whilst stopping from time to time to taste some of the good stuff either grown here, or popular here. However, Jesse takes it as a personal challenge to find as many different things for us to taste, we got in the high 60's by the end of the day. The thing is, Jesse just kept putting things on our plate and, like the good polite people we were, we tried to eat it all up. Bad idea, I still don't know how we managed that last coconut ice cream on the way home... However it was a really marvellous day and our senses were bombarded with sights and scents as well as tastes. We came across so many things we'd never tasted or seen before: brazil nuts still in the seed pod, wonderful fresh polouries with tamarind sauce and chewing on sugar cane, the sweet juice running down my chin...



Brazil nuts in the seed pod.
One thing that I've found it hard to get used to is the security bars everywhere, except for in the big supermarkets and shopping malls, you are served at shops and bars through little gaps in the grills. Imagine going to the corner shop and having all the aisles inside, with all the goods on display, but you can't go in and browse. You have to peer in and try to spot what you want, then the cashier sends runners to fetch your things, calling back the flavours of juice or types of washing powder available.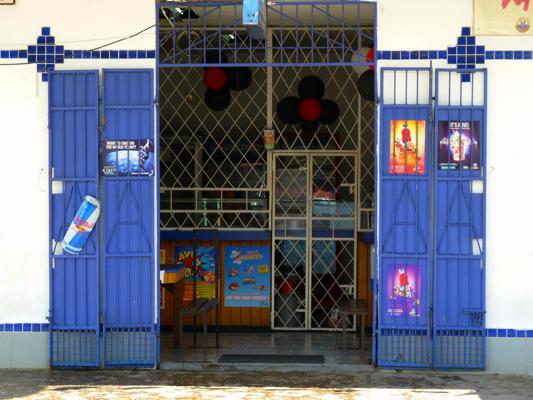 This shop is actually open...
Every where you go there are bar signs, usually featuring almost naked ladies who are clearly anxious for a 'good time'. I should warn the intrepid traveller that these adverts definitely contravene any reasonable Trade Description Acts because in reality there are NO such ladies within, just hopeful chaps buying drinks to fill the time in the hope said ladies would appear.
When you come to Trinidad everybody says you should see Tobago, that that's where the wonderful beaches are, great snorkelling and so on. However, the beaches there must be super fantastic because the ones we saw were stunning. Glorious rollers breaking on miles of sand shaded by palm trees...
Frequently along the roadside are stalls, selling fruit and veg, chow (this is sort of pickled fruit, with hot peppers, garlic, cilantro and black pepper... the pineapple is to die for!), plants, pepper sauce, and honey. The honey is very expensive, in fact so much so that the bottles in the supermarkets are tagged and placed near the spirits. This is due to problems with bees so there's a shortage of it, and it's one of those things you aren't allowed to bring in on the plane too!
A hot pepper sauce stall and honey on the supermarket shelf. That's about £17.50 for 75cl
We took a trip to the Nariva swamp, being ferried between the mangroves (they look so strange, standing up high on their network of roots, like they're standing on tippy toe so they won't get their feet wet) in an aluminium pirogue which had a little stow away on board: a baby rat the owner called him, but I liked to think he was a long tailed vole. We hd to brave very determined mossies, who seemed oblivious to deet spray and even long sleeves - they simply bit me through the sleeves. It was worth it though, as we saw howler monkeys, high high up in the tree tops (60 feet or so), moving from tree to tree, little ones following. Below is the best shot I got with my camera on maximum zoom, of a definitely male one. We also smelled, but didn't see, a porcupine. The porcupines here climb trees in the day time and curl up to sleep, gripping on with their prehensile tail. Fascinating! Wish we'd seen him! There was an abundance of butterflies, the Illioneous Giant Owl definitely the strangest, at rest he looks like half an owl's face...
Independence day was a sight to behold. We went into town and watched the parade of all the forces, from army to firemen, along with their transportation, from armoured cars to diggers. The streets were lined with everyone (including us) wearing red, white and black and waving flags and we all spilled into the pan yard afterwards for some great music and good food.
There's so much variety here, so much so see and experience, however, in true Trini style, whatever the time of the day or night, you can be sure to find a quiet spot to lime with your friends...
---