Gran Tarajal

Lochmarin
Thu 13 Dec 2012 21:10



Puerto del Rosario turned out to be a pleasant little town. On our first evening we were surprised to find the main shopping street rather empty and with quite a few shops closed, no bustle of people taking an evening stroll, or of old men sat in a row chatting on the benches, or of grandmothers calling after toddlers, or of parents sat at the cafe's drinking vino blanco whilst the youngsters 'hang out'. We discovered why: there's an amazing new shopping centre. All polished marble, sparkling Christmas lights and escalators. Giant electrical store, loads of up market clothes shops and a huge supermarket with rows of Christmas goods: nuts and hams and all sorts of sweetmeats that we're going have to try out in a couple of weeks. It was fancier than anything we saw in Lanzarote, but I still came away with a sense of a pleasant town, but without a feeling of community. It was largely ignored by the tourists who tumbled off the cruise liners, rubbing sleep from their eyes, to climb on the buses for a quick tour of the island before returning in time for lunch on board during the short run to Lanzarote.
One real pleasure was the 40 or so youngsters who came out with their school to spend the morning on the water, sailing little Oppies, going three to a canoe or joining their teachers in a larger sailing boat. They made a huge racket, chattering away excitedly, shouting their 'Hola!'s to us as they passed, being shepherded by some instructors in a RIB. Some fell in from the canoes, they simply squealed and clambered back out again. Some in the sailing boats ran out of wind, so they worked the rudder back and forwards to paddle their way off to their friends. A morning on the water in the second week of December. Imagine that in Weymouth bay! Speaking of Weymouth, they have a Condor high speed catamaran! Well, not a Condor a Fred Olson Express, actually, but exactly the same type of boat as the Condor ferries, it was quite a reminder of weekend racing to see it coming in to dock.
So we moved on down the coast, seeing the magnificent cliffs slide past us, with black volcanic dykes climbing like chimneys up the rock face and tracing the strata past crevices and rock falls along the coast lines. In some places the volcanos are cut off half way up their sides, in others they dip their toes into the sea and a few houses of a settlement can be seen where the natural harbours form.
Shockingly, amongst all this natural beauty, from time to time huge holiday complexes climb up the hill sides, their fenced in regularity offending the eye. Strips of emerald show golf courses, the opposite of green, as the sprinklers must play every night, spraying hard won water, desalinated from the sea, to ensure the unnatural lawns stay alive. Nearby hillsides blush with a gentle jade as the shrubs resurrect themselves after the recent rains.
As we turned West to the South coast of the Island (our closest point to the African Continent, just 50 miles East of us) we passed Punta Lantailla, a wonderful lighthouse up on top of the headland, and it was here that we started to see our first flying fish! These creatures are just marvellous to watch, they break in clusters, a few at a time, and go off in different directions, using their wings (they really look like wings, not fins, they are so long and stiff) to change direction and glide effortlessly over the waves for maybe 100m before dropping back in again. You could see what an effective method this must be to avoid predators: they're out of sight above the mirrored surface of the sea, and they drop back in a random direction from that which they were travelling, up to 100m away from the exit point.
We accidentally came into the marina at Gran Tarajal. Let me explain. Our evidently slightly out of date pilot book says there's no marina in the harbour here, just a little pontoon and boat yard for fishing boats, two small pontoons at the far end for local smallcraft and the rest anchorage and moorings. So we came in to see if there was room to anchor, planning to go outside the harbour to the little bay and beach to anchor if not. When we got in we found the whole place has turned into a marina with pontoons everywhere, and as there was a helpful chap in uniform whistling at us and directing us to a pontoon we went for it and quickly got fenders in place and lines ready to tie up.
It is delightful. There are maybe twenty cruising boats here of various shapes and sizes, from a massive two floored unpainted aluminium catamaran motor boat, through an Irish family on their self built (Aluminium again) 35 ft sloop (the kids, aged 4 and 8, were eager to show me the spoils of their rock pooling adventures which included hermit crabs and an amazing slug thing, which opened up like butterfly wings and lifted a sort of antenna when poked!), to youngsters on rusty but still seaworthy little boats with everything strapped to the decks. The place has electricity and water but little else in terms of facilities: cold water showers and loos, but you ideally need to bring your own loo paper, loo seat and door lock! It is very cheap, however, about a third of the price of Puerto Calero.
One of the charms is the little beautifully kept fishing boat fleet, beetling in and out the harbour.
in fact we have one for our neighbour:
They have a cooperative, with a shop were we can get fresh fish everyday.
The town is charming, giving a sense of what a Canaries town might have been without tourism.
It is runs along the beach and then climbs steeply up the slopes behind. It has lots of greenery: palms, banana trees and cactuses; plenty of variety in its shops; two big supermarkets and at least two delicious smelling bakeries. There are parks and playgrounds, pedestrianised roads and open squares. Particularly striking are the many murals all around the town, whole sides of buildings becoming colourful art works.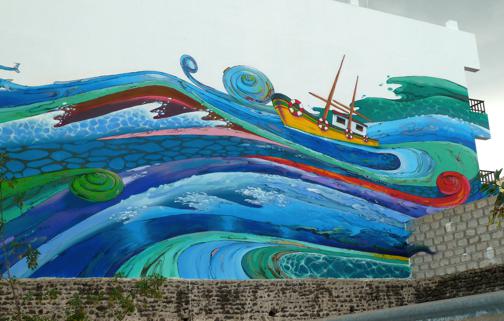 So, I think we'll stay here a few days, then maybe move to anchor out in the bay if the wind's in the right direction, because it's a lovely place to enjoy. In fact, the word's got out already, it's clearly THE place to come and avoid the stresses of the Christmas rush!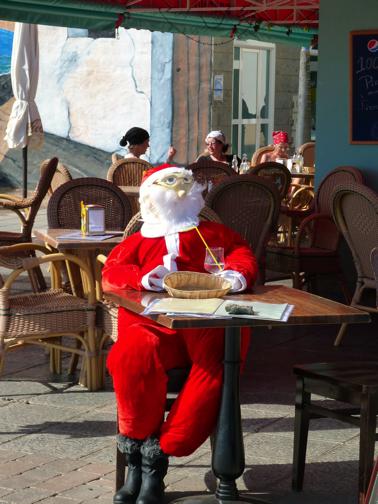 ---