Up to the Gold Coast

Lochmarin
Sat 2 Apr 2016 08:39
27:57.101S 153:25.354E
The sail proved to be as lovely as we'd hoped.
Saying goodbye to Tomaree Head
The wind and weather were perfect: we had some lovely sailing. As we headed up to Sugar Loaf Point, keeping quite close to shore to avoid the East Australian Current, which flows Southwards as fast as 5 knots in places, we were joined by dolphins. Just a pair at first, then more and more joined us over the next hour until we had 9 dancing and jostling for position as they rode the bow wave.
Looking down past the anchor.
Five minutes of watching dolphins off the bow of Lochmarin:
and the same video but lower resolution, so a smaller file:
Being so close to the coast we had to do a bit of island and rock dodging as we rounded Sugarloaf point, sailing between Bull Rock and Seal Rocks, which proved more interesting than we anticipated as the current swirls rather between them, but it was fun navigation of a kind we don't often do as we are usually quite far off shore.
Sugarloaf Point Lighthouse.
The sun set beautifully as we prepared for night watches. I thought I'd try a panorama on my phone but discovered that a brisk wind and a bit of a swell are not the right conditions for a panorama photo!
Sunset snap
The same sunset as a panorama when the boat's moving with the swell!
The next day we steadily sailed up the beautiful coast past Coffs Harbour, where we had made our original landfall in Australia (but it was in the middle of a full blown thunderstorm then).
Coffs Harbour in rather more settled weather.
Beyond there would be new horizons, unexplored coast for us. I felt very much as if we were travelling in Cook's wake, especially when rounded Cape Byron, the Eastern most point of Australia, with Mount Warning rising behind it. Cook named it to warn of the reefs off Point Danger, reefs that will only become more plentiful as we go North towards the Great Barrier.
Morning light on Byron Head with Mount Warning behind it.
Julian rocks with the twin peaks behind and Mount Warning behind again.
Having timed things just right it was mid afternoon when we left New South Wales and entered The Gold Coast and Queensland. We'd be in in time to anchor in the light and get our bearings. "Conspicuous High Rise Buildings" it says on the chart: they were pretty hard to miss!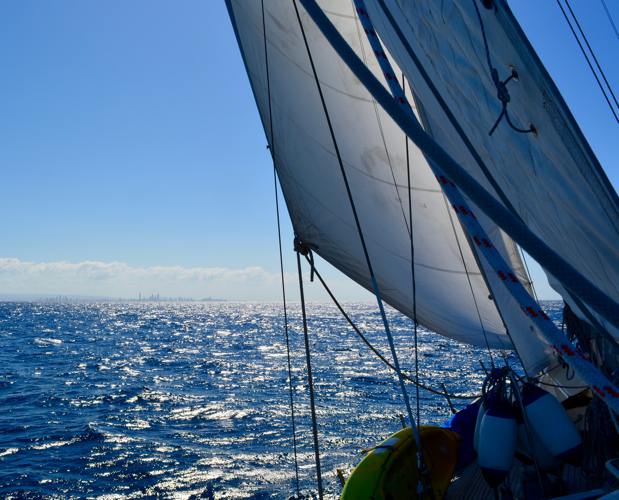 High Rise Gold Coast as we had a cracking sail in - notice the angle of heel.
The Seaway was hard to spot against all the buildings, it's not a very wide channel, but there was so much traffic of pleasure boats and fishing boats that we simply followed the others and found our way inside, threading our way past parasailers, jet-skiers and fishing boats to the anchorage commonly known as "Bum's Beach", no not a nudy beach, but a place where people who don't want to stay in marinas drop the hook and hang out. The shore was covered with swimmers and barbies, the bay crammed with boats. We'd have plenty to see in the morning!
The high rise buildings from inside The Spit.
---