Forts, Fishes and other Fings

Lochmarin
Fri 20 Dec 2013 21:59
Spanish Waters: we're in the middle with orange Calm Rhino behind us. Tulu is the catamaran just above our stern.
I forgot to tell you: we caught another fish!! A lovely little yellow fin tuna, he fed us and the Tulus the day we arrived.
Just south of our anchorage is a little peninsula with the remains of a fort, Fort Beekenburg. We took a stroll to go find it and explore. On the way we passed a little freshwater pond with Black Winged Stilts on it, their reflections made their legs look impossibly long as they strode across. We also came across quite a curious plant, with waxy purple flowers and huge seed pods.
Black Winged Stilts and unknown amazing purple flowering bollock plant. The pod was about 4 inches by 3 and rather soft to the touch.
The fort is delightful, you can climb right up to the highest battlement, having to ascend up a ladder for the last stage. On the way Sara Tulu made a new friend. He actually let her touch him!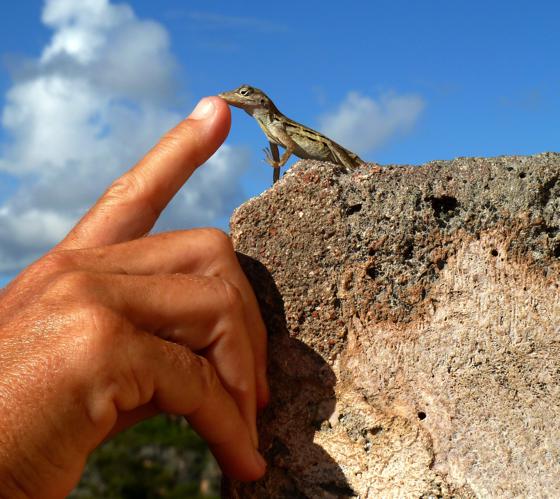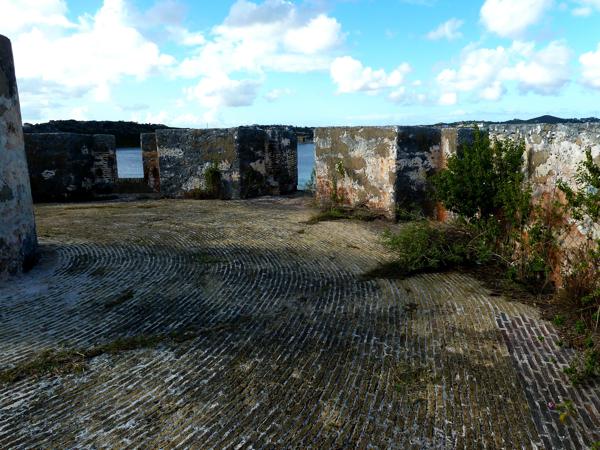 Beyond the fort we saw a dive site marked and set off to snorkel. There was the loveliest little tug boat wreck, only about 100 yds along the shore and in shallow water.
There were so many fish all around it, under and in it. Phil looked like a pied piper of fish, swimming with a cloud of them following him. With the encouragement of a few dried shrimps, they were soon darting right up and even knocking in to Sara Tulu.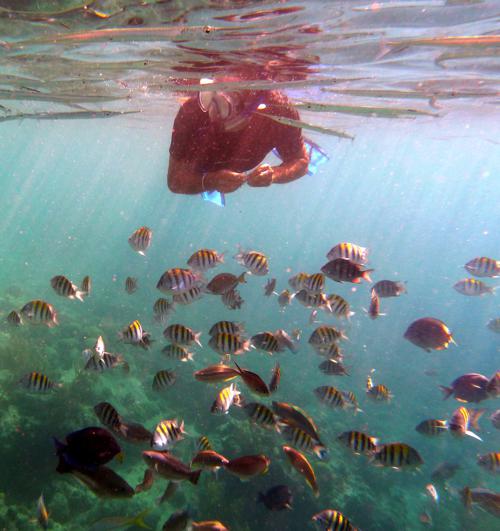 Chris feeling slightly intimidated by the Ballyhoo just under the surface of the water and Phil and Sara Tulu feeding fishes.
You can see for yourself how magical it was, like swimming in an aquarium. Personally, I'm considering growing gills and taking to the underwater life permanently.
---