Wala Island, Malekula.

Lochmarin
Tue 20 Oct 2015 21:55
15:58.65S 167:22.46E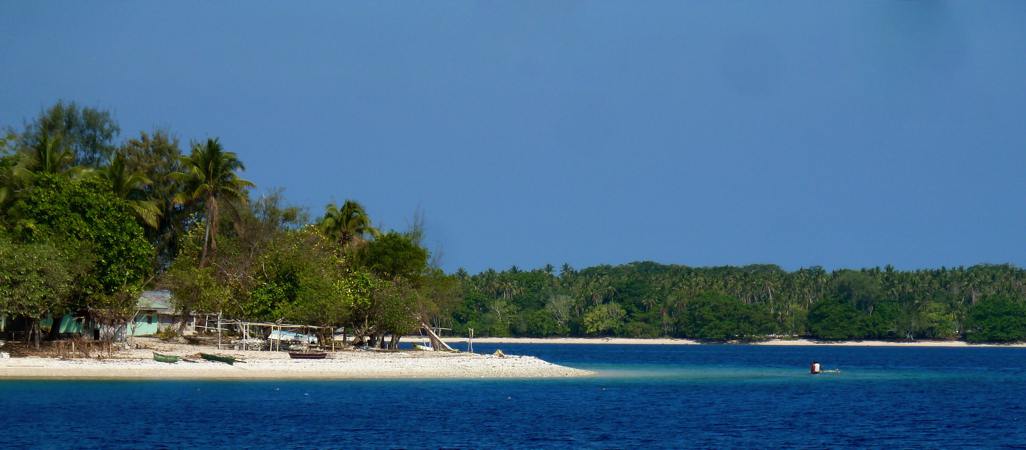 Wala Island, with her sister island, Rano, behind.
With light winds it didn't matter that we were having to tack straight into them, we had a gorgeous day sail. Having had no wind for a couple of days the swell was hardly there at all so we concentrated on fishing. With three lines out and the gaff to hand we were ready for them and it wasn't long before we had a nibble, but he jumped high and threw the hook. Never mind, the next would be along soon. He was, a long hard pull on the middle reel, but all for naught, the line broke and he swam off decorated with our new lure. Never mind, there's still time, we thought. There were fish jumping all around us and Phil shouted excitedly, a huge, dark blue fish had jumped out of the water alongside the boat, chasing the smaller fish. Would he get tempted by our lures or would he be too focused on the fish he was chasing? He got tempted! He took the bait! What was he? We didn't know, but he was big and blue, was jumping high and looked like he had a sail or at least a large fin on top of him… We'll never know. He threw the hook and we arrived at our anchorage with no fish to fill our bellies and share with the villagers.
We were given a warm welcome when we approached the village on Wala. George paddled out in his out-rigger to show us a good spot to drop the hook. The holding is good, in sand and weed, just South from the pier. George invited us ashore to look around the village so, as soon as we'd tidied the sails (and had our anchor beer) we headed in. It's a beautiful village, with, as we've come to expect, such friendly people.
Pretty weave on all the houses. The cloth hanging from the bamboo is to swing babies in when they're sleeping.
The women were mostly industriously working at handcrafts: weaving mats, bags and baskets. They all wanted to study a bag I had bought in Luganville. I chose it for the fine patterns in the weave and they were studying it to see how it was done. There was no compunction over asking us how much we'd paid for it; they needed to know the market price, how much they could ask for their goods, whether it would be worth the time to make it.
They have very little but are keen to trade and sell stone carvings they've made. We bought one, rather a fine one we thought, it will be a good memento of Malakula in years to come, and we traded for fruit and tomatoes. They wanted rope, paracetamol, parcel tape (to wrap carvings with when they sell them) and fishing line and hooks. I had noticed that the Chief's wife's flip flops were in a terrible shape: heels worn through completely so they were only 2/3 length, toe strop tied on with string. I had some flip flops I rarely used, and I could wear other sandals instead of them. She had about the same size feet as me, I told her I'd bring them. "How about for my boy?" the chief asked, pointing to a similar pair nearby, "He's your size." Back on the boat we had a ruffle through the lockers and found a pair of light trainers, some crocs and a couple of pairs of flip flops. They were all seldom worn, we rarely wear any shoes, and it felt good to lighten the load whilst finding homes where they were needed. We asked the Chief Kami if there was anything else we could help with, we were returning to Vila, was there something we could fetch? He needed a new chain for his chain saw. We photographed the make, model and size, exchanged phone numbers and promised to bring one back from Vila if we could find one. We'll be back.
Sun setting over Malekula hills, seen from the anchorage at Wala island.
---