More from Tahiti and Moorea

Lochmarin
Thu 24 Jul 2014 19:21
The two bays of North Moorea, Opanohu and Cook's, from the view point on the trail below Belvedere.




We've been alternating between Tahiti and Moorea: we went back to Tahiti to take my Mum to catch her flight, then a few days later I flew to the UK, coming back with Jonathan who's staying with us for the summer. After a few days showing Jon Tahiti we sailed back over to Moorea, from where we're planning to go on to Huahine as a night sail this evening.




Whilst we were in Tahiti we managed to do quite a number of dives, including wreck dives with folk from Scotia, Adina and Vela. The first was on a yacht that had sunk on one of the moorings, it's mast just about 12 ft under the surface. When you're living in a boat it's eerie to look in the companionway at the flooded galley and saloon that had been someone's home, sand drifting in and fishes darting. The next was a big old metal boat, it must have been down for some time as it's reduced to huge curved ribs. It was quite beautiful swimming in it's shadow, with daylight streaming through the gaps and fish playing hide and seek amongst them. A stone's throw away from this wreck was a Catalina sea plane, which is in quite reasonable repair considering it's been there at least 15 years now. I wasn't confident enough to swim around inside it but I did get brave enough to drop down through the hatch and look around. A shallower dive, close to the anchorage, had a light aircraft and another boat. This one was great for snorkelling too as the fish are frequently fed by the dive schools who come out to practice there. The site's known as 'The Aquarium' and it's clear why as schools of fish surround one as soon as you drop in out of the dinghy! We took Jon there the day he arrived and he was enchanted by the colourful characters, duck diving down to get a better look.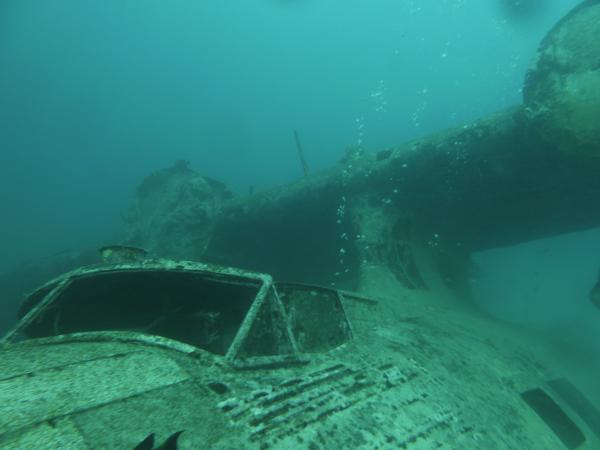 Back in Moorea we took a hike inland, finding the old trail to Belvedere View Point. The route took us past pineapple fields then along farm tracks until we were zig-zagging up the steep hillside through the trees and bushes. The climb was well worth the spectacular views of both bays but we were rather hot so pleased and relieved to find the rest of the path up went through woods filled with buttressed trees and cool thirst quenching streams.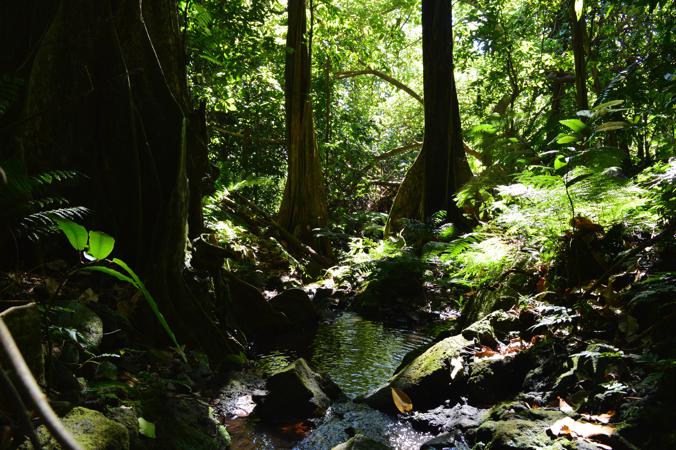 Jon knows the Island better than either of us as he borrowed my Brompton, pulled the seat up as high as it could go to avoid his knees hitting his chin and cycled the 40 miles around the Island, following the coast road. He arrived back 5 hours later, a trifle saddle sore, hands a little blistered but well chuffed - and so he should be!
We're surrounded here by boats we know, about 6 of us in the anchorage, enjoying the snorkelling and feeding the rays again, but the time has definitely come to move on and explore further afield. It starts to pull on us: a little tug inside that says we've been too long in one place, reminding us there's more to see ahead and we need to be moving on, finding safe harbour before the turn of the year brings the cyclones.
---