Wayag, Raja Ampat

Lochmarin
Wed 9 Nov 2016 09:57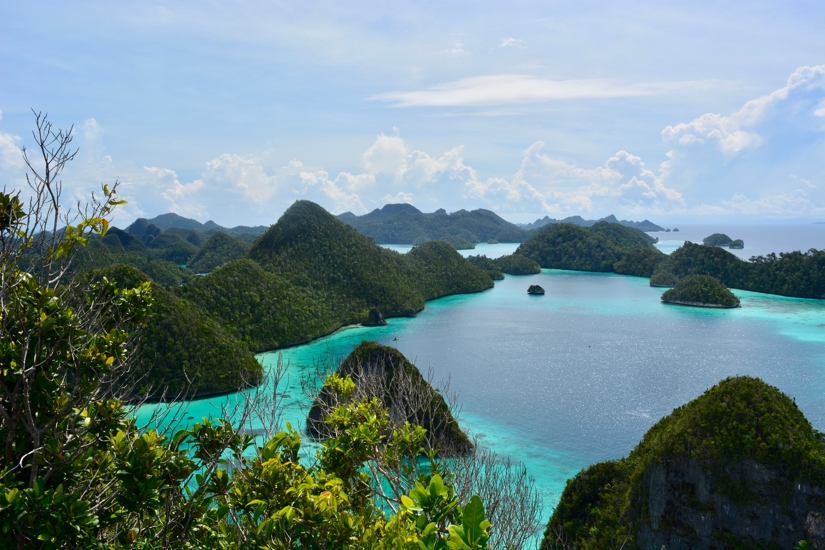 Raja Ampat, the Islands of the Four Kings. These were the main reason we had decided to travel around the North of PNG and enter Indonesia from the North East. We were finally right up in the Northern uninhabited islands and it was living up to it's reputation.
The towering karsts around us, sitting in their turquoise pools, just begged to be climbed. Sea Eagles wheeled above them and the waves of chatter, digital alarm beeps and whimsical whistles of the myriad smaller bird life told us that the seemingly still forests were a haven for wildlife. Under the water the range of coral and diversity of fish delighted us - we spent part of every day under the water admiring it all.
Dinghy exploring is lovely fun here, navigating between the beehive shaped karsts, finding passages to lagoons, winding our way between the coral heads, coming across hidden sandy bays and quiet beaches. On one of our explorations we found treasure: another cruising boat! A real, honest to goodness, fellow European cruising boat. They were Italians on Goiel and we were hungry for chatting time, comparing our experiences coming around PNG and checking in to Indonesia. It was lovely having some like minded people who shared our lifestyle to socialise with again. Sitting in their cockpit, drinking in their coffee and their lovely company, we watched the eagle rays leaping in the sandy bay.
See what it looks like with us on a dinghy ride across one of the bays:
(this clip is about 50 seconds, the blobs are because I took it with our underwater camera that always has blobs on it, music is thanks to Ziggy Alberts, Days In The Sun)
Even at night the sea life made itself known. Big fish kept banging into the hull, reminding us of the sea lions bubbling under us in Galapagos. Perhaps they were chasing smaller fish, or being chased by even bigger ones, but they soon had Phil banging on the hull to try to quieten our noisy neighbours! We also had a repeat of the now common occurrence of squid hanging around the anchor chain. These ones were too small to be worth catching for dinner but Phil enjoyed teasing them with our squid lure - the game being to tempt them to follow the lure but avoid actually hooking them.
A phinisi towing its flotilla of kayaks for its guests to use.
This little corner of Indonesia has very few visitors. Phinisis bring a handful of tourists out and there are some day trips by motorboat for the locals at the weekends, otherwise it is untouched. It was a real privilege to have had a chance to be here and to enjoy it whilst it is still unaffected by rising water temperatures, causing coral bleaching, and by an influx of mainstream tourism with its associated pollution, both in terms of plastic, noise and disturbance to the wildlife. Its a place we'll treasure having been to for the rest of our lives.
---