Up the Volcano

Lochmarin
Thu 4 Oct 2012 10:23
This is the volcano just above our anchorage, the approach is sand and scrub, with pumice showered over it
here we're looking down at the anchorage (see the boats? The dots on the water in the middle of the picture), not far from the rim. It's cinders and lava and big lumps of pumice underfoot, the green and yellow are lichen on the rocks: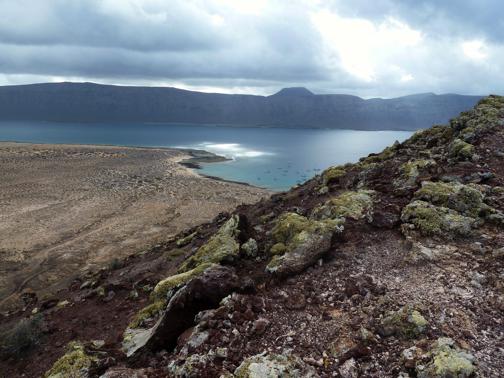 Here we're walking around the rim, looking North along the length of the island. The Northern side of the crater has been eroded away by the prevailing wind, leaving a horseshoe. The large volcano in the middle is the stripy one above Caleta del Salado.
And, finally, those mysterious droppings I told you about. When you poke them (with a stick!) they just crumble and seem to consist of sand. We find them in the sand dunes, maybe 10 or 15 meters above the high water line so they're not from a sea creature. Any ideas?
---