Boatworks - Australia's Greatest Boatyard!

Lochmarin
Mon 18 Apr 2016 02:14
27:52.2509S 153:20.0516E
The view from the travel lift as we were lifted into the yard.
The Sydney rock oysters had mistaken Lochmarin for a rock whilst we were in Woolwich marina. In fact, they mistook the warps for rocks, the fenders for rocks, the outboard on the dinghy for rocks and their little baby rock oyster larvae wriggled through the sieves and filters and set up home in the saltwater pipes which take sea water in to the water maker, to cool the fridge and freezer, and to cool the engine and generator when they are running. It was time we lifted out and got rid of our unwelcome stowaways. At first light, with a rising tide, we set off up the Coomera river. It was fun navigation wriggling our way between the sandbanks, passing private dock after private dock as we worked our way deep into the Gold Coast's 'perfect life style choice' zone: a designer home alongside the water with your own dock.
Going into a yard for a lift out can be a trying experience. You need your fenders down as often the docks have rough walls, though you don't know quite what height you need them, you need ropes ready at each quarter so the yard hands can keep you centred for the lift to get positioned. When it's a river you're entering from it can be even more trying: will the current swing you sideways as you turn to enter the dock? We have no bow thruster and a single engine so Phil's helmsman skills can be put to the test. We'd not been to Boatworks before so had no idea what to expect. We were amazed.
We hailed the boatyard by phone and they told us we'd need no fenders and no lines. The lift was in position waiting for us, three dock hands were at the ready, and the dock was fully fendered. We slid in easily, they lifted the slings as we came in, keeping us in place whilst they checked exactly where we wanted the slings positioned, and eased us up gently. Perfect. As soon as we were out of the water, instead of bringing alongside a ladder, with someone holding the foot, they wheeled over a set of stairs for us: just like getting off an aeroplane. We've never had such a professional and stress free lift.
The totally cushioned lift dock, with lines available should they be needed.
Watching your pride and joy being carried around a yard in slings can be worrying, but instead of us looking on with concern as she was trundled and jet washed, we were given free vouchers for coffee and a breakfast of raisin toast in the cafe / restaurant in the yard. A great idea all round as it gave us a chance to relax and the cafe staff a chance to show us how good they were and make friends. Win win.
Lochmarin was soon settled in a prime spot in the yard, complete with her own garden and, wonder of wonders, our very own set of stairs!
The wonder stairs in action. The garden has bags of soil on it because next day two chaps came and planted ferns all around the base of our palm trees… what service!
I cannot stress enough what a difference those stairs made. Usually one has a metal ladder, tied to the deck at the top, up and down which everything has to be carried, or winched over the side using a halyard. So, food, rubbish, washing kits, clothes for laundry, paint and tools, grey water from washing up etc. all has to come up and down the ladder. At first I hate the top bit, especially if we have to climb over the life lines at the top, but you get used to it after a few days and stop putting everything in back packs, getting a little cocky, carrying things in one hand. This means you have to be using no hands every time you shift your grip, and especially if you've got bulky items and so you're leaning back, you get the odd wobble and close call. We know two people who have fallen off ladders in yards, one had multiple fractures, the other knocked himself out and was found hours later still on the ground. Being able to simply walk up and down stairs was wonderful.
Other things about the yard added together to make it an exceptional place to get hauled out. The yard was concreted with run off drains built in. This means there wasn't dust blowing everywhere and grit being trod up onto the boat all the time. The toilets were what they called 'ensuites': shower, loo and sink in one room, like a home's shower room, rather than a communal row of stalls. So much nicer. The washing machines were HUGE, and, along with the dryers, included in the live aboard price, no coins to save up or tokens to buy (you always run out at a weekend when the office is closed!). And, so helpfully, there are courtesy cars available to use, for a contribution to petrol costs, during the weekdays for up to three hours at a time. One can nip off and get the gas bottles filled, go provision at the supermarket, pop across to the fixtures and fittings shop for just the right connector when you need it. Or take off to the Tamborine Hills for the afternoon, just to get out of the yard and see the view.
View from Mount Tamborine looking inland across to the next mountain chain.
All these little things make a difference but the reason we agree wholeheartedly with Boatwork's claim to be Australia's greatest boatyard is the attitude of the people working there. From the folk planting up the garden, through the lift teams, the cleaners, the office team, the restaurant staff, and the many individuals with shops and workshops on the site, without exception, a totally positive, client centred attitude prevailed. They were proud of the yard and their businesses, were friendly and so so helpful. If they couldn't help you they'd go out of their way to find someone who could. In particular, Pete from Marine Antifoul was exceptional and Jeff from Choice Stainless went far above and beyond the call of duty. We had arranged to hang in the slings overnight prior to our lift back into the water on Saturday morning, so that we could drop the centre plate and antifoul it. When we went to splash next day we found a leak in our stainless sea chest (crevice corrosion). The yard simply picked us back up and let us stay in the slings over the weekend, to save us the cost of another lift. Jeff spend the weekend manufacturing us another sea chest from scratch. I don't think he saw his family that weekend, but I got the impression that that wasn't unusual. This smiley, helpful generous Kiwi was always helping people out of a tough spot and putting their needs ahead of his own.
Lochmarin in the slings ready to go back in the water, almost…
We weren't short of wildlife there either, with reserves and sugar cane fields all around the bird life was exceptional, with cockatoos and parakeets flying over and ravens and magpie larks living in the yard. We brought a little wild life along with us too: this little blue bottle jelly fish was clinging to the cap rail after our sea passage
A slightly fluffy Magpie lark and a new favourite, a Brahminy Kite, stunning colours!
An amazing butterfly who thinks he's a wasp and spectacular Cotton Harlequin Bugs!
Great Egret fishing in the mangroves at low tide.
But the bird I was most surprised and delighted to see was one we'd not come across since the Caribbean, the rarely spotted Jack Sparrow, serving us on 'Pirate Day' in the yard's restaurant!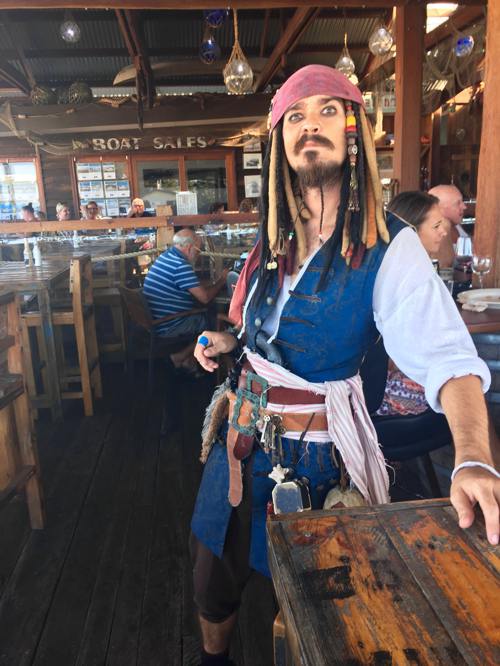 ---