Back in the Northern Hemisphere.

Lochmarin
Tue 8 Nov 2016 13:00
00:00.001N 130:09.089E



The view ahead as we crossed the equator, looking ahead to Wayag.
We are crossing the equator again. Rather a different crossing to our last (3) time(s), when we were in a flat calm on our way to Galapagos hundreds of miles from land. This time we are sailing well in 12 knots of wind, with spectacular islands ahead of us, planning our route according to the wind angle, with amazing karst rock formations either side of us.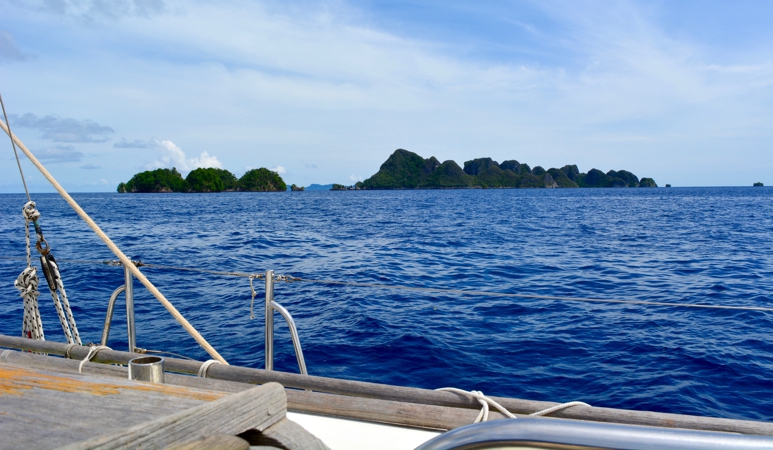 Our view to starboard.
We've been two and a half years in the Southern Hemisphere now, writing S instead of N next to the latitude comes naturally now, but we don't expect our stay to be long. After a week or so of enjoying Wayag we'll head back South again.
Looking South along Kawe Island
Of course we toasted King Neptune and thanked him for looking after us as we crossed, not with champagne this time but with good Bundaberg rum, and, as we were both shellbacks already, we didn't dress up for the occasion, but that didn't make it any less special as we thought back on the thousands of miles we've travelled safely on Neptune's shimmering sapphire seas.
What the two rocky islands in the first picture above looked like close up.
---