Living in Lombok

Lochmarin
Wed 28 Dec 2016 05:57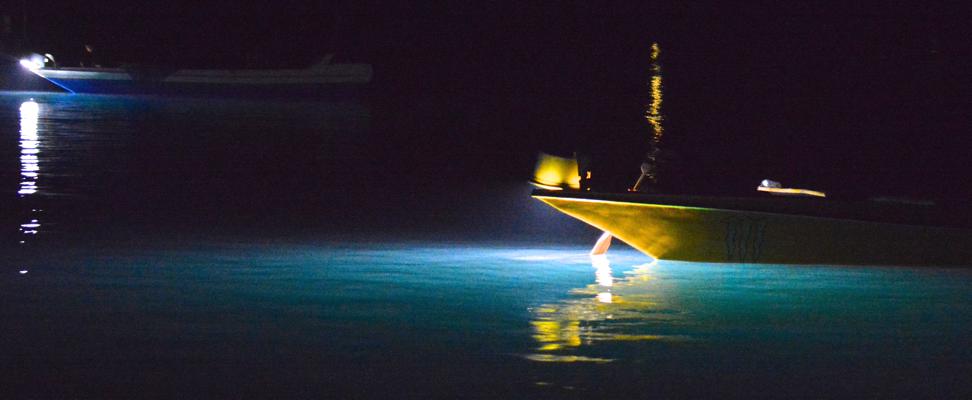 Night fishing in the bay.
There are worse places in the world to recuperate from an operation. Lochmarin was moored far enough out into the bay to give us an uninterrupted view of magnificent Mount Rinjani, when she felt like showing herself. It being the rainy season, most of the time she hid behind the clouds, sometimes disappearing completely, other times giving tantalising glimpses of her foothills or giving the suggestion of her summit by revealing a slope of shoulder fading into the cloud. Occasionally she would throw away her coverings and stand revealed in all her beauty: nearly 4,000m high against the gunmetal grey sky with bright sunlight picking out the greenness of distant hanging valleys and a white thundercloud towering ominously behind her, until you could smell the rain in the coolness of the breeze, the lightning started to streak across the thunderhead and she pulled her cloudy clothes back around her as we watched the dark line of rain running towards us.
The bay around us was a hive of activity, both day and night. At low tide folk are scanning the beaches, looking for shell fish, crabs, anything edible as well as anything useful washed up along the tideline. Further out on the reef fishermen stand for most of the day, hour after hour, up to their necks in water, with a long pole and a conical coolie hat. The hat serves two purposes: firstly to keep the sun off, of course, but secondly, with the help of a piece of bicycle inner tube, the fisherman stows any items he needs to keep dry on top of it, his cigarettes and mobile phone for example. When my children were young and they didn't want to walk or cycle somewhere because it was raining I always assured them that people didn't dissolve. These fishermen seem to be testing that theory to a ridiculous degree. Can you imagine how wrinkled their toes must get?
Further in shore, chest deep, more fishermen throw cast nets or float lines of nets and dotted around the bay the local canoes potter from prime spot to prime spot to fish for any deeper water dwellers. Between them all it's a wonder any fish still remain in the bay!
Handy hat stashing.
All the while small boats run backwards and forwards across to the Gili Islands about 2 miles away. A few bring tourists back to the resorts on the mainland - Lombok Lodge just down the coast can't get to their dock at low tide so come to Medana and then drive them back to the resort, but mostly they are the local boats servicing the three tourist islands. They beaver back and forth taking empty water bottles and cardboard to be recycled, transporting beer and soft drinks, and shipping containers of fuel. With the curved legs of their outriggers they look like so many spiders zipping around on the surface.
As soon as dusk falls a strange phenomenon occurs. Out to sea a line of super bright lights appear across the entrance to the bay which gradually, at a slow walking pace, get closer. They are outrigger canoes being paddled into the bay, each equipped with a generator and a bright light shining down into the water. We thought at first they were squid boats but, although they do jig for squid with one hand whilst they slowly paddle with the other, they are actually herding schools of tiny tiny fish, some just a couple of centimetres long, into the shallow water of the bay, where they scoop them up with fine nets hanging from the outrigger.
One of the charming things about the Medana is how the distinction between village and marina is blurred. You are just as likely to find a heap of kids' bikes abandoned on the grass there, whilst the owners play amongst the trees, as you are in the village street. The locals come and relax by fishing off the dock and the shore line is a favourite place for an evening stroll, complete with stops for selfies. Whilst we were there the hotel was used almost exclusively by locals, often family large groups, in fact we were surprised to see occasional foreigners.
When we arrived there was a lovely big 65 foot aluminium ketch on the shore. Peter, whose wife owns the marina, salvaged it a few years before and hadn't been able to find a buyer. It had a few dents on one side but was essentially fine and really well kitted out. Peter had just sold it to a local man, who decided to scrap it. Over the weeks we were there we watched it being systematically taken apart, all the fixtures and fittings stripped then the hull literally cut to pieces with a angle grinder and taken off for scrap. It was like watching ants turn a carcass into a skeleton. Another interesting enterprise was the moving of some big 3 tonne blocks of cement which were to be used for moorings. These were on the beach and needed to be shifted down into the water so a barge could lift them and position them. The chaps started by putting wood either side of the block, pushing a post through the loop on the top and using two bottle jacks to push the plank up, so the block was hanging from the plank. They then put two rows of plastic water bottles, filled completely with sea water, to act as rollers under the block and slid a plank on top of each row. They lowered the block onto these planks and attached a chain lift to the block. To anchor the chain lift they tied a couple of sacks full of sand to it and buried them in the beach. They then used the chain lift to pull the block down the beach, moving the bottles from the back to the front as they went. It looked like something out of ancient Egyptian pyramid building!*
This was a 65ft ketch a week or so before this picture...
Provisioning from Medana was easy. Just a few miles down the road in Tanjung is a superb market. It's a maze of little stalls selling all the local fruit and veg as well as tempeh, a fermented bean curd, and dried fish. They also sold meat, and I'm sure that at the start of the day the trestle tables where they chopped the carcasses up were clean but by the time we got there it was the splatter that put me off buying anything. One wouldn't know if the blood that was dripping off it belonged to the animal you bought or to half a dozen others. Folk there were curious about us, tourists occasionally visited to see the sights but didn't buy veg - they'd be eating in resorts and restaurants not cooking, and although the prices were definitely hiked for us, they were friendly and many a passer by with a few words of english stopped to help translate for us. Afterwards, bags bulging, there are plenty of ponies waiting to take you back to the marina on a little cart (cidomos) trotting calmly along whilst mopeds pass both sides of him and lorries come the other way.
Market stall and a cidomo stallion being exercised by moped.
If you need more then a trip by taxi to the main town of Mataram is well worth it. You can take the mountain road which winds it's way alongside rivers racing from boulder to boulder and past troops of monkeys, each with a long white moustache, grooming each other or simply snoozing in the sun. The drivers have a disconcerting habit of overtaking on blind bends but everybody is going fairly slowly so a screech of brakes usually rectifies any potential collisions. Otherwise the coast road gives stunning views of the bays and of Bali's Mount Agung across the strait and, if you stop in the tourist town of Senggigi on the way back, you can pick up some decent bread at Temptations deli. The regular Indonesian bread is more like brioche and far too sweet. In fact, Indonesian food seems to fall into two categories: sweet or spicy, with little territory in-between. Having said that we had some superb street food: spicy Sate ikon (fish kebabs) followed by a dessert of sticky black rice with mung beans cooked in coconut milk, drenched in evaporated milk. I've never before considered mung beans a sweet culinary component but I'm happy to be corrected. The most decadent street food we tried sounds absolutely disgusting when you list the ingredients. It's basically a giant crumpet, with sliced banana put on top as it cooks, then butter, chocolate flakes, grated cheese (white Kraft type 'plastic' cheese) and more evaporated milk, then cut in half and sandwiched together. Sounds foul I know but eaten with your fingers from the cardboard box that it was slid into from the pan it was divine. I don't remember the name of it but Ace, the Marina owner, told us to simply call it 'Orgasm in a box'.
*I did have photos, which would explain it much better than I can, but my computer died and I've lost them...
---