Pitons and Soufriere, St Lucia

Lochmarin
Sun 28 Apr 2013 20:52
13:50.476N 61:03.859W




I had seen photos of the Pitons and hadn't been too impressed, this was because I'd simply not taken in the scale of them. They are incredibly steep, incredibly high towers of rock that drop down right into the water's edge.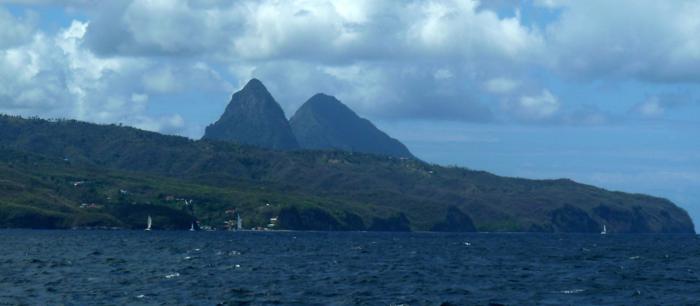 Our first view of the Pitons.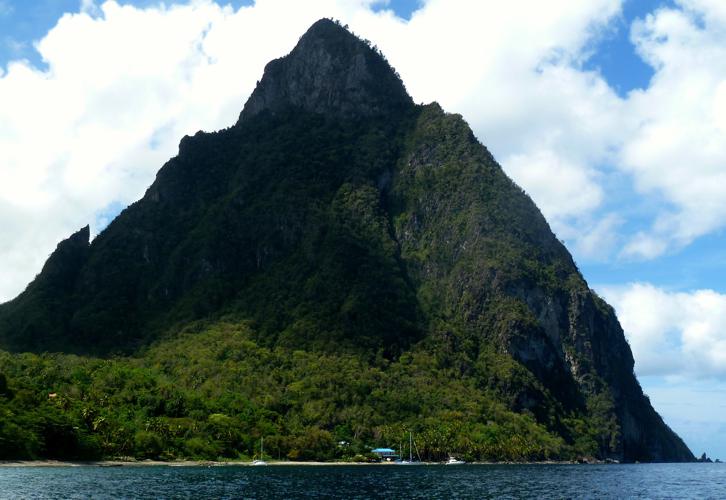 Lochmarin moored under Petit Piton - we're between the house and the motor boat.
It is the end of the season in the Caribbean. The hotels here on St Lucia are winding down, there's less work for the taxi drivers and tour operators and boat boys. The advantage for us is that when we arrived and picked up a mooring there was only one other boat moored, a big catamaran awaiting guests, and it left after a couple of hours. During the day a motor boat came and went but we've mostly had this outstanding anchorage to ourselves, to enjoy the beach and stunning scenery.
We hadn't spent any proper 'beach time' since Guadeloupe, and then we didn't stay long and the beach was busy, so it was a real pleasure to explore and laze and run into the sea for a dip whenever we needed to cool off. Two brothers brought their two little puppies down to the beach to teach them to swim, this provided us with great entertainment. One of the puppies was game, getting the hang of it and jumping over the surf to swim out to the boys. The other pretended to be very interested in what was under the trees and when carried out into the sea tried her best to sit on the boys' heads to escape the horrible wet stuff. I found a 'good' coconut and was busily bashing it with rocks to get the husk off when a local chap who introduced himself as Bush Man appeared out of nowhere and took over, he also offered us more coconut, tamarind, papaya and lemons. These were gathered from the trees around us, although the last were definitely scrumped from the garden of the local restaurant, closed for the low season.
Tamarind and coconut from the beach, the fruit of the tamarind is boiled and strained to make a juice - really good and refreshing.
The coast here is a designated Marine Park so the snorkelling is reputed to be excellent. We took the dinghy over to one of the mooring buoys and set off, but found the place swarming with jellyfish! We had to spend so much time looking out for and dodging them that it quite distracted from the pleasure of snorkelling, so, nursing a few minor stings, we gave up and headed back to the boat rather disappointed. But, once I'd got over the initial panic at realising I was surrounded by hundreds of jellyfish, they were fascinating! There were ones that looked like a kid's drawing of jellyfish, you know, a semi circle of dangly legs, all the legs pulsating in time, then ones that looked like box kites, up to a few inches across, with black dots that I called eyes and Phil said were their gonads(!!). You know at discos and at Christmas there are those lights that are in clear plastic tubes? Well these jellyfish had something that looked just like miniature versions of those in them. They were neon blue and green. Later, back on the boat, I could see them going past in Lochmarin's shadow. There were hundreds that looked like translucent apple cores and one that looked rather like a condom pulsing itself along! More menacing were the ones that had bright orange-red blobs in them, with long tentacles beaded with more orange spheres.
This morning we headed into Soufriere first thing, to go get some fruit and veg and have a look at the place. The St. Lucia we had seen in Rodney Bay was so developed and touristy that we thought it would be the same here but Soufriere is a lovely little welcoming town.
Notice the amazing headless dog they have here!
Throughout the non-French Caribbean on most docks there's someone trying to make a few Eastern Caribbean dollars by 'watching' your dinghy. The worst aren't there when you tie up, appearing when you return trying to get money from you. We've met some lovely folk though, often people who would have difficulty finding employment elsewhere, for example a gentle shy one armed man in Carriacou who carved wooden pictures whilst he waited by the dinghies. In Soufriere Paul came and took our painter (dinghy rope!) and asked in advance if we'd like him to watch our boat, explaining he'd like something for it when we returned, gently and politely. We were glad to have him. It was the same throughout. Instead of hassling you folk politely offered their wares and didn't mind a refusal. We stopped for coffee in a busy cafe. Coffee was clearly an unusual request because it took a long time to arrive and was splendidly presented on a tray with tea cups and saucers, hot water in a tea pot, instant coffee powder still in the jar and a jug of evaporated milk. Whilst we waited we were entertained by some lively characters wondering in and out, sassing each other and joking and even dancing at one point. The owner tried to protect us from the more colourful ones when they came to chat with us, telling them to leave us be, but we didn't mind at all. We supplemented our coffee with salt fish cakes and the best Johnny cakes we've had so far. Whilst we ate a Rasta man came in and sat quietly at a table holding some palm leaves. He waited until we left then gently introduced himself and showed us palm leaf fishes he'd been making. He offered to give me one, and when I asked him how much he'd like for it we haggled and settled on a price. However, he came in for criticism from down the street, they were calling out that he shouldn't give the lady a gift then ask for money for it. He hadn't, I had offered, but it was good to see that they were checking that no one would give the place a bad name. It's hard to see how so many folk scrape livings from tourists. It must be very difficult during the low periods when there are very few visitors.
The palm leaf fish maker
The wind dropped completely today and we spent some time just admiring the sea around us. It turned an inky green black with 'clouds' of silver and blue shimmering on the surface.
We also found that the jellyfish had mysteriously, and happily, vanished so we were able to go snorkelling, which was lovely fun, giggling into our snorkels when we watched trunk fish or damsel fish darting out, like scolding mothers, to chase bigger fish away. A fishing boat had dropped by first thing and we'd brought a freshly caught tuna so as evening came Phil started up the barbecue and we feasted on local fare: tuna marinated in lime juice; tomato, yellow pepper, chives and basil salad; grated carrot, radish and orange salad and, instead of rice or potatoes, a sort of plantain we had bought from a lady in the street, that you peel (with a knife, like and apple, not like a banana) and boil and tastes just like potato! The only non local things were the olive oil and a jar of asparagus from Spain that I added to the tomatoes. Not a lot of food miles on that lot, and the ones there were we had travelled in our boat!
The sunset was spectacular. With apologies for too many photos in this post, it started like this:
developed through oranges:
peaked with crimson:
and softened into charcoals:
Whilst it was doing all this the birds were singing their evening chorus and herons were flying by heading for their roosts. Three cats took a constitutional along the tide line on the sand. The moment that the sun was down the tree frogs filled the air with their digital alarm calls, initially competing with the birds then drowning them out with a steady wall of sound from the trees on the hillside. I tried to capture it on my phone:
Shortly after the last light had vanished the just-past-full moon rose, huge on the top of the hill behind us. It seemed to rest there a while on the trees before moving on and getting smaller as it rose. What is it they say? Oh yes: another day in paradise.
---