Volcano!

Lochmarin
Mon 7 Sep 2015 06:04
Port Resolution Bay, showing the anchorage on the left and the plume from the volcano on the right. No wonder there were steam vents in the bay…




There were several clues to let us know we were in the vicinity of a volcano: a massive plume of steam and ash soaring up over the hill behind the anchorage was one and mysterious columns of steam rising up from the water at the base of the cliffs to the East of the bay were another, so we headed over to investigate. One seemed to be a tunnel that was spraying out heated water, others looked literally like pots on the boil, with water bubbling and overflowing out of them into the surrounding sea. Here's a couple of snaps to give you an idea.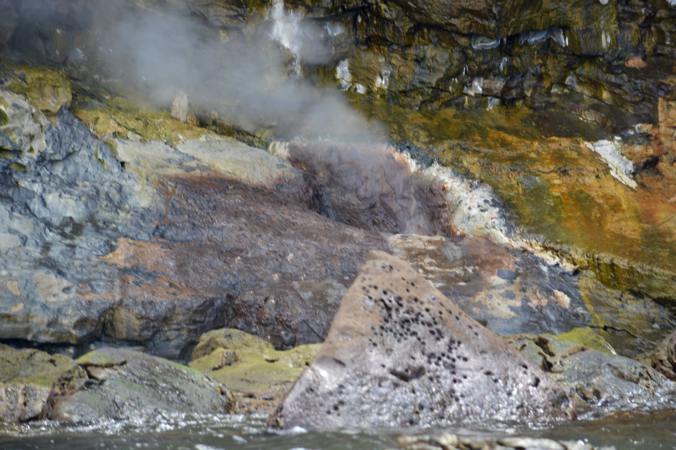 Steam from a vent.
Bubbling 'pot', the run off staining the rocks.
Strange for us to be so close to volcanic activity but, of course, the villagers were used to it. In the corner of the beach there were some fresh water hot springs. The locals used it for their clothes washing, free clean running hot water! Most days the beach would be bright with drying clothes and bedding.
Back ashore I headed to the gardens with Serah to get veg to trade for. It was about 3/4hr walk away from the village, there were lots of folk walking the route, all holding a machete, a spade or a baby. Anyone can have a plot in the garden area, and everyone knows whose is whose. The well tended productive grounds were a real testament to the hard work and perseverance of the villagers. When Cyclone Pam came through last March everything was blown away. The trees were bare, the crops had all gone, even the root crops were pulled up when the parent plants were blown away. Now, just 6 months later, they had yam, sweet potato, tomatoes, maize, lettuce, island cabbage, aubergine, pumpkin, beans, snake beans, green peppers and spring onions. We traded a towel (which Serah had asked for specifically), rice and tins of corned beef for a lovely variety of good fresh food. I had brought a backpack with me but Serah asked me to wait in the shade for a moment whilst she cut a length of coconut leaf and then she showed me how to weave a basket to carry the vegetables back in. It took me ages, maybe 20 minutes, with lots of "No this way"s from Serah but I was very pleased with the result! (It takes Serah about 5 minutes usually).
Spike rather unsure of the snake bean, alongside some sweet potato and my wonderful basket.
When I got back to the dinghy Nelson was waiting with Phil. He has family in Aniwa, a very seldom visited small island to the North East of Tanna. They wanted to encourage tourists to come and stay so had made a little resort with a number of bungalows and beautiful gardens right next to the beach. However, they had very few guests as no one knows about it. We helped him make flyers to advertise it, using pictures he'd taken on his phone, printed the flyers out and laminated them for him so he could put them up in Lenakel to try and attract more visitors. Doing things like that, which are no big deal for us, cause almost insurmountable difficulties for the people here. We were very glad to be able to help. So, if any of you want to have a wonderfully relaxing time with warm seas to swim in, friendly people and good fresh local food, come to Aniwa Ocean View. It's good value - 2000 VT is about 20 American dollars, and that includes breakfast and dinner!
Once we were done we had hardly time to grab something to eat before we needed to be back on shore. Werri, who runs the Yacht club, had arranged to take us and the folk from some other boats up to the volcano in his 4x4. We had pride of place, on the plank tied across the back of the pick up truck. The road to the volcano is pretty steep and hazardous; it took rather a lot of physical effort to simply stay on the plank, and a few times I thought we'd topple over the lean angle was so great (of course I was longing for my motorbike, that road would have been such fun!). But Werri drove slowly and carefully, bouncing his way from pot hole to pot hole whilst we enjoyed the fabulous views as we passed through forest and villages, greetings shouted back and forth whenever we passed anyone. We made one stop; at a hut where I noticed a bucket hanging from a tree branch by means of a rope slung over the branch and attached to the ground. Werri handed over some empty plastic water bottles. Curious.
All too soon the we came to a stop, we were at the foot of the volcano where the villagers were building a visitors centre, all working together creating something that would benefit everyone.
Laying the concrete for the new volcano visitors centre.
Having paid our fee we climbed back in the pickup for the last climb along a very steep road that zigzagged it's way up the volcano's side. The hillside had been cut into to give enough flat area for the road and all along the bank steam was percolating through, not through specific vents, just all over, like a very hot bath in a cold room. It reminded me of the scene in "Carry On Screaming" where the Morticia Adams style character asks "Do you mind if I smoke?" then proceeds to disappear from view as she smouldered from head to foot (I'm a child of my age - no apologies).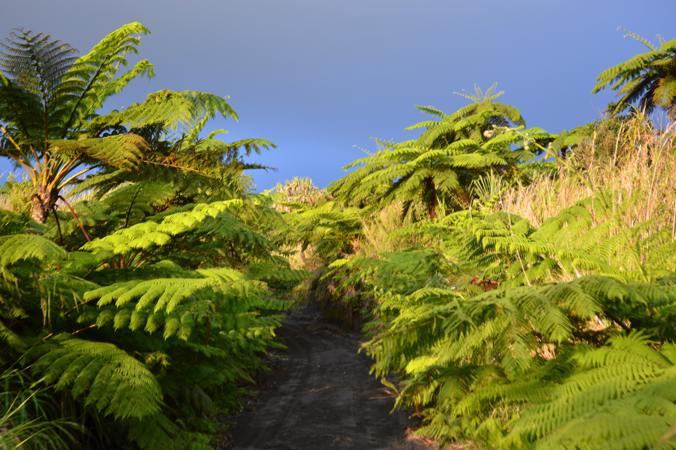 We stopped for a moment so I was able to take a snap - it was impossible to hold on to the pickup and hold onto a camera whilst we were going!
All at once the greenery vanished and we were in a world of rocks and ash. A grey landscape spread out all around us, some of it lumpy and rocky, some of it smooth as a lake. The 4x4 parked up and we climbed, and as we climbed the sound of the volcano's activity rumbled and crashed all around us, travelling up through our boots with each step, filling our chests and sending our hearts into our throats. The ground was hot. An Australian friend of ours, a fellow cruiser, came in his thongs (flip flops!), he was very proud of his 'off-road' thongs which had double fastenings on either side, (called 'double plugged thongs' - don't google it!!). They melted.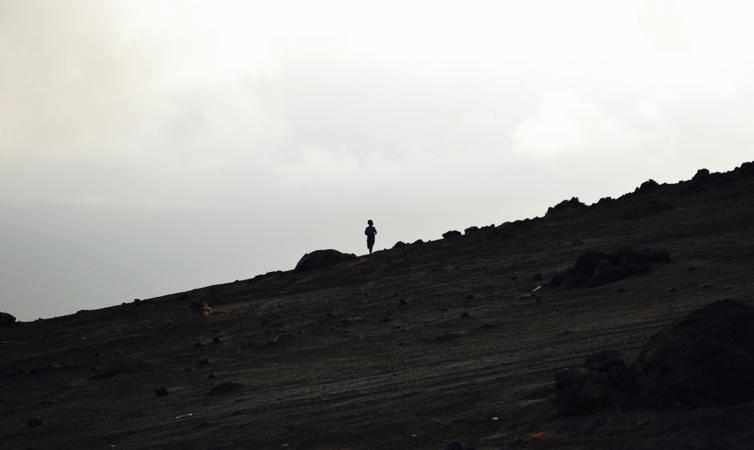 Local children playing on the ash fields.
Pretty high up then reaching the rim.
We sat on the rim and looked down to where the depths of the earth had come up to touch us. There was a continuous rumble but every now and again an unbelievably loud boom and roar would emerge. You know when you're at Glastonbury pyramid stage and the music is so loud that you feel the beat coming up through your boots and get scared that your heart won't be able to keep its own rhythm, you are so full of the sound? Well, it's like that only louder and more sudden and so so frightening. You know by that sound that something massive and primeval and beyond you is stirring. Part of you wants to run, but part of you wants to stay still and worship this _expression_ of the life that is the essence of our earth. It was astounding: a split second before the sound came you could see the shock waves in the smoke above you, then, before you have time to think "Here it comes!" the sound floods through you and, almost simultaneously, you see the lava being thrown up into the air, odd shapes spinning like pizza dough flung up by a chef, sometimes a hundred feet above us, followed by a whoosh of grey ash and steam filling the crater. (I managed to catch a small blast on film to give you an idea
https://dl.dropboxusercontent.com/u/81109747/small%20blast.mp4
but the camera totally failed to get the sound - I think it was just too far off the scale for it!)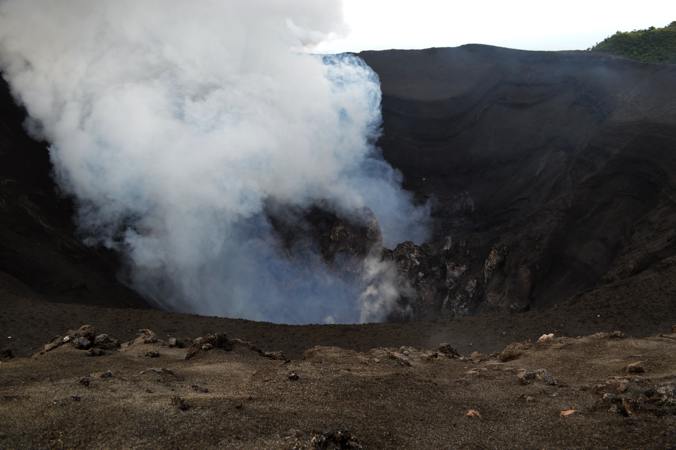 The smoke cleared between blasts, giving you a glimpse into the chasm then gobs of glowing red lava spewed out before the smoke filled the crater again.
There were two vents that we could see within the crater, the furthest burbled away, giving a pretty constant firework display, the nearer one would build a while then explode dramatically. Each time they came would be a complete surprise to me, but Phil sat quietly watching, his feet almost dangling over a 50ft drop to a ledge where we could see lumps of lava slowly cooling from bright yellow to orange to a dull scarlet. He started to get the rhythm of the blasts, "There'll be a big one soon" he'd say, and sure enough, a few seconds later, my whole being would vibrate as the shock waves passed through me.
On the edge of the abyss.
As the sun went down things only got more impressive.
The sun setting behind the ash clouds.
Instead of grey ash slopes leading to white steam and smoke there were black ridges leading to smoke diffused with an orange glow, and a continuous pyrotechnic display was going on. As the light dropped it got harder to capture the show on film, but these two slow exposures give you an idea of the action:
Breathtaking.
We were loath to leave. The time went in a flash, well, actually a series of flashes, bangs, crashes and rumbles. It felt like we'd been sitting there watching for ever and yet as if we'd hardly been there any time at all. We stretched out our legs, that had fallen asleep, and used head torches to find our way back down to the pick up truck. I settled down on the flatbed of the truck for the journey, easier than trying to stay up on the plank and anyway there was less to see as it was pitch black beyond the tunnel of the headlights. I could hear the rumbles for a long time and still feel the vibrations through my body. If I closed my eyes I saw shooting, twirling lumps of magma, molten rock dancing through the sky.
We stopped just once on the route home. This time the bucket hanging on the branch was glowing blue: someone had placed a lamp in it. The empty water bottles were passed back with a grey brown liquid in them: kava. Werri was going to have a mellow night.
---