Back in Bequia

Lochmarin
Sat 4 May 2013 22:56
13:00.599N 61:14.611W




Bush Man had warned us that our quiet little beach would be busy with locals on Sunday. We were just remarking to each other that there hadn't been too many people, and maybe the clouds had kept them away when we heard the distant sound of music, getting steadily louder. It was a huge catamaran, which was basically just a platform for a giant sound system, crowded with about 50 local people on board, all having a marvellous party. We cheered and danced on deck as they passed us to anchor off the beach and run a bow line to a coconut tree. The people jumped into the sea and enjoyed the beach whilst still continuing to party on board. They had been there about 15 minutes when we heard some more music approaching, and a second catamaran appeared, blasting music out as loudly as the first and went and anchored right next to it, not seeming to notice that the two sound systems combined to create a wonderful cacophony that was almost, but not quite, entirely unlike music. This was entertaining enough but over the next hour more turned up, at the peak there were six party boats, jostling for space along the sand with competing sound systems. We heralded their arrival and leaving by dancing on the bridge deck to the delight of the passengers.



Can you spot the garden gnome on holiday behind the shrouds?
We moved on next day - not as a consequence and bypassed St Vincent to head back down to our first port of call after Barbados, 'Beck-we'.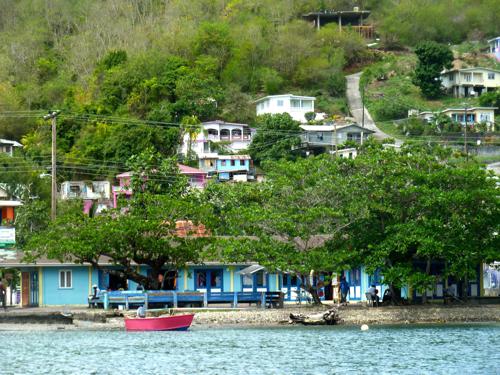 I am really enjoying coming back to a few places. Until the Caribbean we never went back to all the many places that we stayed in, got to know a little, and moved on from. It felt comfortable and familiar sailing into the bay; we knew where the good anchoring was to be had, where there was a deep bit to avoid, which route the ferries take in, where the internet was to be found, where customs and the shops were and, importantly, where an excellent rum punch could be enjoyed. We had had a good fast sail down. Leaving St Lucia we noticed another ketch, a little larger than us, going the same way. It turned out he was heading for Bequia too so, although of course it wasn't a race, we soon had the main up and were roaring along in the sunshine. Along the way Audubon's Shearwaters joined us, a new one for us, as well as the familiar Boobies, Laughing Gulls and Brown Noddies. We kept up with the other ketch pretty well but when he deployed his flying jib we got left behind and we had to concede defeat, which suited me because it meant we could take our time getting the sails down as we approached instead of rushing into the bay to be there first.
Taking the dinghy into town we noticed that we couldn't see any Royal Terns sitting on the buoys and boats, there had been so many before. I wondered where they had disappeared off to. I needed some salad so whilst Phil checked us in at customs I popped into the fruit and veg market. The problem there is that everyone wants you to buy something from their stall, and they are jealous if you get something form someone else's, but as we'd got plenty in St Lucia I had to be determined and, with promises to return another day and buy from the others, made my escape. Although there were boats there we recognised and we dropped by the other ketch to congratulate them on their 'win', unusually there was no one there we knew so we had some quiet time to ourselves; it's lovely spending time with friends but also precious just being together.
Admiralty Bay was much emptier than when we were last here, I'd say there were about half the boats around and there wasn't the 'buzz' about the place that we had enjoyed previously, but we had a pleasant short stay. A particular highlight was fish and chips Caribbean style, grilled reef fish with pineapple salsa, at Jack's Bar. That kind of fish and chips needs a glass of wine, don't you think?
---