Taiohae and Daniel's Bay, Nuku Hiva

Lochmarin
Sat 10 May 2014 02:33
08:56.721S 140:09.84W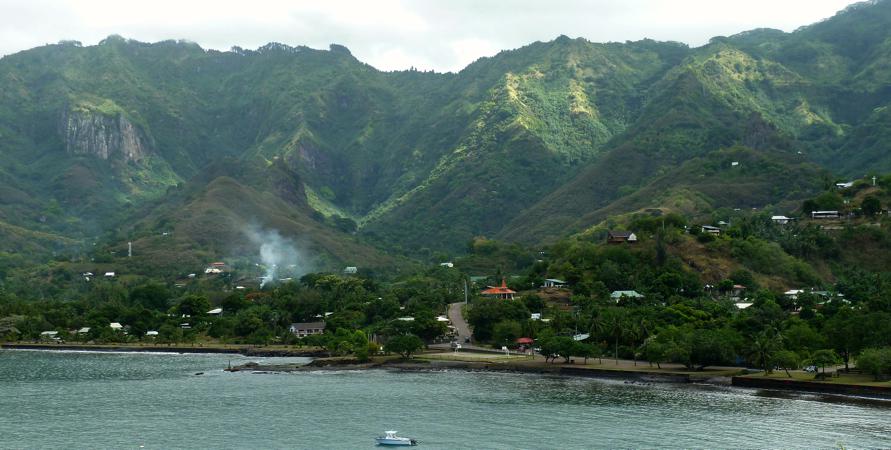 The sprawling metropolis at Taiohae
The high life, in the fast lane, is all very well for a while: Internet at the cafe (snail like, but there); fresh baguettes to buy every day; people: lots of people, maybe 12 people we knew even and new people to meet every day; dining out: juice and coffee at the cafe and entrecôte and frites one night at a bar.
Some of the inhabitants: wonderful little pointy beaked bright white sea birds, that fliffle their wings enchantingly and a little dove type thing (told you we need a bird book).
Oh, at first it's exciting and one feels in the swim and part of the crowd. One can check out "tiger sharks" and "filefish" on the internet (I wish I hadn't done the first and was no better informed after the second). But after 4 days of such living I longed for the quiet of a remote anchorage, somewhere with clear water, with less happening. Yesterday was a bank holiday here (yes, I know, a Thursday, why on earth on a Thursday?) as there was no hope of our charger arriving from Tahiti we sailed a short way down the coast to find Daniel's Bay.
Leaving Taiohae Bay, you can see the East Sentinel rock on the far right and the West Sentinel is the dark blob 1/3 from the right. It's more apparent that it's a caldera from this view.
Daniel's Bay is hard to spot as you go down the coast, you can't see into the bay as you approach. In fact what you mostly see is breakers splashing white on the rocks.
The entrance is to the left of the small black blob in the middle of this picture.
Even as you approach it's not clear that you're heading for the right spot, that there's anything in there.
The small black blob above is now the larger black area on the hill on the right here. We're heading for the green bit.
But as you come in, past the rocky promontory, this is what greets you:
A hidden valley, where 20,000 people used to live. The river comes out where the green trees are on the left. And as you round the rocks another hidden bay unfolds:
A perfect safe harbour. Aren't pilot books wonderful things? We'd never have found this without one.
The gap we just came through, with Ua Pou in the distance, for once the clouds have lifted from its impressive sky line.
---