Dillon Bay, Erromango

Lochmarin
Wed 9 Sep 2015 23:58
18:49.258S 169:00.776E



Mount Yasur sends a new eruption up as we sail past on our way to Erromango
It was time to move on. We had guests arriving in Port Vila on Efate island in a few days so we needed to make tracks. But the morning that we planned to leave we woke up to a black boat instead of a white one. The volcano had decided to be particularly active during the night and deposited a layer of fine volcanic dust all over Lochmarin. Combined with the dew this meant every surface was covered with it, every sheet, the sails everything. It was like very fine very sharp black sand. If you tried to run a rope through your hands, to coil it for example, then it cut your hands like sandpaper. We weren't going any were until we'd washed it off, so out came the deck wash hose and the brushes (we'd bought a new one in Fiji, the UV had made all the bristles fall off the old one, even though we kept it in a locker!).
When we did get away we were treated to a display by spinner dolphins on the way out of the bay - these wonderful creatures remind me to enjoy every moment in this wonderful life. No one quite knows why it is that spinner dolphins leap up into the air and spin up to 5 times before dropping back in, but it most certainly looks like it's simply for the fun of it! It was a gentle day sail up to Dillon Bay, which had surprisingly good shelter so we had a roll free night for a change, however there was quite a lot of noise over a loudspeaker coming from the village until fairly late at night - a one man mission was there from Port Vila for three days, come, presumably, to convert the heathens in the outer islands!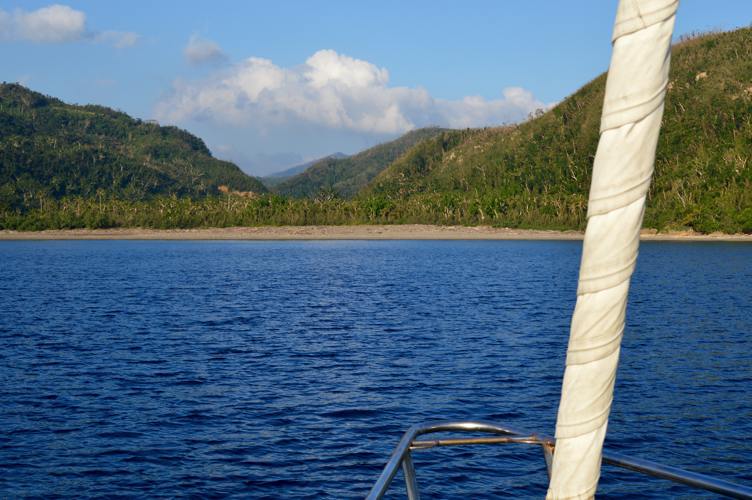 Looking down the river valley in Dillon Bay.
Before the sun set we had visitors, a couple of the young men from the village in a dugout canoe, unusually in full length jeans, tee shirts and sporting trendy hair styles. They greeted us politely, asked us for some fuses for the inverter on their solar system (which we had) and offered to get us vegetables next day in return for some clothes. We'd offered food but they said the village had plenty and asked for shorts and t-shirts. We agreed so, after pushing their luck by asking for cigarettes, they went back to the village. Shortly afterwards, just after dark, David came out to greet us as well. He and his wife Rhoda have been working for some years to build a yacht club to act as a base for visiting cruisers. It's a two story house with guest rooms and a gorgeous garden, there's still quite a lot of work to do but it will be a super place to stay when it's finished. They are lovely people, very welcoming.
Peeping through the garden plants at Lochmarin in the bay.
David invited us to come to see the caves where his ancestors and local chiefs were buried the next day so we set up a plan to meet after we'd seen the young men for veg.
Next day we took the dinghy around the bar across the mouth of the river. As we came in we passed a crowd of children swimming by the shore. As soon as they saw us they started heading out to us and shouting out: "Lol-lies, lol-lies, lol-lies!!". I should explain for the UK audience that lollies are the Australian and Kiwi word for sweets - candy to our American friends. There was no 'Hello!", "What's your name?" or "Where you from?" just this raucous demand for sweets. We tied up to a tree by some fishing boats where the lads from last night were waiting, with some good veg, and they promised to add kumara to it, offering to take us to the gardens to get it. We explained that we were meeting David and asked them to put the kumara in the dinghy whilst we walked to David's. We gave them shorts and tee-shirts in exchange: bad move, the kumara never turned up.
The walk to David's house through the village was lovely, lots of smiling faces. There was still quite a lot of evidence of cyclone Pam, for example the church looked as if it had had a bomb go off in it, it was all lopsided and rickety, but there was a new one built next door to it.There was evidence of some rather strange relief supplies: 4 huge satellite dishes sat in crates. They were supposed to supply internet into the village but as there's very little electricity and the villagers would have had to pay a big subscription charge they were simply sitting in crates by the shore.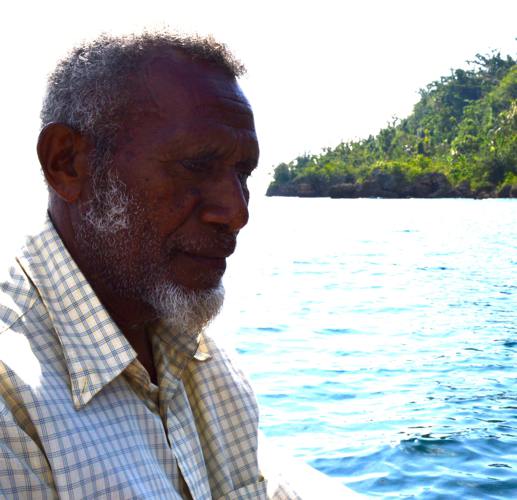 David's daughter and grand children in the entrance to the Yacht Club, looking past a guest cabin, then David in the dinghy.
It was a 25 minute dinghy ride around the headland to the beach where the burial caves were, a lovely ride through crystal clear waters around the edge of the reef, looking at the pockmarked limestone cliffs, the shore line littered with fallen boulders, stacks and stumps. Daniel explained hat the beach we were going to was his families 'holiday home', they would camp out under the cliff there for a few days, make a long weekend of it.
David's family 'holiday home' just off the beach.
We headed inland, climbing steeply, and with a pause for a prayer to the spirits, we scrambled down a bank to enter the first cave. There were 4 or 5 skeletons, two laid out on rocks along with a belt buckle and a bracelet. In Niue we had seen a small cave with obviously human bones in it, but it didn't feel sacred like this cave did. I know, of course, that this is a bit of a money earner for David, but it did feel like a privilege to be granted access to these remains of his forefathers on David's land. I guess it was partly the awareness of how important ancestors were in the religions of the islands prior to missionaries.
I had expected to have to scramble down into caves but hadn't expected to have to go mountaineering to get to one so the second cave took me by surprise. It was half way up a cliff face.
Looking up, the cave entrance is covered by the tree roots on the right of the first picture. Then, taken at the mouth of the cave you can see in the first pic, here's the entrance to the cave behind the roots. The entrance is about 5 ft high.
It was worth the scramble. An eerie collection of skulls, with a heap of bones, awaited us. Strange to look at a heap and pick out femur and hip, rib and knuckle and realise it isn't a science lab fake that's fallen apart, but real people. David said that they were two chiefs and his wives.
David came back with us to the boat for a while, to chat and get to know each other. We gave him a saw to help with his building work and he asked for plastic storage containers for the yacht club kitchen. Phil sorted out some burgees for him to hang up, explaining all yacht club's did it… he didn't seem convinced, why would anyone hang tattered flags up? Before taking him back we asked if it would be ok for us to go next day to the freshwater pool up the river that we'd heard about. He explained that he'd be busy - there was a village meeting. The mission had ruffled a few feathers, primarily with the Seventh Day Adventists we understood, but we were welcome to take ourselves. He asked us to come for a 'pot luck' supper in the evening, asking us to bring meat (he raved about the lamb Caminante had brought but we were only able to provide beef!) we were glad to accept but explained we'd not be able to stay long as we were planning an leaving for an overnight passage to Port Vila afterwards.
Next day we saw a trading yacht, come from Port Vila, had joined us in the bay. All hands were busy transferring sacks of food from the fishing boats that went out to ferry goods from it to the village stores.
Trading by sail.
Looking over the bar at the human chain unloading the supplies.
The walk to the swimming pool took us past the school and through the gardens and was delightful. At one point the river widens and shallows so women were washing clothes on the boulders and youngsters were fording the river to get to school, jumping like mountain goats from rock to rock, knowing the route like the back of their hands. The pool is formed where the river sweeps around a bend, under a cliff, cutting out it's path as it goes. Conveniently there's a big smooth rock in the middle from which you can dive into the deep water. If you swim upstream there's a narrow chicane where the water races, it's good to brace yourself against the flow, feeling the water flood over you, then to let go and let the current sweep you back down to the deep pool. On the far bank a breakaway stream takes a short cut across the bend, trickling over a litter of black volcanic rocks which were hot from the sun. This heated water then spills into the pool creating a lovely warm patch to indulge in after cooling off in the deep refreshing pool. It was perfect. We had brought soap and shampoo and such, all the village adults were at the meeting and the children were in school so we were undisturbed as we had a luxurious bath in as much fresh running water as we could ever hope for. When you spend as much time salty as we do you'll appreciate how good it felt!
The meal that evening was delightful: great company, it was good to have a chance to sit and chat with such a pleasant family, to hear about their hopes and aspirations, to tell each other about our different ways of life. David's wife prepared lovely local vegetables and salad and our contribution of a local marrow stuffed with mince and topped with melted cheese was greatly appreciated. It was a lovely way to say goodbye to Erromango.
---