Return to the Chesapeake via Cape May and the Delaware

Nimue
Sat 7 Sep 2013 18:54
If we ever came up this way again, we would definitely make a point of stopping off in Block Island, which we both liked very much.

Nimue left on a dull morning in light NW winds which were backing slowly.



It was only after 8 hours of motor sailing that we eventually managed to turn the engine off. The wind appeared to be dropping and then a squall gusting 26knots hit us and we ended up reducing sail. Fortunately we managed to have a lovely sail for the next 18 hours in 12-20 knot NE'lies. The only real navigation hazards were the odd fishing boats which seemed to appear from nowhere. After 222nm, we arrived at the Cape Henlopen anchorage just before dusk and it was good to see our sailing friends Nancy and George on Trumpeter had already arrived.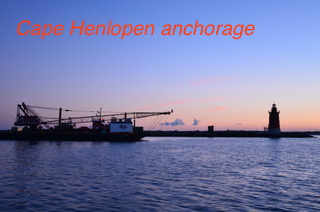 An early start the following morning to catch the tide up the Delaware and into the C&D canal. By 1800 hrs we had completed the 85nm motor sail into the Chesapeake and notice we had a problem with a vibrating cutlass bearing. After anchoring in the nearby Salt Pond anchorage, we dinghied over to Nychea for early evening cocktails.
---