Out and about in Valencia 21st - 23rd Sept

Nimue
Tue 23 Sep 2008 17:17
With Nimue all 'spick and span' we were ready to receive our guests, Nigel and Sally on board. Unfortunately, their taxi driver dropped them off at the entrance, so they both had to endure the 15 minute walk from the marina entrance in the heat of the day. Anyway, after settling in and a good lunch, Michael decided it would be a good idea if we all went to the Club Nautico, nearly olympic size swimming pool, for a swim and a cool down. It was also possibly the only day of good weather for a period of time, so we wanted to make the most of it.
We had decided to spend the next day sightseeing in Valencia, so we all jumped in a taxi and drove to the centre, stopping first for a 'cold chocolate' at a cafe in the Plaza de la Reina recommended by the marina harbour master and yummy it was too!!! Couldn't resist taking the next photo as we sat drinking outside the cafe.
Mandy from Beez Neez always said that as 'Pathfinder' I should have been carrying one of these!!!!
Sitting outside one of the best 'cold chocolate' cafes in Valencia and indulging in it's delights!
Valencia is Spain's third-largest city, but it's extremely walkable which combines old and new. So we decided to head off to the old and a visit to the Romanesque-Gothic-baroque-Renaissance cathedral. Most interesting is the Holy Grail Chapel, which houses the chalice Christ supposedly used in the last supper and it's the only Holy Grail recognised by the Vatican. Also interesting was the Micalet bell tower and the 206 steps we had to climb to reach the top....!!!! Anyway the views of the city were worth the climb.
View of the city from the Micalet bell tower
A selection of photo's at the top of the tower and one from outside
A selection of photo's from inside the cathedral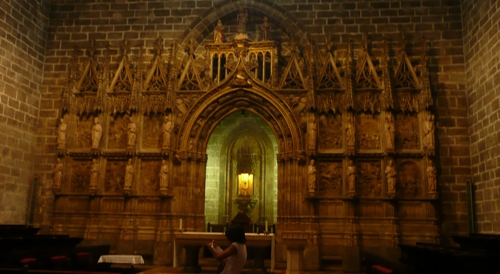 The Holy Grail Chapel and the Holy Grail
---