Fitting out and leaving Herrington - 7th Nov 2011

Nimue
Mon 7 Nov 2011 20:02
With Nimue in the water and just a few days before our departure, we discovered a problem with the generator exhaust, which had basically rotted! Despite it being a Saturday, we managed to find a company, Zimmermans, in the process of locating to Herrington and they impressed us by sending someone down immediately to have a look at the problem! Once diagnosed, Zimmermans advised they could fix it, but we needed to take Nimue about 90 nm south to their main yard in Deltaville. No problem with that, as we were planning to head south anyway!
We had worked our 'socks off' for two weeks and with all the effort of fitting the frame and the new wind generator it was time to see it working. Within seconds the D400 blades were whizzing round, which in turn generated substantial amounts of power to the batteries. This is exactly why we purchased the D400, as it generates power even in light winds, which is a great advantage when at anchor and saves hours of diesel generator usage!
Our Avon dinghy (Merlin) was now back in the UK and we inflated our new AB dinghy (also known as Merlin) so we could fix it on the foredeck. The reason we changed the Avon was due to a 'very temperamental' blow up floor and most trips ashore in any sea state were very wet! After much research, we plumped for the AB, which had a hard floor and bigger tubes, so hopefully we wouldn't get so wet! The only thing we now need is a bigger outboard as the 6hp is slightly underpowered for the dinghy.
We managed to get Nimue 'ship-shape' before leaving Herrington for The Solomons (about 50 miles south), where we had been invited to dinner at Joe's house (the frame maker) We had also made arrangements to rendezvous with our friend Kenny on Loon.
With everything now on board and after yet another trip to the supermarket, it was time to say our goodbyes to this very friendly yard and hopefully we will return again someday!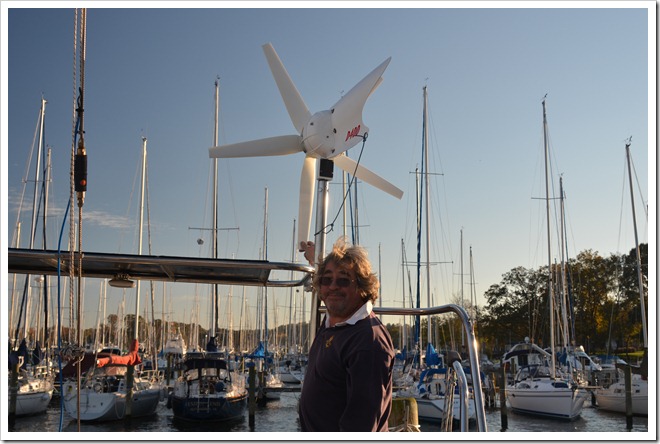 Michael looking rather pleased with the new D400 generator
The 'Fall' at Herrington Harbour North
Leaving with the new Merlin in tow
One of the channel markers at Herrington Marina. Unfortunately we veered off course slightly on the way out and ploughed our way through the mud!
---