BVI's- Ribs & Rocks!

Nimue
Mon 25 Apr 2011 02:59
On our time spent with Sea Otter, Jonas had mentioned on more than one occasion, that he had been served some of the best baby back ribs in a restaurant in Marina Cay, Tortola. As it was the last night for Bob, a friend of Martin's on Otra Vida, we joined them for a farewell dinner at the 'rib' restaurant. Unfortunately we had to wait over 2 hours for a table, but this gave us the opportunity to listen to some great music played live by Eric Stone, one the Caribbean's best known artists. We eventually tucked into a yummy plate of ribs and well worth the recommendation; thanks Jonas! If we ever return, we will make sure we make a reservation!
Marina Cay for the best baby back ribs
The next morning, we took a short dinghy ride from Marina Cay to Trellis Bay to have a very quick look around and were quite taken with the place as 'it did have many splendid tings'.
On shore in Trellis Bay
A venue for many full moon parties and very attractive it was too!
We had heard there was a great snorkelling site in a place called the Indians, so thought we would anchor around Norman Island for the night and then make the short trip over to the Indians early next morning, to ensure we could pick up a mooring buoy next to the site. However, as we approached Norman Island, we could see the anchorage was full to overflowing, so scouted a bit further around the coast and found a superb little bay, called Benures Bay. We dropped the anchor in 12 metres of water and noticed there was not one charter boat in sight! In fact the main contingent in the anchorage was made up of Norwegian yachts and as the afternoon drew to a close we could see them all taking dinghies to a tiny clearing on the beach for an evening BBQ.
In Benures Bay. Not sure what type of fish I captured here?
Benures Bay and not a charter boat in sight!
What a gem of a sunset! (above and next 3 pictures below)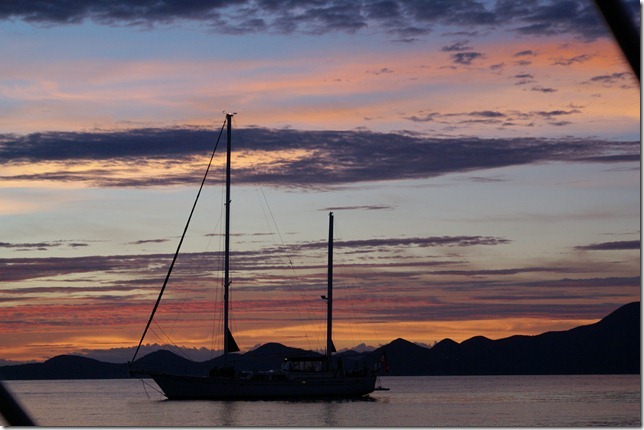 We set the alarm for an early start in an attempt to grab a mooring ball next to 'The Indians' before they all got taken. The Indians is within National Park territory and is well known for it's excellent snorkelling. As we approached we could see that all the balls had been taken apart from one, which we quickly nabbed for ourselves and it was only 0730! We grabbed our snorkelling gear and set off swimming around the rocks. Within moments I could see all kinds of fish lurking in the rocks and at one point as we turned the corner, we had all sorts of colourful fish swimming above, below and all around us. It was like swimming in an aquarium; a truly magical moment and the best snorkelling so far.
The Indians with yachts already moored by 0730...
By the time we had finished we saw that Nimue had turned and was getting too close a catamaran on the next mooring, so once on board we dropped off the mooring and motored across to Jost Van Dyke, where we had arranged to meet up with several other yachts for Easter.
An unusual dwelling built into the coastline seen on our way to Jost Van Dyke
---