OCC Maine Rally 2013 - Maine USA

Nimue
Fri 23 Aug 2013 18:45
We participated in our first OCC Rally. We met the rest of the fleet in the Camden Yacht Club, Camden Maine for the obligatory drinks party prior to the start the following day.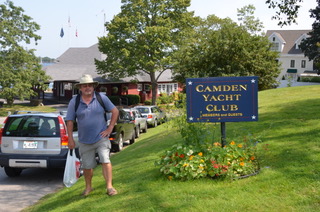 Having slipped our buoy, we immediately had trouble putting up the main, as one of the cars had stuck and en route to Kent Cove, we couldn't start the generator....these things happen! Anyway we successfully transited Fox Thorofare and after 16nm anchored in Kent Cove and in the afternoon we took the dinghy ashore and had a very informative guided tour of Turner Farm.
20th August - A light wind goose winged sail with the rest of the fleet (honestly not trying to catch each other up!!!) to complete the 20nm trip to Holbrook Cove.
21st August - A very short 2.7nm motor round Nautilus Island and past Hosmer Lodge to Smith Cove, Castine.
22nd August - Another relatively short 14nm trip to Deer Isle. We were given strict orders to anchor on the south side of Pickering Island. We then had to take the dinghy to a dinghy dock on Stave Island, where we could take a walk to The Glasiers who lived in a "White House" and where the fleet was entertained for the evening.
---