Antigua - 3rd - 18th March 2011 - Jobs and a quick look around!

Nimue
Thu 3 Mar 2011 15:25
Antigua somehow felt quite different from the other Caribbean islands we had visited. It's full of history and beautiful beaches (apparently there is one for each day of the year!), so we were looking forward to spend some time exploring. However we were also here to sort out a few jobs which had built up over the last few weeks.
After clearing Customs and Immigration, our first mission was to get someone on board Nimue to sort out the continual problems we were having with our on board fridge and freezer units– one minute they both worked fine and then one would stop working completely. However, after a day or so they would work perfectly again! Anyway we took a trip to 'Signal Locker' located in Nelson's Dockyard to make arrangements for an engineer to have a look. The next day a nice guy called Philmore came on board and instantly recognised the problem. Basically water was building up in the cooling gas, thus stopping the units from working properly, so we ended up having gas filters fitted to each unit to stop the problem. We were landed with a bill of nearly £250 for the job, but 'touch wood' we've incurred no further problems since!
One of the most pretty Customs & Immigration buildings we visited
A mooch around the harbour and we found one of the former Whitbread Round the World Race yachts, Steinlager. I remember last seeing and drooling over this yacht (ketch rigged) in Southampton back in the late 80's, just before the start of the race. I'm also please to say it won. Not too sure why it was moored in English Harbour, but it was good to see her and it brought back some fond memories!
Steinlager, a former winner of one of the Whitbread Round the World yacht races
The next day we dropped off our laundry with one of the laundry ladies, Mrs Baltimore, who sits in the dockyard and touts for business. Mrs Baltimore is in her 80's, but still enjoys working, although now has many helpers. We also saw the arrival of Sea Otter (Jonas, Heather and Stormy), but as they had anchor windlass problems, they decided to take a stern to mooring in English Harbour . This was ideal and it meant that Stormy was only a few yards from lush green grass – a real treat for her.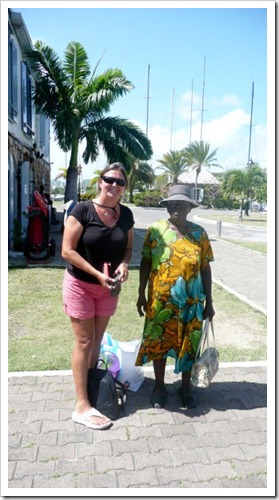 Mrs Baltimore's laundry services
Falmouth harbour lies just slightly to the west of English harbour and is divided by an isthmus just 200m wide, so it was an easy walk to get between the two, which we did on most days. One one occasion whilst in Falmouth harbour, we wondered around the pontoons to google at the large number of Superyachts and stumbled across the Maltese Falcon (one the largest in the world). We also located and ate in a recommended eating establishment, called Trappas, which has an amazing variety of dishes at very reasonable prices.
The enormous Maltese Falcon (Michael walking next to it)
Our favourite, Maria
She was immaculate and I mean immaculate!
Just look at that beautiful tender on deck.
Next instalment English Harbour and Nelson's Dockyard........................
---