Bay of Pigs and Crocodile farm!

Nimue
Thu 19 Jan 2012 03:29
We left Cienfuegos along the coast road of the Zapata Peninsula. The route took us through may agricultural areas and along with the Cuban cowboys, we saw guagiros, Cuban farmers, dressed in loose-fitting shirt and trousers and a straw hat to keep off the sun. It was quite surreal to see them still ploughing fields with ox-drawn ploughs!
What's all this? Well when we got out of the car to look it was husks of rice laid out to dry on the hot tarmac? Being single lane one had to be careful for oncoming traffic!
Onto the Bay of Pigs, where in 1961, a force of US trained anti-Castro Cuban émigrés came ashore at the Bay of Pigs. The Cuban Air Force attacked the invasion force's support ships, forcing them to withdraw as President Kennedy would not countenance direct intervention. Within 3 days and several hundred deaths on both sides, the invasion force surrendered. Playa Giron has a small, yet excellent museum, displaying a collection of photographs, documents and weapons. Outside there are Soviet and American tanks and a British-made Sea Fury fighter flown by the Cuban Air Force.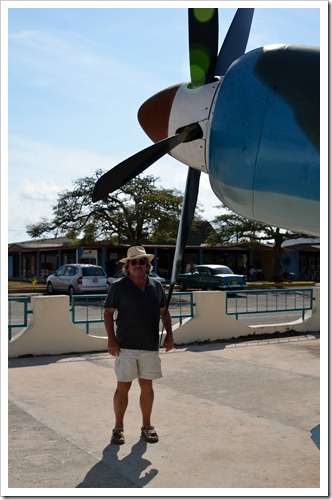 The Sea Fury plane at Museo Giron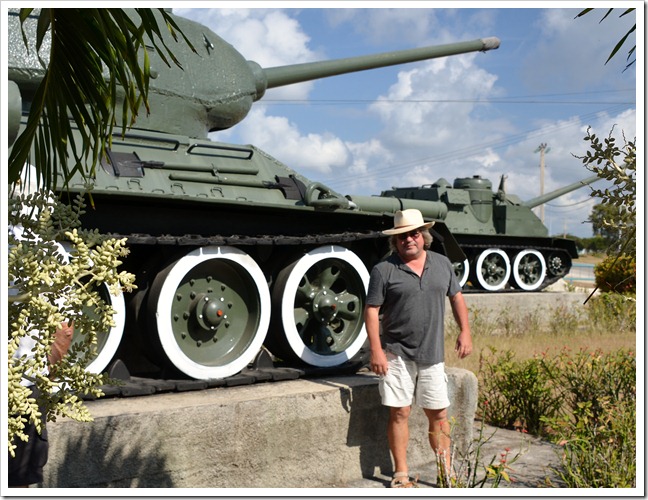 and tanks at the Museo de Giron
Next stop 'The Crocodile Farm' at Boca de Guama.
Once on the verge of extinction, the farm in 1962 commenced breeding the native Cuban crocodile. About 6,000 crocs. live in the swamps around the farm and 300 adults are released into the wild from it each year. Although the breeding is in part a conservation exercise, it also provides a supply skins and meat. We were taken on a fascinating tour of the farm, where we could see the crocs in different pens, separated by size and age. As we moved through the pens, they just got bigger and teeth larger. The largest lay with their mouths agape to cool themselves, so still that they look like scaly statutes except for haunting yellow eyes that followed us hungrily!
The Cuban Crocodile Farm
The cute baby ones!
The guide showing us the crocs in the caged concrete pens
What do you call a mass of Cuban crocodiles? Scary! Something looks tempting for this fella.
What's for dinner?
I wimped out holding this tiny croc. although it's tummy felt lovely and soft!
Just look at my lovely set of snappers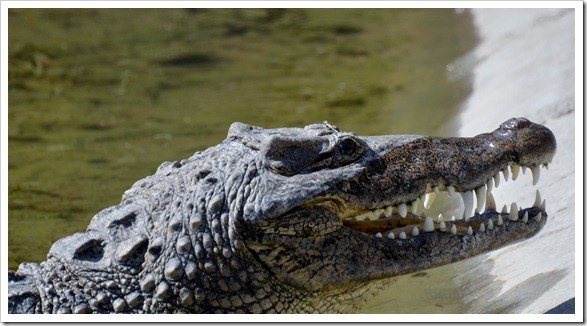 Or perhaps you'd care to take a closer look?
The croc. farm was our last destination, so we all piled back into the vehicle and headed for home, again dodging men jumping out in the autopista to sell their cheeses, or onions!
On this picture you can clearly see the emptiness of the autopista. You'd never see anything like this on the M1?
---