St Martin/Sint Maarten - St Phillipsburg and planes!

Nimue
Sat 9 Apr 2011 15:25
St Phillipsburg is the Dutch Sint Maarten's principal town and we couldn't resist a short bus ride to have a look around the rows of duty free shops, which are mostly visited by tourists from the stream of incoming cruise ships. We did manage to resist from buying anything, although we really did fancy an underwater camera to take pictures of some of the fish and coral we had heard about on our forthcoming trip to the BVI's. Instead we treated ourselves to a good lunch in The Greenhouse and then headed back to Simpson Bay.
St Phillipsburg
Famous for it Guavaberry liquour (it tasted like medicine to me!)
We had heard that a visit to the Sunset Beach Bar to watch jumbo jets landing and taking off from Princess Juliana airport was a must whilst in Sint Maartin. We left our dinghies against Adrian and Clare's yacht ('Flying Low' – aptly named as Adrian is a pilot for Thomas Cook), which reduced the walk to the Bar to half and hour! As we arrived we saw chalkboards listing the arrival and take off times of the planes. Other signs displayed the dangers of being too close to the planes when they rev up to take off. Many people (or idiots) hang off the fence to get the thrill of being blasted by the huge jets of wind thrown up by the sand from the beach! This was not for us and we were just as happy watching from the bar and taking the odd photo. I must say the whole experience of watching the planes land and take off so close was quite spectacular, especially the Jumbo!
This photo requires no explanation!! The timetable chalked on the surfboard
Here's the Jumbo on it's final approach........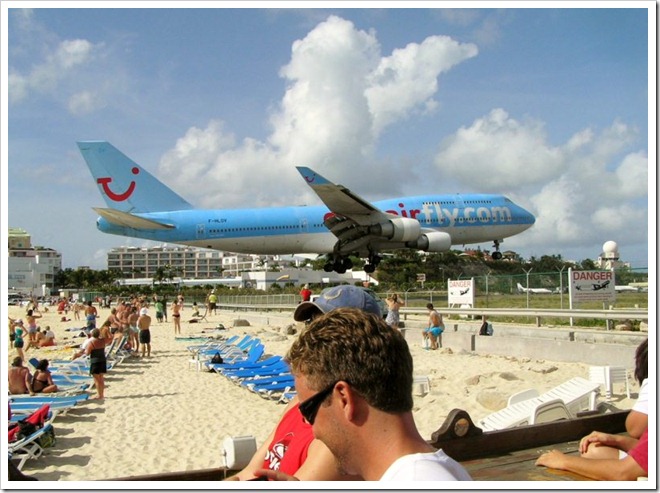 WOW - yes it really did get this close (great photo courtesy of Heather)!
On one of the many 'sorties' by dinghy around the lagoon, we spotted Otra Vida moored in Lagoon Marina, but knew there would be no-one was on board as Martin had taken a quick trip back to Europe. However, he did return during our stay and we ended up cruising in company for the next few weeks with him and his friends' Merat and Bob.
In preparation for our departure we dropped off our laundry at Shrimpies (owned by Mike who runs the morning Net) and had a final shop at Le Grande Marche, a fabulous supermarket, with a huge selection of everything, including a delivery service back to the dinghy dock!
Waiting for the bridge to open to depart the lagoon
Looking back and Sea Otter just coming through (2nd boat)
Sea Otter followed us out into Simpson Bay, but we noticed that within minutes of anchoring, Heather was up the mast? Their topping lift (rope) had got caught around the backstay, which needed to be released. A rather un-nerving experience, especially in a rolly anchorage, but using our very long boat hook she managed to successfully untangle the rope.
Heather de-tangling the topping lift in Simpson Bay
We really enjoyed the hustle and bustle of Sint Maartin, but were ready to move on to the quieter neighbour of Anguilla, just a few miles further north.
---