Last stops in Spain and arriving in Portugal - 8th August (Michael's Birthday) - 17th August

Nimue
Sun 17 Aug 2008 16:05
Polar Bear headed off the next day and as they departed all the crew sang Happy Birthday to Michael, a really nice gesture.
Crew of Polar Bear leaving Portosin, singing Happy Birthday to Michael
After a night at anchor, we departed for a 45 mile trip to the Isles de Cies an island, which are part of Galicia's Atlantic Islands and a Maritime National Park just north of Bayona.
We arrived on Saturday afternoon after a fabulous sail and reached speeds of 9.2knots- fantastic and found a nice anchorage, about 100 metres from the beach. We were almost alone after the day trippers had departed. A 70ft motor yacht decided to anchor near us and Michael was convinced that he saw a Boris Johnson lookalike (or maybe it was even him!!). Anyway, they didn't anchor well and eventually left, so we'll never know for sure.
The next day we decided to venture ashore. It was really beautiful and we decided to take the longest trip of nearly 4km and walked up to the lighthouse for a superb view.
Walking to the lighthouse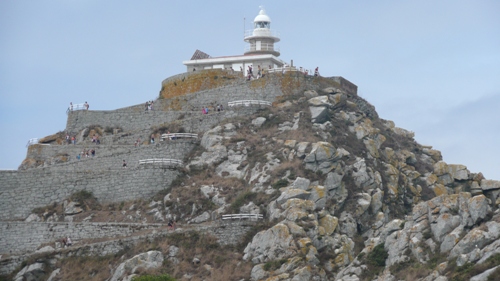 A long way up........
Nearly there!!
Nimue at anchor View over anchorage
Back down for a skate and potatoes Galician style and not long after we arrived back on Nimue, Polar Bear re-joined us. I then decided to go ashore for my first swim, in the not so cold Atlantic waters!!
Polar Bear arriving under sail
Rowing ashore for a swim
Unfortunately the weather deteriorated during the night, so we decided to head for Bayona (our final destination in Spain). Again we had a night at anchor before heading into Bayona Marina, where we met another English couple (Mandy and Steve) on 'Beez Neez' a Warrior 40. They too have a mailasail blog website and Mandy was able to provide some very useful info on downloading the blog from the Satellite phone (something we had previously been able to achieve). …THANKS MANDY. We ended up having lunch on board Beez Neez before heading for a drink at the Bayona Yacht Club…………very nice.
A big shop (at Euroski) in Bayona, before heading South. As Polar Bear was moored in another Marina we did to go over to say goodbye, but unfortunately no-one was on board, so it was off to Portugal, joined by Beez Neez. We crossed the border (Rio Minho) just after lunch and moored up after a 54nm trip in Porto de Varzim.
Leaving Bayona - Goodbye Spain Beez Neez in the early morning mist
---