Nov 2012 - Jonas & Heather - The Blue Ridge Mountains of Virginia (and the trail of the lonesome pine....!)

Nimue
Fri 23 Nov 2012 21:33
A visit to the Appalachian mountains and the Shenandoah Skyline Drive was a must see! This scenic narrow mountain road located in the Shenandoah National Park, winds it's way north-south for 105 miles through the park's 200,000 acres, providing magnificent views along the crest of the Blue Ridge Mountains. Having stopped in Charlottesville to pick a map and details, we headed to Rockfish Gap, one of four entrances to Shenandoah. Within our first few minutes of the drive we saw our first black bear, just sitting on the road; not for long...........it ran away before we could get our cameras out!
The effect of Hurricane Sandy caused early falls of snow in the mountains, which were still evident on our drive. Although slightly hazy, the panoramic views were magnificent....................
Wonder who Heather is taking a picture of?
Jonas & Heather on one of the brighter days of their visit
What's over here...........there are 75 'overlooks' to stop and admire the scenery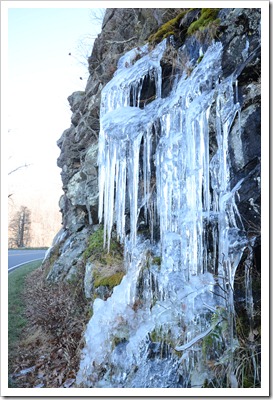 Stalactites found melting en route
Heather taking more photos and Jonas waiting patiently in the car; no canons up here!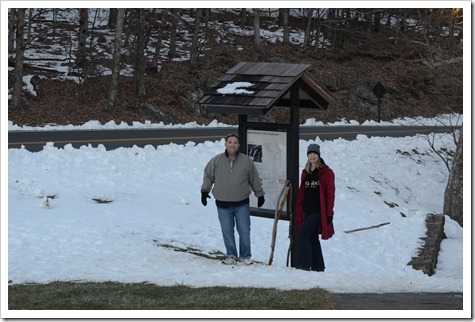 A rather 'over the top' radio tag on this deer Returning from a walk down to a non-existent waterfall
A 'snowman' fades away as dusk appears over these lovely mountains
---