BVI's, Virgin Gorda & The Baths

Nimue
Mon 25 Apr 2011 02:49
Our final destination on Virgin Gorda was to visit The Baths, another essential visit whilst on the island. The Baths are a most unusual formation of large granite boulders.
Not long after we arrived we heard Scott Free (Steve and Chris) on the VHF to Let it Be (Rob and Sheila), so we took the opportunity to find out where they were, as we hadn't seen them since Antigua. Just as Michael was conversing with Steve, Scott Free's engine decided to stop for no apparent reason. As they were only a couple of miles north of us and approaching Spanish Town to clear in, we immediately enlisted the help of Martin who took his dinghy and we took ours to try and assist Scott Free to the anchorage. Martin's 15 hp engine did a grand job in moving nearly 18 tonnes of yacht and we managed to manoeuvre them to a safe anchorage, giving them time to sort themselves out.
As you were only allowed to take a dinghy to the head of the small bay, we all climbed aboard Otra Vida's dinghy, armed with cameras and valuables in sealed bags and Martin landed us on the beach. He then took the dinghy back to the dedicated mooring and then had to swim ashore; all rather interesting
A trial has been created behind the beach, through the boulders, to Devil's Bay, so we walked the trail which took us through fascinating rock formations and pools of water created as the sea washes between the huge rocks.
After the 20 minute trail we made for cold drinks at the Poor Man's Bar and then Martin, Michael and I decided to swim back to our landing point. It took us all nearly half and hour against the current, but I think we all felt much better for the exercise. We then decided to don mask and fins and snorkel around the rocks, which was awesome. Michael spotted a lobster in one of the rocks, but unfortunately it didn't reach the pot! After a final swim back to the dinghy (my goodness we did feel fit that day!), Martin dropped us back on Nimue.
Our first view of the magnificent bolders
Let it Be joining us in the anchorage, with Sheila on board
A tight squeeze for Nimue
Right next to The Baths - what a place to live!
Couldn't believe this turtle just floated by Nimue at anchor
The view from the beach across to Tortola in the distance
No, it isn't a football................................................................ but Martin off Otra Vida
Just look at these amazing rock formations
The trail to Devil's Bay through the caves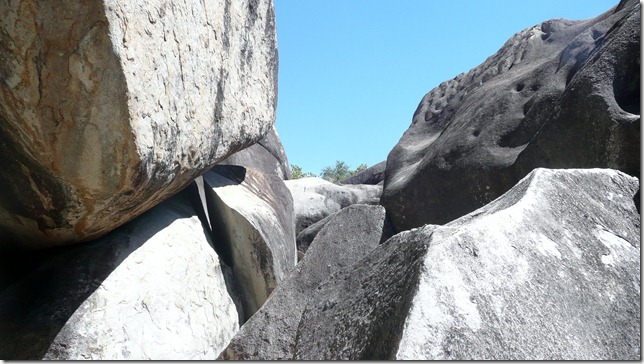 More rocks!!!
One last shot – absolutely beautiful
In order to protect the coral there is no anchoring directly in front of The Baths, so we thought we had anchored well clear. However, as we were lifting the anchor, the chain got caught under coral. Michael tried to release it by free diving 30ft, but had problems with his head sinus's. Fortunately, Martin had his diving equipment to hand, so offered to trip the chain for us, which we gladly accepted. Within a few minutes we were free and underway, making for the anchorage at Marina Cay, 8nm across the bay.
No doubt about it, a superb, action packed day!
---