Second time around in Les Saintes and Pointe a Pitre - Cruising Association Blue Water Section Party

Nimue
Tue 8 Feb 2011 20:51
After a quiet night on the anchorage, we were joined the next day by Jonas, Heather and Stormy the sea dog on Sea Otter and also Chris and Steve on Scott Free on their Contest 43, who we saw last in Lanzarote. The anchorage in Les Saintes was flat calm, so we were able to snorkel around in great visibility. It was also a good opportunity to clean Nimue's bottom, as barnacles were beginning to grow on her hull. Jonas had wanted Michael to try out his small surface air compressor which allows you to breathe up to 3 metres underwater, so Michael tested it out on cleaning Nimue's propeller and very successful it was too.
Michael going underneath Nimue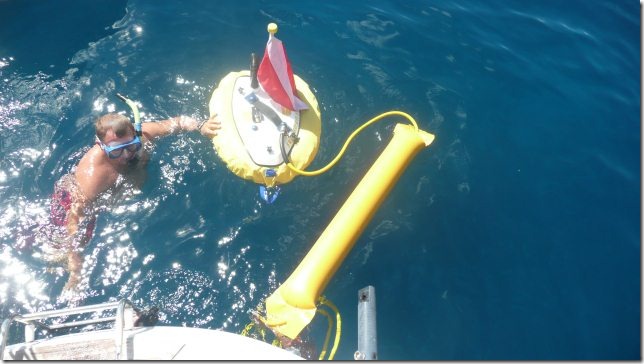 The breathing compressor
Michael returning from cleaning the propeller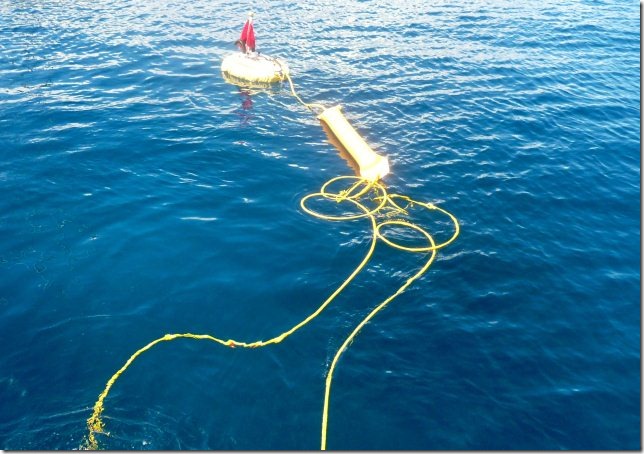 It's BIG, so perhaps you can see why Heather complains about all the space it takes up on Sea Otter
Our hosts Sandy and Bryan off Moonshadow Star a Farr 56 arrived in Les Saintes a day before the official CA party and we were all invited on board for drinks, including Jonas & Heather who were also invited as honorary members. The day of the official party and we were woken up by Bryan notifying everyone that the wind was due to build over the next day or two and it would be a good idea if we all headed up to Pointe a Pitre where there would be no swell. Michael and I were really disappointed to hear this news, as the last place we really wanted to go back to was Pointe a Pitre, but we didn't want to disappoint and so therefore prepared to set sail again. The sea and weather conditions were just a bad as the previous time we sailed up there. To make matters worse water had seeped into the forepeak and had gone into the bilge and soaked the anchor rode again! We needed to solve this problem and eventually realised the hatch vent had been left open, which couldn't handle the vast amount of water that was being thrown at it. We solved the problem and even chucked buckets of water over it to ensure no more water could enter the hatch.
That evening the 12 CA members had an enjoyable meal ashore at Le Pirate, followed by a Pot Luck supper and drinks on Moonshaddow Star on the final evening. It was good to meet up with fellow cruisers, so we were pleased we had made the effort.
Good dinghy dock in Pointe a Pitre marina
An unusual statue on a roundabout just outside the marina
Pictures of this abandoned yacht (above & below) taken on the way to the market in Pointe a Pitre.
Pelicans use it as a look out point and there's even a tree in the cockpit
The CA meal at Le Pirate (sorry not the best photo, but the only one I took)
---