Fw: Day trip to Morocco - Tetouan & Tangier

Nimue
Sun 29 Aug 2010 16:59
We were met by Ahmed our Moroccan guide at the Ceuta ferry terminal.

Once the rest of the party from the Spanish mainland arrived, we hopped onto the 'posh' air conditioned Flandriabus and Ahmed immediately announced how the border crossing operates.

Under no circumstances were we to take photographs and the 10mins or so it took us to go through was an 'eye opener' (shame I couldn't take any photos).

Once into Morocco, we made our way for the ¾ hour journey along the virtually empty dual carriageways to Tetouan located at the foot of the Rif mountains and just a few kilometres from the sea.
Once off the bus and gathered outside the medina, Ahmed now dressed in his jellaba (a pointy-hooded robe), advised that once inside, we should stay with him (and assistants) at all times. We did as he obeyed, otherwise we may still be wondering around the tiny medina alleyways today! The ancient medina with it's white washed walls is a UNESCO world heritage site and looks like it has not changed for several centuries, with a genuine air of authenticity about it. Ahmed stopped on numerous occasions to explain the history of the medina and the significance of the different coloured doors e.g. a green door is an entrance to a mosque of which there are over 40. It was interesting to see the craftsmen at work, especially the silk merchants, with shops full with thousands of spools of multicoloured thread and the bakers tendering public ovens.
Silk merchants in Tetouan Medina
Date store Olives galore..........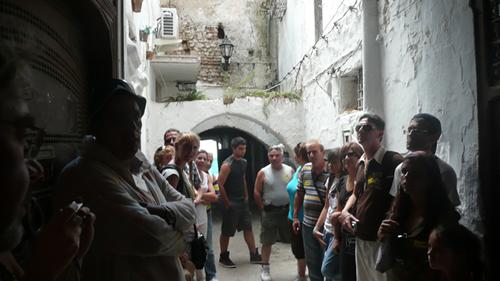 Lots of narrow alleyways, doors and people
Moroccan gold market with it's own sun awning
Brown door = home Ahmed outside green door = mosque
Place Hassan 2. Looks like it houses the Wizard of Oz!
As we were being taken through the medina, Ahmed volunteered me to participate in dressing up as a Moroccan lady from the country. The following series of pictures takes us through the various stages.
You won't believe Anne's comments. Something like it's v. hot underneath all this!
Not a word could be understood, but both ladies were having a good laugh!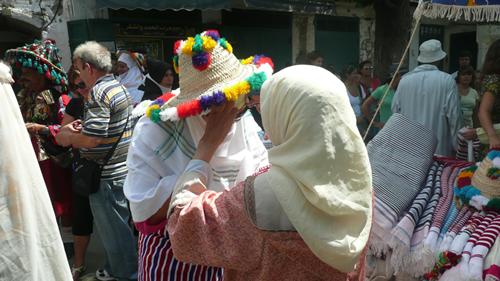 The Lady in Moroccan Country Ware (dont think the glasses will catch on!!)
Michael was asking how many camels, but all he could offer was a few pots!!
Before lunch, we were all taken into a local handicraft shop and dependent on the language you spoke, were subsequently escorted and seated in separate viewing areas within the building. As it happened, Michael and I were the only English people, so were alone, as we were shown an array of carpets, blankets, covers etc. You've probably guessed by now that within no time at all we were bartering for a carpet we had taken an interest in and no sooner had we paid for the carpet, I was bartering for a 'throw'. 'Oh boy' the Moroccans are a 'class act' and know how to sell. They can even persuade you to tip them as well!
In the comfort of an old Arabian palace, we had lunch consisting of harira soup, chicken tajine and a type of shortbread sweet. All very good and tasty and we were even given a display of traditional Moroccan folk dance.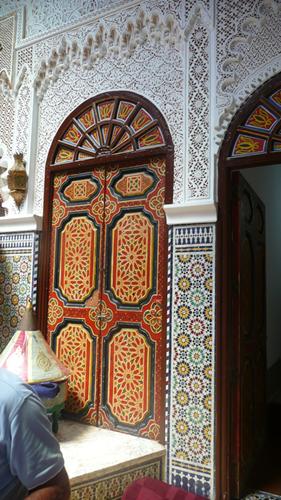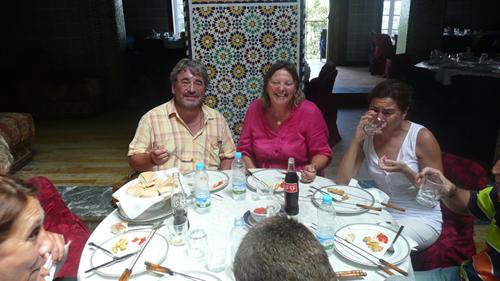 Lunch in the arabian place
Traditional Moroccan dancers (the man has a teaset on the tray on his head!)
It's about an hour's trip from Tetouan to Tangier, which we nearly didn't get to, as one of the German's on board decided to point his camera at a Moroccan policeman, who stopped and got on board the bus and pointed to the man who allegedly took a photo of him. Ahmed managed to calm the policeman down and said afterwards that he wanted to take us all down the police station. Ahmed also advised that it was Ramadan, so everyone can become a bit 'tetchy', so best not to aggravate them.
Anyway once underway again, I noticed that the Moroccans love their national flag, as they seemed to dominate every roundabout we came to.
How the Moroccans love their National Flag
I happen to mention to Ahmed that I would be interested in buying some spices, so once in Tangier, Michael and I were led off separately by 'another man' down numerous alleys into the 'spice shop'. Again we listened to the 'spiel' about the special herbs and spices and I came away a few euros lighter with a variety of spices including my favourite, saffron. 'Another man' was waiting to take us the leather shop and as we were following him, 'another man' took over and it all appeared seamless and normal, but as I said to Michael it was as though we were taking part in a James Bond movie!!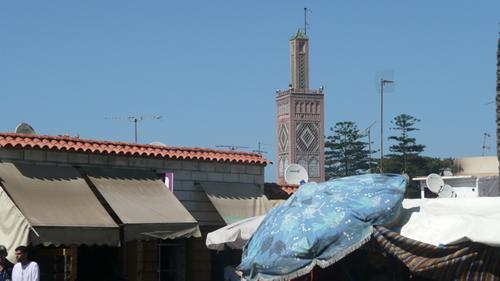 The English Church in Tangier The tallest mosque in Tangier
Finally we all ended up together in one last handicraft shop. We hadn't been hassled by any of the street sellers, as Ahmed or the guides had given the 'nod', but as we were heading back to the coach, we were swarmed by them. Ahmed had obviously agreed for this to happen and wanted us to have one last Moroccan experience. You only had to look at something and before you knew it the seller was literally pulling and tugging at you to buy it. It was quite fun fending them off and listening to their tales of woe, but there were bargains to be had if you wanted to barter.
Typical wares found in handicraft shops
The trip back to Ceuta along the coast road and over the Rif mountains was great and the views across the Straits of Gibralter would have been good, but everything was clouded in a fine mist.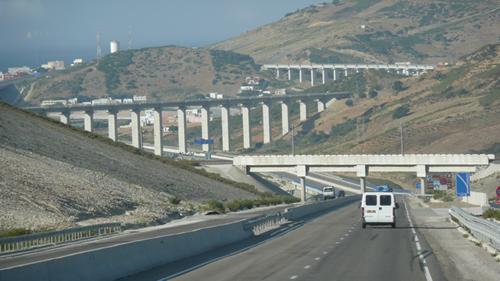 Morocco's modern road system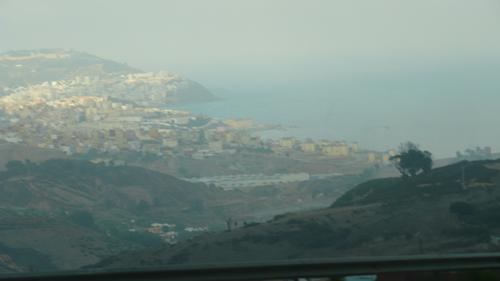 Mist over the Rif mountains on way back to Ceuta View of Ceuta from the bus
An exhausting, but a very pleasant day. An experience not to be missed, but also one in which you need to keep your wits about you............we found marks and a fault with the carpet, but luckily we didn't pay too much for it!
---