Third time in Les Saintes - stormy weather and French manners

Nimue
Thu 17 Feb 2011 19:09
After the CA party, we decided to head back down to Les Saintes with Sea Otter for a couple of days and this time had a lovely beam reach sail. The winds were stronger than previous times in the anchorage, so we tucked in around the headland, but it took nearly an hour before both us and Sea Otter were happy that our anchors were properly dug in. When I went below to turn off the navigation instruments, I heard that familiar sound of water swilling around in the bilges. Surely not the forehatch again? No, this time the toilet hadn't been locked off and sea water had seeped up inside and spilt over into the forepeak bilges. The rode had yet again had another good soaking, so out it came to dry off. This was the third occasion, so we're hopeful that no further incidents will occur.
We were tucked in nicely here, but lots of white water out to sea!
Heavily reefed yacht heading up to Pointe a Pitre
Sea Otter hoisted up a trendy steadying sail to stop her swinging
On reflection we should not have re-visited Les Saintes and headed up to Antigua instead. The forecasted weather system appeared much earlier, so we were stuck there for nearly a week before we could move up the east coast of Guadeloupe in readiness for the crossing up to Antigua. The anchorage became interesting as many boats started to drag their anchors and there was one case where an American boat was forced to loose his chain and anchor as a French yacht had dragged over it. The American helmsman did yell a number of choice words at the Frenchman and understandably too. To make matters worse the American had to pay a diver to find his chain and anchor. In gthe meantime the French yacht appeared to be hanging around to pay something towards the cost. However, just as he was jilling around the bay, he suddenly lifted his sails and then motored as quickly as possible out of the anchorage heading towards Pointe a Pitre. It was a while before the American realised what was happening and then shouted "come back, come back...." Apparently the Frenchman had said that he was there first, so it was not his fault. He obviously didn't remember that he had been dragging and causing chaos in the anchorage for the previous 3 days!
The Frenchmen on the blue boat, the American's on the white boat and Divers to assistance on the yellow boat
Michael and I normally have no issues with the French and it is usual to see a French yacht enter a mooring without any fenders in place. However, our observations of the French in the Caribbean have been somewhat tainted We had one Frenchman who started to shout at us as we were about to anchor for our first time in Les Saintes and by his gesticulations (he was holding up a length of wire) we thought there was a problem with the holding. When we motored past him he was shouting that another English yacht had collided with his yacht and caused some damage without stopping and so was anticipating that we would do the same! As we went by, I did mutter something to the effect that he shouldn't tar all English yachts with the same brush, but I think it fell on deaf ears. We didn't really want to stay around, so found another suitable spot on the other side of the bay.
Despite the mayhem, in the anchorage, we spent the next few days enjoying Les Saintes with Jonas & Heather.
Heather & Jonas with Stormy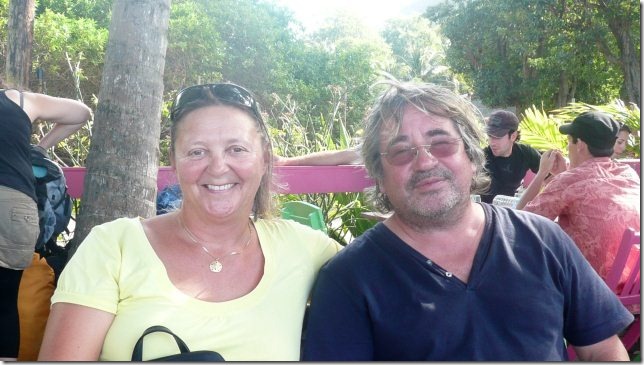 Yours Truly
The town centre, with church in background
The local takeaway
Anchorage and the building shaped like a ship is the Doctor's surgery
Day trippers docking area right next to the main square
Untying Merlin from the dinghy dock
Stormy waiting to jump on board
Eventually, with the winds forecasted to be coming from the east, we set off to sail up the east coast of Guadeloupe, stopped one night at anchor in Anse a la Barque and another in Deshaies before making the 42nm crossing to Antigua.
---